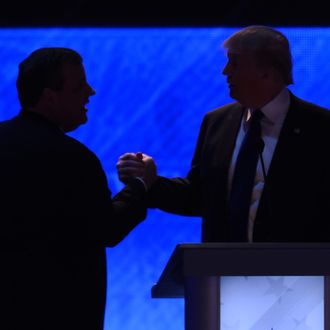 Christie and Trump.
Photo: Jewel Samad/AFP/Getty Images
Chris Christie has climbed aboard the Trump train. On Friday, the New Jersey governor endorsed his fellow cantankerous tri-borough resident at a press conference in Fort Worth, Texas.
"I am proud to be here to endorse Donald Trump," Christie said, noting their decadelong friendship.
"He's been my friend for many years, he's been a spectacular governor," said Trump.
But according to the New York Times, Christie's endorsement may be motivated less by affection for his dear friend Donald than animosity for his former rival Marco Rubio:
Seeing his political career facing an abrupt conclusion at the end of a second term as governor following his faded presidential campaign, he expressed his anger Friday at Senator Marco Rubio, who he was said to be upset with because he blamed the "super PAC" backing the Florida senator for halting his momentum in New Hampshire in December with a string of slash-and-burn ads.
Christie criticized Rubio's recent attacks on Donald Trump as "desperate" and indicative of a losing campaign.