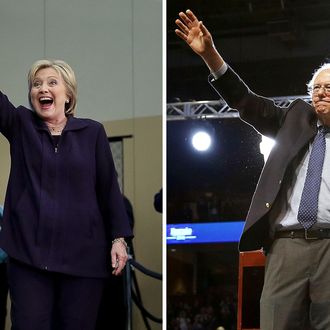 Clinton headed for big win in South Carolina — how big may matter later on.
Photo: Getty Images
At the peak of excitement about Bernie Sanders's big New Hampshire primary victory, there was optimism in his camp that the Bern would spread into the South as blue-collar whites and younger African-Americans moved his way and made states like South Carolina competitive. It was just a matter of his gaining familiarity, it seemed. 
There may be some Sanders enthusiasts who believe an upset win in Nevada this weekend might have set South Carolina on fire for their candidate. We'll never know for sure. But as voting there approaches, there are signs Clinton may actually be making gains again, after months of small but steady progress for Team Sanders.
The last four polls of South Carolina showed Hillary Clinton at or above 60 percent after her support had dipped into the 50s for a good while. In most surveys she's running more or less even with Sanders among white voters (with the usual generational splits) and maintaining a heavy advantage — typically a bit better than three to one — among African-Americans. The black-youth beachhead for Sanders just hasn't been enough; a recent NBC News–Wall Street Journal survey found Clinton leading among African-Americans under the age of 45 by a 52-to-35 margin.  
Clinton's strength among South Carolina's African-Americans is all the more impressive because this was the state in 2008 that showed how completely she had lost these same voters to Barack Obama. (Her husband, the 42d president, did not handle that very well.) But the perception that Bernie Sanders is leading an ideological revolt against Obama has done wonders for Clinton here. Former state legislator (and 2014 Democratic nominee for lieutenant governor) Bakari Sellers, a key Obama operative in 2008 and, at 31, a paragon of the kind of young black leader the Sanders campaign has targeted, explained part of the problem succinctly at the Daily Beast:
In what perhaps struck the candidate as an act of solidarity, Sanders also chose Cornel West as liaison to South Carolina's black voters. As the Washington Post puts it, West serves as Sanders's "controversial traveling companion" and "has been highly critical of President Obama." That's an understatement. Cornel West hates President Obama. He once called the president "a brown-faced Clinton," "a Rockefeller Republican in blackface," and a "counterfeit" progressive.
Early on in this campaign Sanders was happy to accept whatever prominent black support he could get, but he may have put limits on his appeal to African-Americans by getting too closely identified with those who considered the first African-American president a sellout. 
The South Carolina results tomorrow night will be widely considered a harbinger for what will happen in other states with significant African-American populations on Super Tuesday, March 1. If the so-called firewall holds then, Sanders will certainly still stay in the race (a bunch of midwestern and western caucuses sure to be dominated by white liberals are on tap for March 5 through 8, and may give Bernie a quick rebound), but more as an insurgent hoping to shake things up and keep pressure on the likely nominee than as a real contender.