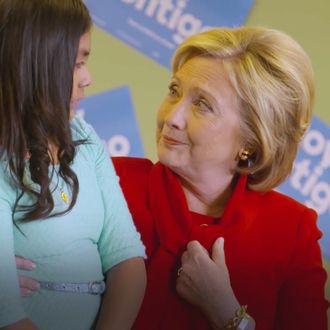 You might not be ready for Hillary, but Hillary is ready for you.
The way to a Latino voter's heart is through his or her tear ducts. Or so Hillary Clinton and Bernie Sanders seem to believe. The Democratic candidates are out with dueling ads on the Nevada airwaves, both of which feature stories of Hispanic kids suffering childhood trauma.
Clinton's spot is a minute of raw footage capturing an extraordinary moment from a campaign event in Las Vegas last weekend. In the ad, a handheld camera turns its focus to a 10-year-old girl seated in a folding chair across from the former secretary of State.
"My parents, they have a letter of deportation," she tells Clinton, before breaking into tears. "I'm scared that they're going to be deported."
Clinton calls the girl over and places an arm around her shoulder.
"I'm going to do everything I can so you don't have to be scared," the Democratic front-runner says. "You don't have to worry about what happens to your mom and dad, or somebody else in your family … Let me do the worrying. I'll do all the worrying, is that a deal? I'll do all the worrying. I'll do everything I can to help, okay?"
Formally unconventional ads that appeal to viewers' emotions have been a staple of Sanders's messaging for months. A wordless spot featuring Simon & Garfunkel's "America" and a recent mini-documentary staring the daughter of Eric Garner both earned his ad team plaudits from across the political spectrum. Clinton's ads have been banal by comparison. But with its new spot in Nevada, the Clinton campaign appears to have concocted a message as "upworthy" as anything the Vermont senator has produced.
Still, the Sanders campaign is holding its own in the Silver State. The Vermont senator is spending nearly twice as much as Clinton on Nevada's airwaves, and one recent ad features a similarly heartfelt tale.
"I was raised by my father. My mother left my family when I was 9 years old," former Nevada assemblywoman Lucy Flores tells the camera. "Things really went from bad to worse for me. This isn't about numbers. This is about real lives. The system isn't working for the everyday person."
The ad then shows Bernie Sanders shaking hands and commiserating with a series of nonwhite voters, as Flores says, "We're looking for people to think big, be bold, and fight for everyday people."
In touting the endorsement of a local Latino political figure, the 30-second spot targets Hispanic voters who could play a key role in Saturday's caucuses. But instead of making a narrow issue highlighting Sanders's positions on immigration, the ad emphasizes his campaign's broader narrative about working Americans' common struggle against a system that's rigged against them.
Contrary to Clinton's recent critique, Sanders isn't a single-issue candidate. His stump speeches regularly include lines about the need to curtail deportations and pass comprehensive immigration reform. But his campaign is betting that what most concerns voters — regardless of their race or ethnicity — is the bread-and-butter issue of how to pay for bread and butter.
We'll see if that wager pays off on Saturday. Polls of Nevada are sparse and historically unreliable, but for now they show a nail-biter.