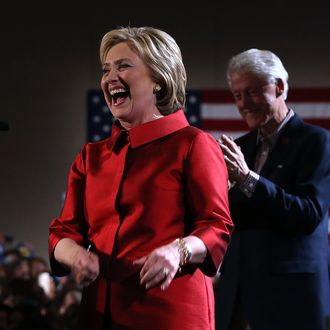 Clinton after her big win.
Photo: Justin Sullivan/Getty Images
The HUGE UPSET hype machine that's on standby every time election returns come in was being cranked up noisily when the initial entrance polls from today's Nevada Caucuses were released, showing a dead-even race and Bernie Sanders leading Hillary Clinton among Latinos, an important voting demographic in the Silver State and part of Clinton's nonwhite voter "firewall." And had the returns stood up to the initial impressions, you might have seen political reporters parachuting into South Carolina this very night to look eagerly for signs that young African-Americans and blue-collar rednecks were feeling the Bern and making the next stop on the nominating contest trail another dicey proposition for the former Secretary of State.
But alas for the dramatics, it looks like Hillary Clinton's going to win the popular vote by roughly 6 percent and the national delegates awarded by more than that. And while Sanders probably did better among Nevada Latinos than Barack Obama did eight years ago, multiple analysts are suggesting the entrance poll numbers for this demographic showing Clinton losing big may be off, which has certainly happened in the past. 
Turnout seems to have been robust, though not as high as in 2008, when the Culinary Workers endorsement of Obama (and Clinton counter-measures) boosted participation in Clark County (Las Vegas); this time that pivotal union was neutral. And putting aside Latinos, the demographic splits in the returns look very, very familiar (again, relying on entrance polls that seem to have underestimated Clinton's vote): Sanders winning under-30 voters 82/18; Clinton winning over-65 voters 74/24. The non–college educated electorate that seemed to be trending towards Sanders in New Hampshire was dead even here. And however well Sanders ultimately did with Latinos, it's clear the cavalcade of African-American rappers and writers in his corner isn't making a lot of progress just yet, with HRC winning that demographic (an estimated 12 percent of the vote here) about three to one.
And that's what may matter most in terms of the road just ahead, with South Carolina (where a solid majority of primary voters will likely be African-American) and 12 primaries coming up on March 1 where (with the exception of Texas and Colorado) black voters have more weight than Latinos. If the New Hampshire blow-out shifted the pressure from Sanders to Clinton to show her campaign (not to mention her "firewall") wasn't melting down, now the pressure shifts back to Sanders to show he can win in states without big white liberal voting populations. 
The best news for Sanders may be, as Nate Silver pointed out today, that later Caucuses are mostly in heavily white states (Alaska, Colorado, Idaho, Kansas, Maine, Minnesota, Nebraska, Washington, and Wyoming — only Hawaii is very diverse) where he could, like Obama in 2008, win some serious delegate totals. And if he can duplicate today's Latino performance — pretty good even if it falls short of a majority — it will eventually help him in states down the road, including Illinois and Florida on March 15. It should be noted that Nevada's Latino voting population is reportedly youth-heavy, in part because many of their parents aren't citizens or just aren't registered or live somewhere else. That may be a dynamic to watch down the road, particularly in states with older Latino voting populations. 
All in all, Robby Mook and company can exhale a bit and look forward some relatively good news the next couple of weeks. The idea that Bernie would burn out after New Hampshire went out the window in the gusher of contributions he harvested after Iowa and then New Hampshire. But it might be a while before eager journalists write too many more headlines about "panic" in Hillaryland.