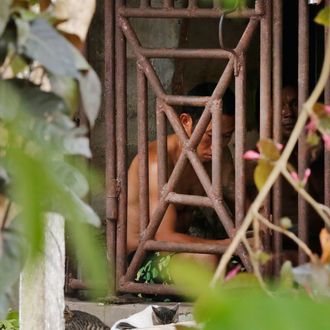 Thai and Burmese fishing boat workers were forced to sit behind bars.
Photo: Dita Alangkara/AP/Corbis
This Congress, where extending gridlock is practically a point of pride, has mercifully found a subject everyone can agree on: stopping trade based in slavery. On Thursday, the Senate passed a bill that would end U.S. imports of fish caught by slaves in Southeast Asia, gold mined by children in Africa, and garments sewn by abused women (who recently doubled their minimum wage to $68 a month), and President Obama is expected to sign it. Even that bill was hardly unanimous: It passed 75–20. (The chief criticism seems to be that it's hard to differentiate, say, ethically produced shrimp from slave-labor shrimp, which could lead to Customs-seizure overreach.) For some mysterious reason that almost surely involves backroom deal-making, the bill also puts a permanent end to state taxes on internet access.
The U.S. Tariff Act of 1930 prohibits the U.S. from importing goods that are made or processed by children, prisoners, or slaves — unless, the law says, consumer demand could not be met without them. The Labor Department keeps a list of more than 350 items that meet that criterion, like lobsters from Honduras, wheat from Pakistan, cotton from Kazakhstan — all of which are now subject to confiscation. 
The bill follows recent, ugly revelations about the international shrimp trade. In December, an investigation by the Associated Press followed seafood from the fingers of people locked in cages in Thailand to Walmart and Whole Foods Market stores, and to restaurants like Olive Garden, LongHorn Steakhouse, and Red Lobster.