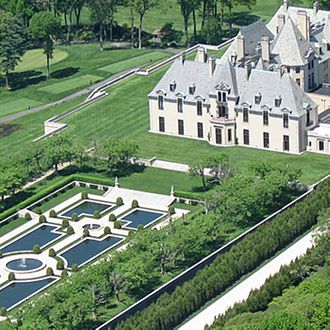 Oheka Castle.
Photo: Courtesy of Oheka Castle
Two years ago, Long Island developer and power broker Gary Melius had just got into his Mercedes at Oheka Castle, the Huntington estate he owned that doubled as a destination for high-profile weddings, when a masked man approached the driver's side window and shot him three times in the face. The gunman sped away in a Jeep Cherokee — and that's about as far as police got in the case, at least publicly. The gun malfunctioned, and Melius, then 69, got away with a serious face wound, surviving what cops called an "assassination attempt." 
Now Suffolk County police are refocusing their investigative efforts into figuring out who put a hit on Melius, a well-known political donor. On Thursday, cops released the grainy surveillance video from the 2014 shooting. The recording shows Melius getting into his car and the gunman approaching, then firing into his window. The shooter seems to hesitate and fumble with the gun as he moves toward his getaway vehicle, and then takes off.
Suffolk County police have also reached out to the FBI for help with the renewed investigation — a first in the two-year probe from a department that recently went through a leadership shake-up after its chief was arrested for beating up a suspect.
Melius, who had already put forward a $100,000 reward for information and set up a private tip line, told WABC-7 that he was "glad the Suffolk County police have finally decided to release the surveillance video to the public. Hopefully, it will prompt anyone who has information to come forward and shed new light into the investigation."
Melius has never commented in detail about the alleged assassination attempt or speculated on who might have wanted him dead. "I have never thought five minutes about it," Melius told 1010 WINS in 2015, a year after he was shot. "I have not had five minutes of fear." He was a big political donor to both Democrats and Republicans, and had very diverse business dealings. The backdrop of the bizarre crime also added to the intrigue: Oheka Castle is a Gatsby-esque place that's hosted its share of prominent weddings — including that of Anthony Weiner and Huma Abedin — and Melius himself hosted weekly poker games there with New York's "movers and shakers," says the Times.
The cops had looked at Melius's adopted son (and stepson), Thomas, as a possible suspect, owing to his history of drug abuse and release from prison a few days before the shooting, although he was supposed to be in a drug-treatment program at the time of the shooting. "Yeah, I asked him — I asked him very strong, and there's nothing," Melius said in 2015. "I cooperated with the police in looking at him, whatever they wanted, but there's nothing."