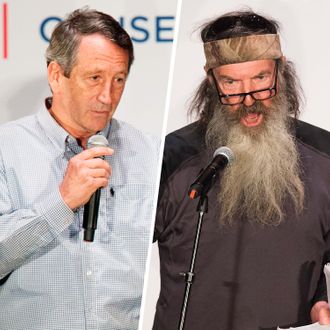 The godly
Duck Dynasty
patriarch, Phil Robertson, and the less godly congressman Mark Sanford are both thumping the tubs for Ted Cruz in S.C.
Photo: Jim Watson/AFP/Getty Images
When South Carolina congressman and former governor Mark Sanford endorsed Ted Cruz Friday, some observers may have thought this was a consolation prize for the failure to secure the support of Sanford's former protégée, the much more popular and less controversial current governor Nikki Haley (who endorsed Marco Rubio earlier this week).  
But it's important to understand that before and after his love life and "hiking" habits branded him forever in the national eye, Sanford was known as the closest thing to an actual libertarian who could be elected in a place like South Carolina — an anti-government zealot who didn't much think public opinion or the needs of his constituents mattered when it came to keeping the public sector small and weak. Indeed, it was probably this devotion to ideological principle that made his political comeback in 2013 possible even after he had long sacrificed the support of Christian-right types offended by his marital misbehavior and his romanticization of adultery.
Unusually for a Deep South Republican, Sanford has never run away from the "L-word" of libertarianism. And so his support for Cruz reflects a secondary and less-well-understood tactic by the fiery Texan to supplement his Christian-right backing with people who love a good solid originalist view of the Constitution even if they don't love Jesus. That became much easier the day after the Iowa caucuses, when Rand Paul folded his presidential campaign and left many libertarian orphans. Cruz may not be anything like Paul as a consistent libertarian, but he did "Stand With Rand" on NSA surveillance issues and opposition to U.S. intervention in Syria, not to mention hostility to longtime libertarian targets like Iowa's ethanol subsidies. So maybe Sanford's support can bring some of these people across the line.  
Still, Cruz's primary constituency in South Carolina is better represented by another celebrity in his camp, the patriarch of the Duck Dynasty clan, Phil Robertson. He made some news today at a Cruz rally in Myrtle Beach, launching into his well-rehearsed plea to men to stop sleeping around with women or with men for hygiene's sake, if not God's:
"I know what God says about perversion. I mean, you know … marriage is between a man and a woman. Keep your sex right there," Robertson said. "Here's a report from the CDC, gentlemen. Young men, marry you a woman. Oh, dude, if she's clean, and you're clean, and you marry her … you keep your sex right there, you're never going to get a debilitating disease and/or dead. It's safe!"
Robertson ended by praising Cruz as a "staunch, Jesus Bible–believing, Jesus-loving, godly man."
A very different man of God, the Reverend Jesse Jackson, used to say the divisions between himself and more centrist Democrats didn't matter in the end because it took "two wings to fly." That seems to be the Cruz campaign's philosophy as well.