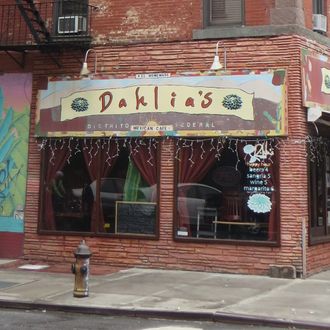 Chill spot now totally bogus.
Photo: Eden, Janine and Jim/Flickr
Dahlia's, a Mexican restaurant in the East Village with an allegedly mean "monster margarita" and a relaxed attitude toward the checking of IDs, had its liquor license revoked over the weekend. The punishment follows a January 30 raid by the NYPD that found more than 40 teens, all under 18 — one of them 15 — guzzling triple sec. The business, formerly known as Mary Ann's, has been charged with 55 violations, including selling to minors, failure to supervise, exceeding maximum capacity, and having locked doors. The owner and the four servers working that night were arrested and charged with reckless endangerment.
The raid came after a 911 call, but if the NYPD needed some advance intel on the place, it might have checked the secret source known as Yelp. One reviewer recently described Dahlia's as "full of underage drinkers who are wasted. Some of them look as young as 13. They never ID anyone." (Perhaps surprisingly, it didn't make Yelp's "Best Underage Drinking in East Village" list.) Future investigative targets may include literally every bar within stumbling distance of NYU.