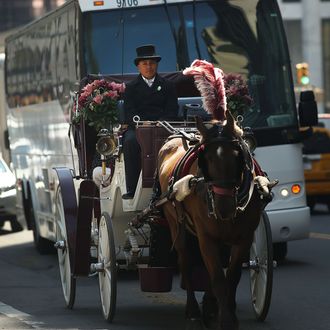 Keep on keepin' on.
Photo: Spencer Platt/Getty Images
The New York City Council was all set to vote this Friday on the mayor's proposal to curtail the carriage-horse industry, but now it's looking like the deal behind the bill has crumbled. The Times reports that the Teamsters, who represent the carriage workers and signed on to the plan to reduce the number of horses and limit them to Central Park, have pulled out under increasing opposition to the bill. So here we go again.
The Teamsters' withdrawal delivers a big blow to Mayor de Blasio, who, unable to sell his complete carriage ban, had worked with the union to bring this compromise to the table. According to The Wall Street Journal, the mayor had enough votes until recently to get the legislation through the City Council, but the prospects of it passing flatlined once the union pulled out. Speaker Melissa Mark-Viverito said, per Gothamist, they wouldn't put any bill to a vote that didn't have the Teamsters' support.
So what stopped them? In a statement, the Teamsters said they had turned against the bill because, "with the legislation now finalized, our members are not confident that it provides a viable future for their industry." Two weeks ago, the union's representatives testified in front of the City Council, pushing for a more flexible timeline for the new scheme to roll out. The current proposal called for the number of horse licenses to drop from 180 to 110 by December of this year, and fall to 95 once the city opened a $20 million stable in Central Park. Both Teamsters and councilmembers raised concerns about the number of job losses. At the hearing, the representatives for the mayor's office couldn't give exact figures, but later estimated that about 40 to 50 drivers could be out of work by December 2016.
Mayor de Blasio's very public defeats on this odd cause célèbre are adding up. "We negotiated in good faith with the City Council and the Teamsters to reach this agreement," the mayor said in a statement. "The terms of that agreement have not changed during these past weeks, but today the Teamsters decided to back away from the fair compromise they had previously endorsed … The people of this city know what I believe, and we will work toward a new path on this issue," he added. 
Animal-rights groups — including NYCLASS, which had pushed for an all-out ban — had come around to making the deal, saying it would get the horses off the dangerous city streets. The Teamsters' last-minute bailout, however, bodes well for another group: pedicab drivers, who would have been banished to an area above 85th Street in Central Park.