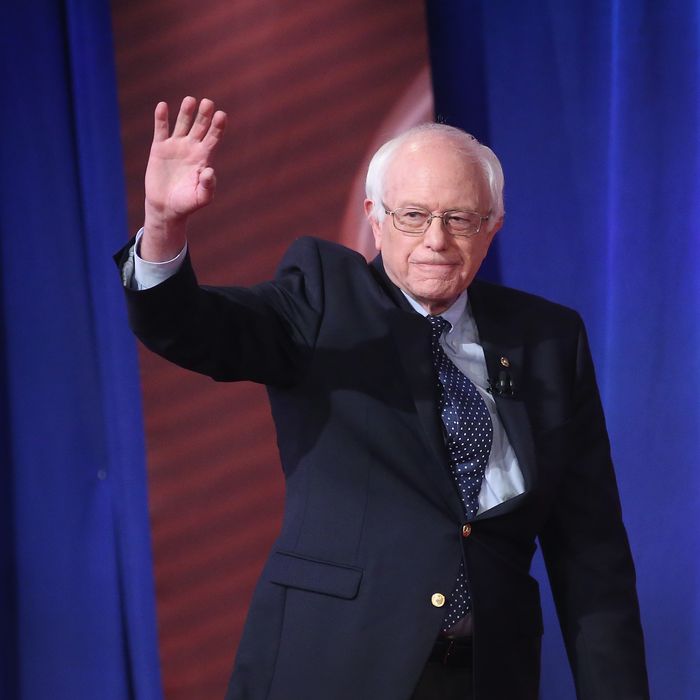 Sanders at Tuesday's town hall.
Photo: Scott Olson/2016 Getty Images
The Democratic presidential candidates participated in yet another CNN town hall on Tuesday night, their last matchup before Saturday's Democratic primary in South Carolina. Both Hillary Clinton and Bernie Sanders seemed very aware that they're heading into a state where 60 percent of likely voters are African-American (and that in last weekend's Nevada caucus, most black voters went for Clinton). Sanders attacked birtherism, accusing Trump and the rest of the GOP of racism, and Clinton recognized five black mothers whose children were killed by police, hours after she secured their endorsement. CNN also prodded Sanders about his religious beliefs and Clinton about the latest Beyoncé controversy, with interesting results. Here are the highlights.
Bernie and Hillary Battle Over Wall Street Transcripts
Sanders threw down the gauntlet in his segment, saying he'd happily release the transcripts from all of his paid speeches to Wall Street — because "there ain't none."
Clinton said she'll release her speech transcripts too — but only when everybody does it, including the Republicans. "Why is there one standard for me and not for everybody else, Chris?" she asked.
Clinton Still Doesn't Know Why the Kids Don't Like Her
Feel free to keep asking her about why young people don't feel the Hillmentum, but it seems she really has no idea. Maybe it has something to do with student-loan debt? Anyway, here's her plan to reduce the burden of paying for college (unlike Sanders, she still doesn't think school should be free).
Sanders Sort of Tackles Life's Biggest Mysteries
Speaking of uncomfortable questions, would Bernie care to elaborate on his religious beliefs? Not really, but if you're a Christian, a Jew, a Buddhist, or a Jedi, rest assured that he agrees with the general message of your faith.
Bernie Launches Birther Attack on Himself
While decrying the GOP blockade of President Obama's Supreme Court nominee, Sanders raised the issue of birtherism, which he described as "the racist effort to delegitimize the president of the United States," backed by Trump and company. "My dad came from Poland. I'm running for president," he said. "Guess what? Nobody has asked for my birth certificate. Maybe it's the color of my skin. I don't know."
Clinton Courts Black Lives Matter Supporters
She recognized the five moms involved in the movement, and said there's no denying that there was a "racial component" in the famous cases of police violence or misconduct that took their children's lives.
Hillary Probably Hasn't Seen the "Formation" Video
When asked about the police officers calling for a Beyoncé concert boycott, Clinton said she was going to "put aside any particular celebrity, or any particular song or performance." She gave a substantive answer on criminal-justice reform, but we hope the Beygency didn't catch this pivot.