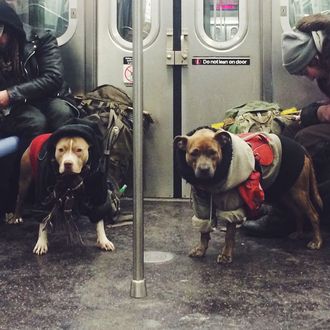 This week New York Magazine explores our love-hate relationship with the MTA.

In 1903 an Italian miner, "dynamite drunk" on toxic fumes while digging a subway tunnel in Washington Heights, hallucinated a fire-breathing dog bounding below Broadway in the dark. Over the next century, New Yorkers delighted in stories of blissfully unaware canines (and some cats) making use of the city's tunnels, delaying scores of trains and thousands of commuters. Next time your subway is lurching along, take comfort in the fact that the operator may be deferring to an indefatigable Pomeranian, stubborn spitz, or brave black Lab.
January 1905: When a stray dog took up residence in the Bleecker Street station, Transit workers named him "Subterranean Dog," filled his water bowl, and brought him bones. Sub Dog was eventually captured and booked as "a prisoner in the rooms of the Society for the Prevention of Cruelty to Animals, charged with attempted suicide."  
November 1929: An operator of a train in Bay Ridge slammed on the brakes to avoid hitting "a large gray stray dog of uncertain lineage." The train was rammed from behind, passengers were thrown to the floor, sustaining cuts and bruises. The dog was unharmed.
June 1932: Just before leaving the Hoyt-Astoria station, an operator saw a small, white Pomeranian leap from the platform onto the track. "In less than a minute I brought the train up to within a few feet of him. His tiny legs were flashing over the ties at his best pace," the operator said. The train followed the dog at a creep for two miles, incurring a six-minute delay. The motorman received a medal for his kindness. The Pomeranian was released onto the street.
April 1936: "Accused of worrying the motormen of five subway trains, a fox terrier, age and owner unknown, was locked up at the Coney Island police station yesterday, pending decision on what punishment, if any, fits his case."   
May 1937: An operator was forced to slow his train to make way for a white spitz while it took in the sites below 42nd Street. The spitz reappeared later at the 36th Street station in Queens, apparently having taken the tunnel.
May 1949: Lucky, an intelligent black-and-white box terrier who reportedly "sings to the music of Schubert's Serenade played on the trumpet," made an unintelligent decision and waltzed along elevated tracks in the Bronx. Thanks to his collar, Lucky was brought home where he continued "singing away happily whenever a member of the family plays an accompaniment."
October 1954: A shaggy brown "mostly Irish terrier" escorted an express train for two miles from Prince Street to 34th Street, stopping 14 times to rest along the way and causing a 13-minute delay. Having read of the terrier's moxie in the paper, more than 100 people tried to claim him but shelter workers remained skeptical as everyone "failed to arouse his interest." When a hospital secretary, told by a friend that a dog matching the description of her Rex had been found wandering the bowels of Manhattan, showed up, the dog performed an "ecstatic wriggle" and "kissed [the woman] from her shoes to her hair."  
July 1960: A brown-and-white hound "with a penchant for subway lines and a disdain for turnstiles, tokens and guards" forced a train to a stop for ten minutes while it played "hide-and-seek" with Transit workers near Canal Street.
August 1960: Sixteen people were injured and trains delayed for an hour as a mutt forced trains to stop and go around 145th Street.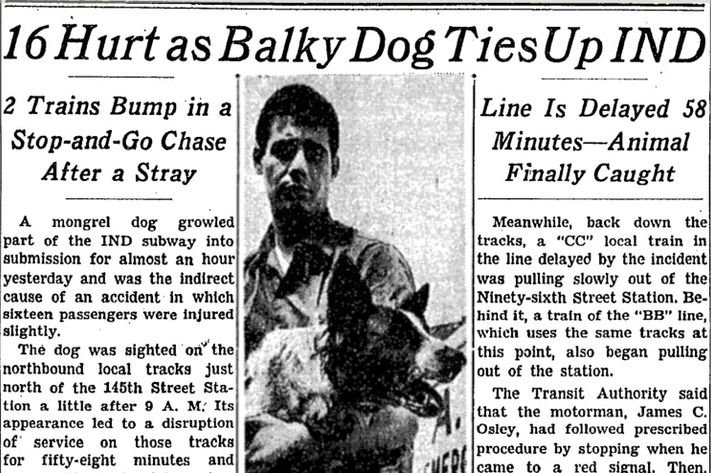 July 1962: A brown-and-white terrier puppy with a broken leg caused thousands of rider delays for two hours. The dog was saved and its leg put in a cast.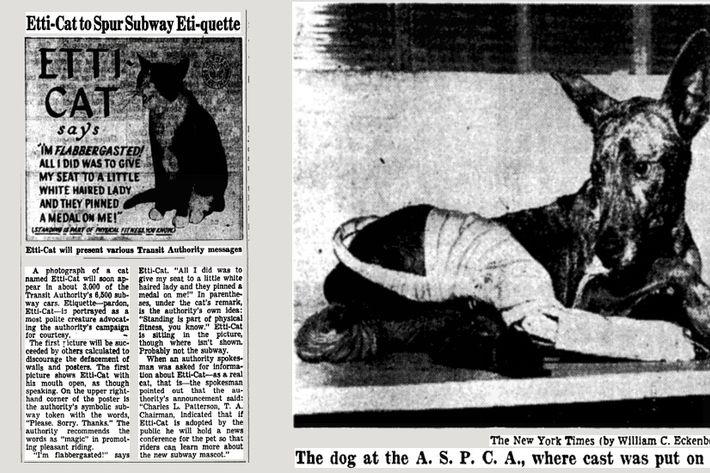 July 1988: A surly German shepherd boarded a Manhattan-bound C train, sending passengers into a frenzy and delaying 8,000 rush-hour commuters. Eventually, "a cop named Wolf subdued him with a stun gun."
February 2008: After an operator believed he saw a black cat somewhere around Lexington Avenue and East 55th Street, two Transit workers meowed their way through the tunnel. Georgia, who had leapt out of her carrier and off a subway platform 25 days earlier, responded and was soon reunited with her librarian owner.
February 2013: When Cecil Williams, a 60-year-old blind man, fell on the tracks at 125th Street, his seeing-eye dog, Orlando, didn't hesitate. The black Labrador jumped onto the tracks and huddled next to his master as the train rolled overhead. Both Williams and Orlando survived.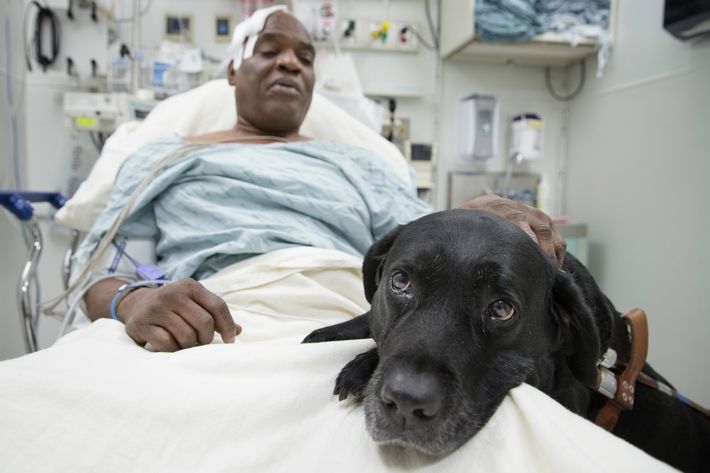 August 2013: Officials suspended service along the B and Q lines for two hours, cutting power to the third rail, while officers chased two elusive kittens. Arthur and August were eventually captured and showed little remorse for the inconvenience they caused commuters.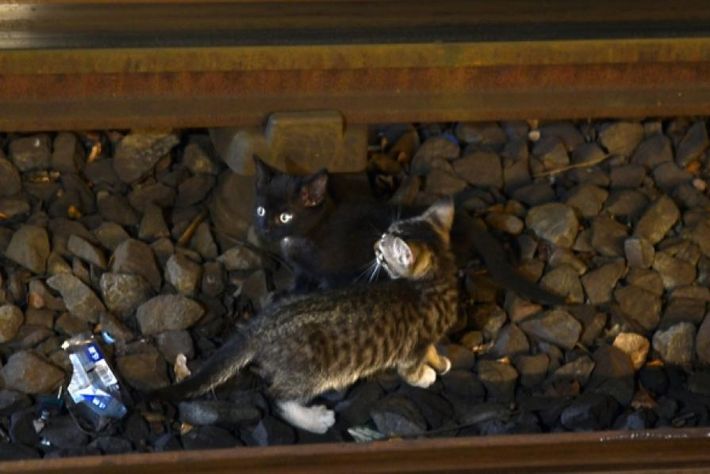 December 2013: A small gray pit bull delayed trains for a half-hour in Queens. She was rescued, adopted, and named Ellie.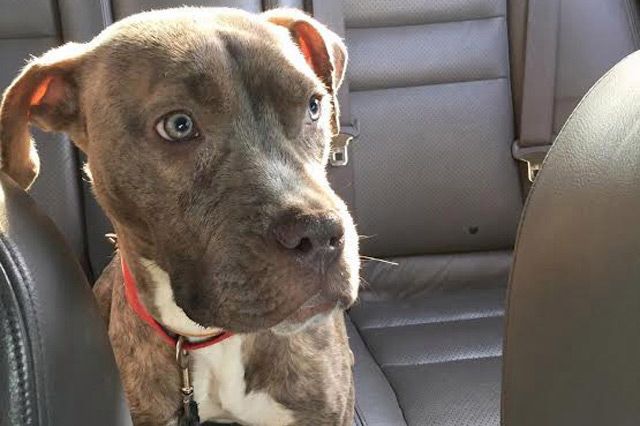 February 2015: An MTA worker rescued a haggard shih-tzu-poodle mix, adopted her, and then gave her up when her true owners claimed her.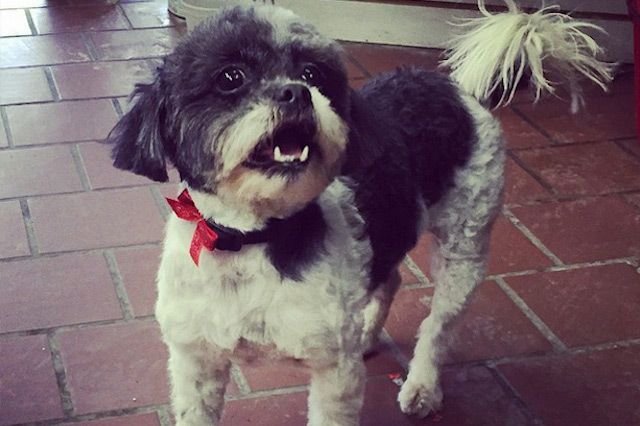 July 2015: Eighty-three trains were delayed when George, a small black cat from Washington Heights, broke free from his owner and hid near the third rail at Canal Street. George was rescued, scared but unharmed.