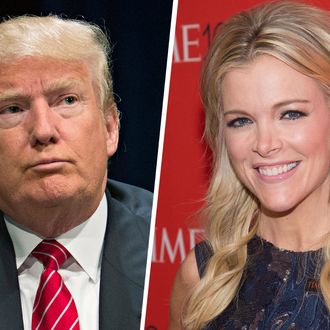 Fight! Fight! Fight!
Photo: Getty Images
Donald Trump has passed on another event hosted by Megyn Kelly, but the low-key way this news was handled by both sides actually suggests a détente in their stormy relationship. Fox News just announced that it will hold a two-hour special titled The Kelly File: Face to Face With Candidates this Wednesday at 9 p.m., in which the host will interview Ted Cruz, Ben Carson, Marco Rubio, and John Kasich. (Why? Because there are only two GOP debates in the next 11 days, including one hosted by Fox.)
Trump will not attend the Houston event, but his RSVP was surprisingly civil. "The campaign has a previous engagement in Virginia and then New York, which could not be rescheduled. Given this was just proposed at the last minute it was not possible to change our plans in order to attend. Mr. Trump looks forward to participating in the next FOX News debate," Trump spokesperson Hope Hicks wrote in an email.
Earlier this month, Trump said he did not intend to boycott the March 3 debate in Detroit, though Kelly will be one of the moderators, along with Bret Baier and Chris Wallace. "That had nothing to do with Megyn Kelly," Trump said of his earlier temper tantrum. "The fact that I went out of the last one had to do with a memo that was sent out by Fox that was a little bit taunting and I said it was inappropriate."
While Trump's initial complaint was all about Kelly, whom he called "very biased," at some point he began insisting it was actually about snarky statements from Fox, which were backed by network CEO Roger Ailes. Trump isn't very keen on people pointing out inaccuracies in his versions of events, and it seems Kelly is happy that they're playing nice. She tweeted:
So, can they keep it up until next Thursday? It's in their best interest to remain civil, as it could mean bigger ratings for Fox, and more votes for Trump – but judging from these recent tweets, we doubt it.