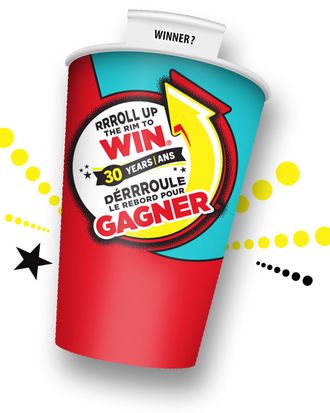 A scenario: You have just won some sort of contest or giveaway. The giveaway requires you to go somewhere, likely a website, and enter a random, one-time-use alphanumeric code in order to redeem your prize.
Do you …
(A) redeem the code and claim your

 

prize
(B) not redeem the code, brag about your winnings by posting a photo of the code on social

 

media
A Canadian woman who won a $100 Tim Hortons gift card chose the latter option. Margaret Butler Coward was so excited about winning a prize in the coffee chain's annual Roll Up the Rim contest that she posted a photo on Facebook, allowing some coldhearted monster to redeem the code before her.
Luckily, this story has a happy ending. Tim Hortons has decided to give Butler Coward her prize anyway. "Try to think twice before you post something, because it really can come back and kick you in the butt," she told the CBC.
It's been a rough month for social-media burglary victims. A few weeks ago, some enterprising teens went around Twitter harvesting coupons for free Chipotle.