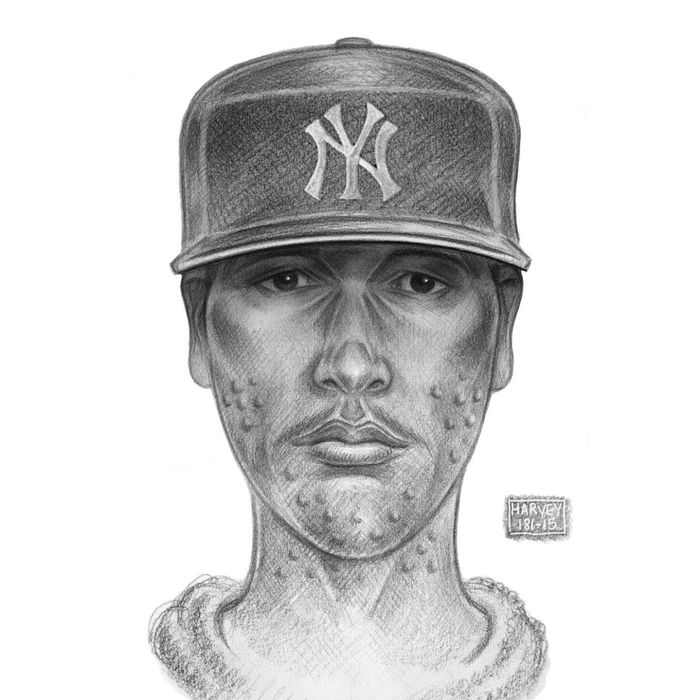 A police sketch of the man suspected of killing Jean-Claude Bernagene of Brooklyn.
Photo: NYPD
Thursday night, two NYPD officers were standing on the Stillwell Avenue subway platform when — according to the Daily News' source — one of them spotted a man who looked familiar. But as one of the officers began scrolling through his phone to look through wanted posters for a match, the man made their job much easier — by spitting on the platform. That is, as all subway-sign aficionados know, a low-level crime, and they approached the man to issue a ticket, asked for his name, and quickly learned that he was a suspect in the November murder of a Brooklyn man.
The cops locked up the suspect at the 67th Precinct, where he was questioned and scheduled to appear in a lineup for identification. The suspect, who was not named in the Daily News report, was wanted in the unsolved shooting death of Jean-Claude Bernagene, a Brooklyn man who ran a local gambling operation and who, police believe, was killed during a robbery.
In October, another murder suspect was nabbed in the subway after a quality-of-life violation when cops spotted him taking up two seats on an A train at Columbus Circle. That man, Gregory White, was wanted for fatally stabbing a Coney Island woman last January.

Secondary moral of this story: Don't spit in the subway. It's disgusting.