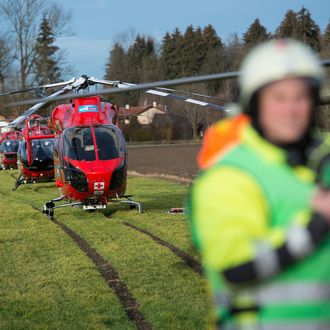 Rescue helicopters head to the scene.
Photo: SVEN HOPPE/AFP/Getty Images
Two trains crashed head-on in southern Germany on Tuesday morning, killing at least four people and injuring about 100, according to local police. The BBC reports 15 are in critical condition and 40 are seriously hurt.
The two trains collided on a single track near the Bavarian town of Bad Aibling shortly before 7 a.m. One train derailed and several cars were overturned. 
"This is the biggest accident we have had in years in this region and we have many emergency doctors, ambulances and helicopters on the scene," police spokesperson Stefan Sonntag told the Associated Press. As of 10 a.m. local time, rescuers were still working to free people from the train. So far, the cause of the crash is unknown.
This post will be updated as more information becomes available.