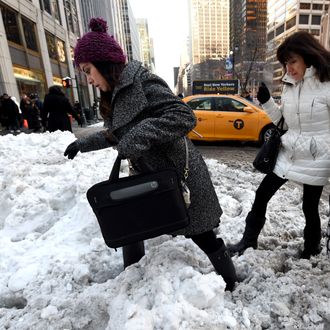 Yup, this again.
Photo: TIMOTHY A. CLARY/AFP/Getty Images
The experts are in agreement: This week's weather won't be pretty. Well it might be pretty if you like the look of snow, but it won't be pleasant. New Yorkers can expect cold winds and rain turning to snow on Monday morning, growing steadily less snowy and more wet through the week.
Still, as we find ourselves saying almost everyday: At least we're not in Boston. New England is going to bear the brunt of the storm, with up to a foot of snow expected. The Weather Channel is anticipating more than two million people will be affected in New England, with "blizzard warnings … issued for Cape Cod, as well as Nantucket and Martha's Vineyard."

The storm is being blamed on an area of low pressure off the Atlantic coast. On the bright side, this is a good opportunity to learn a new weather word: bombogenesis. Here's the Weather Channel again: "bombogenesis … is a term generally applied to a storm whose minimum pressure drops at least 24 millibars in 24 hours, indicating a strong and rapidly intensifying storm system."

This storm has bombogenesis written all over it.

In it's typically breathless style, New York Metro Weather says "an anomalous and powerful coastal storm is likely to graze the area … early next week," expect a "a tremendous breadth of precipitation," a "large and intense mid and upper level system," and "an impressively strong trough."
 
That all sounds much scarier than it is.
With only a few inches of snow accumulating each day in New York, the storm won't have the drama of the big blizzard a few weeks back. However, what it lacks in inches, it should more than make up for in duration. Snowfall is expected with intermittent periods of rain — lovely — through the better part of the week, with some flurries predicted as late as Saturday morning.
Mayor de Blasio has issued a travel advisory for Monday through Wednesday. "New York City is expecting two to four inches of snow with light snow through Wednesday, and we're urging residents to prepare for snowfall and slippery roads this week," he said. "While traveling, make sure to drive slowly, use major streets or highways where possible, and exercise caution when walking, biking, or driving. Check in on friends, neighbors, and the elderly to make sure those around you are safe and prepared for the coming snow."
You can pass the storm like we're planning to: Brew some hot cocoa, put on a pair of fluffy slippers, and Wikipedia "millibars." Or, go to work and get wet. Suit yourself.