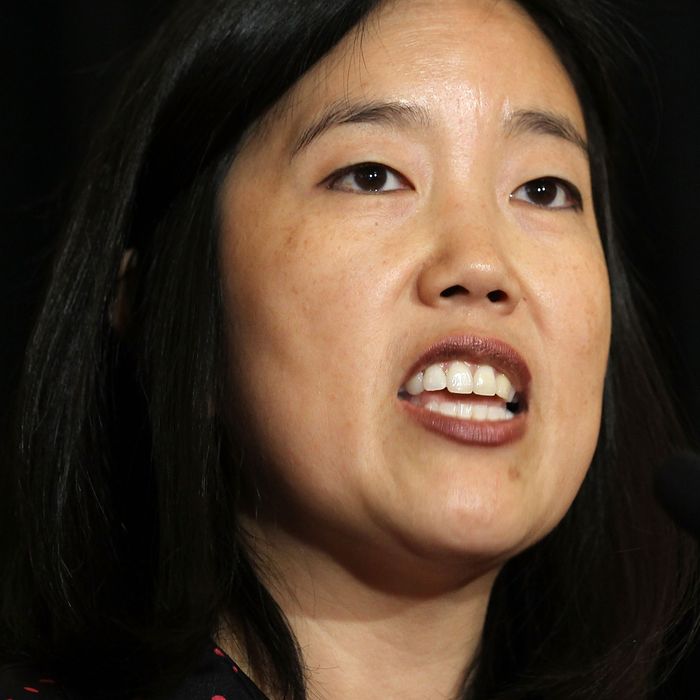 Michelle Rhee, former Washington, D.C., schools chancellor.
Photo: Alex Wong/Getty Images
Education-policy analysts have known for a long time that the traditional system for hiring teachers — giving them tenure after a few years, and tying their salary to years on the job — does not exactly optimize the quality of the teaching workforce. In 2009, Washington, D.C., launched IMPACT, a new system for evaluating teachers that combined in-class evaluations with testing that compared student improvement against expected levels. Critics of the education-reform movement attacked it bitterly. "The overall impact of IMPACT is not only unfair but not likely to do the job it is supposed to do: Root out bad teachers," complained Washington Post blogger Valerie Strauss. The Century Foundation's Kimberly Quick argued, "the studies are careful to only point out that teacher IMPACT scores rose—not to say that student performance improved."
The critics did raise some possible ways the system might backfire — it could fail to correctly identify effective and ineffective teachers, or replace the departed teachers with worse ones. But now we do have evidence about how the system performed. A new study by the University of Virginia's Melinda Adnot, Veronica Katz, and James Wyckoff and Stanford's Thomas Dee finds that the IMPACT system improved student performance significantly. Specifically, when teachers rated effective under IMPACT replaced teachers rated ineffective, student achievement rose. Confounding the predictions of the critics, the system has proven successful at identifying good and bad teachers.
As Matt Barnum cautions, this does not mean that any system that makes it easier to fire teachers will yield the same results. The design of the evaluation system matters a lot. But it is possible to design systems to evaluate teachers and reward the best ones while identifying the weakest teachers for improvement or firing. And Washington, D.C., and its much-loathed chancellor Michelle Rhee, whose successor, Kaya Henderson, remains a figure of contempt by reform critics like Diane Ravitch, have found a better system for putting good teachers in the classroom and keeping bad ones out.
At the moment, school reform is on the political defensive. Unions and anti-government activists have teamed up to attack testing and standards, and Hillary Clinton has made a series of anti-reform noises to lock down the support of teacher unions in the primary. But Obamacare has never been popular even though it's also working well. Perception is not reality, and reality is that the education-reform movement is advancing, in fits and starts, toward its goal of finding better ways to educate underprivileged children. A study of matched students found that urban public charter schools produced better performance for similar students than those in neighborhood-based schools. D.C. is showing that neighborhood-based schools can improve by adopting more flexible labor practices. People who care about social mobility for poor students should acknowledge that the school-reform movement is making important advances in helping low-income kids get ahead.