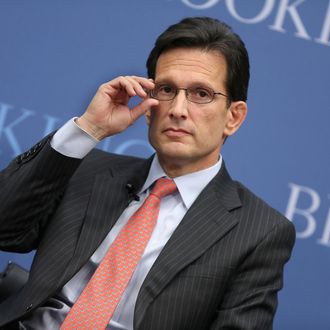 Eric Cantor didn't see this coming.
Photo: Chip Somodevilla/2014 Getty Images
Among those shocked by Donald Trump's runaway victory in the New Hampshire primary was Eric Cantor, who had just a few weeks before made a bet that Trump would fail to win a single primary. The experience of being shocked should not come as a shock to Cantor. In 2010, Cantor invested some $15,000 in a fund that bet on higher inflation, which was widely predicted by conservatives at the time but utterly failed to come about. In 2014, he lost his primary despite internal polling that showed him 34 points ahead, and admitted he was "absolutely" shocked by the defeat.
But now, Cantor, freed from Congress, is working for an investment firm called Moelis & Company: "Whether you are looking at Washington DC proper, the northern Virginia technology corridor or some very well-known companies based in Maryland, these firms need innovative, independent banking advice and Moelis & Company is well positioned to provide it." So people who want to bet their money on Cantor's ability to see the future know where to go.