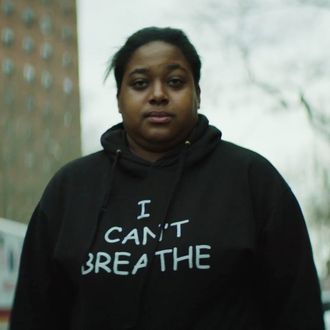 Black Lives Matter was once a "problem" for Bernie Sanders. Now the movement is Sanders's strongest base of support in the African-American community.
The Vermont senator's struggle to reach black voters gained national attention last summer, when BLM protesters disrupted two of the candidate's events. Sanders showed visible irritation when a pair of activists commandeered his microphone at a rally in Seattle. Since then, though, Sanders has met repeatedly with leading advocates for police and criminal-justice reform. In his speeches, Sanders began lacing the names of high-profile victims of police violence in between his signature torrents of economic statistics. He then produced an extensive, if occasionally vague, "racial justice" platform.
As the Democratic race pivots toward South Carolina, the biggest hurdle between Sanders and the Democratic nomination is his tepid support among black voters. Fully aware of this fact, Clinton has produced a series of endorsements from African-American leaders, including (most of) the Congressional Black Caucus. Sanders has gone virtually without endorsements from national Democrats of any color. But the protest candidate has fared far better among the leaders of the African-American community's most vital protest movement. On Thursday night, the Sanders campaign touted the endorsement of one of that movement's most vocal members in an extraordinary political ad.
The four-minute mini-documentary opens with Erica Garner reflecting on her life as a mother.  We see her helping an adorable 6-year-old put on her winter coat. As the child walks to school, backpack in tow, Garner says, "She just learned about Rosa Parks and Martin Luther King."

"She said, but those were in the old days, right," Garner continues. "And I had to explain to her, it's not really over." Moments later, the camera settles on a drawing of the child's grandfather, Eric Garner, whose death by police chokehold became a staple of the nightly news in 2014.
"No one gets to see their parents' last moments, and I was able to see my dad die on national TV," Garner says as that infamous video plays.
She then reflects on how her father's death turned her into a protester. Clips of Sanders decrying police violence begin interweaving with scenes from Garner's life, until she says, "I believe Bernie Sanders is a protester … He's not scared to go up against the criminal-justice system." Garner's endorsement is the most powerful in a series of nods from BLM leaders. On Wednesday, two of the movement's intellectual pillars, Ta-Nehisi Coates and Michelle Alexander, made their preference for Sanders public. Harry Belafonte released his own Sanders endorsement video on Thursday. Daily News columnist and social media celebrity Shaun King endorsed Sanders several weeks ago. Hillary Clinton, of course, is not without support from African-Americans with a deep personal stake in police reform, including Erica Garner's grandmother. The split in the Garner family is representative of the generational divide in many Democratic groups: Sanders's insurgent candidacy has been propelled by his unprecedented support among white millennials, and although he trails Clinton among young black voters, he does so by a far smaller margin than he does with older blacks.

With endorsements as earnest (and well produced) as this, Sanders stands a fair chance of convincing young African-American progressives to join their white counterparts and expand his domination of the millennial vote across the color line.