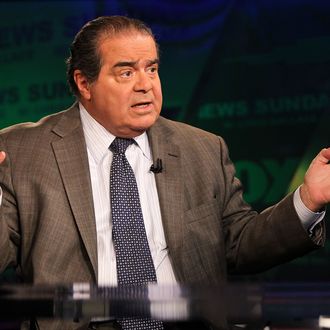 U.S. Supreme Court justice Antonin Scalia.
Photo: Paul Morigi/Getty Images
The world might never know exactly what killed U.S. Supreme Court justice Antonin Scalia, who died at a luxury ranch in West Texas on Saturday. Presidio County judge Cinderela Guevara, a local justice of the peace, told the Associated Press that she declared the 79-year-old dead of "natural causes" without seeing the body herself, having "consulted with Scalia's personal physician and sheriff's investigators, who said there were no signs of foul play."
Guevara told the Washington Post that Scalia didn't have a heart attack, as some reports had claimed. She also said that Scalia's doctor told her that the justice "suffered from a host of chronic conditions." "He was having health issues," she said.
Scalia's body was found by Cibolo Creek Ranch owner John Poindexter and a friend. "We discovered the judge in bed, a pillow over his head. His bed clothes were unwrinkled," Poindexter told the San Antionio Express-News. "He was lying very restfully. It looked like he had not quite awakened from a nap." Poindexter said Scalia, who was on the property for a hunting trip, seemed "entirely natural and normal" on the evening preceding his death.
Scalia's body is expected to be transported to Virginia on Monday. Chris Lujan, the manager of the El Paso funeral home to which Scalia's body was taken on Saturday night, told both the Post and the AP that the justice's family didn't want an autopsy performed. Have at it, conspiracy theorists.