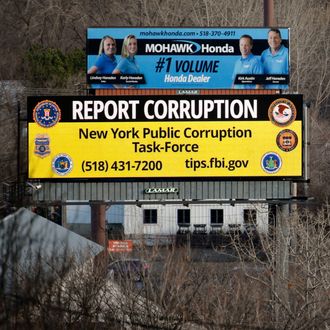 If you see something, say something.
Photo: Mike Groll/AP
Certainly the eccentric pleading billboard is an American tradition. The National Debt Clock. A demand that you pull your pants up, kid. God also seems to have bought some space ("Please … I need your help with this!"). Now the FBI has taken out highway-side space asking drivers in Albany to help its agents fight government corruption. Urgently! So urgently that you should call immediately! Except that making a phone call while driving is itself against New York State law. Don't do that.
The electronic billboards, conceived by a group called the New York Public Corruption Task Force, went up off I-90 a few weeks after two of the most powerful people in the state, former Assembly Speaker Sheldon Silver and ex-Senate leader Dean Skelos, were convicted of using their positions for personal gain. The FBI has already tried this approach in Connecticut and Kentucky; in Janesville, Wisconsin, calls to the police tripled when comparable anti-crime billboards went up.
"The public plays an integral role in helping law enforcement root out corruption," said Andrew Vale, the FBI's special agent in charge of the Albany division. "Which is why we try to make it easier to come forward and report suspected abuse." He did not add, "Besides, there's so much money sloshing around in Albany that we can just put up a sign and wait for the calls."
Some lawmakers expressed skepticism about the effectiveness of this move. "It seems to me that if someone is aware of corruption in any form, they don't need a billboard to tell them," former head of the Assembly's ethics committee Daniel O'Donnell told the New York Daily News. "It's not like the people don't know what the FBI is and what they've been doing. But maybe I'm wrong."