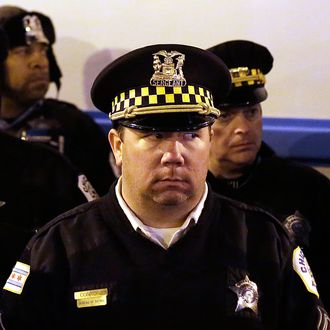 Most officers haven't been sued even once.
Photo: Joshua Lott/Getty Images
The Chicago Police Department has a few bad eggs — very expensive ones. On a force of 12,000 officers, 124 people represent one-third, or $34 million, of all misconduct settlements brought against the department since 2009, the Chicago Tribune reports.
Most are not high-profile misconduct cases, but the behavior they detail is ugly: using racial slurs, injuring cuffed suspects during traffic stops, making false arrests. The Tribune's review found that many such cases started with a traffic stop, marijuana possession, or resisting arrest. Eighty-five percent of the cases the city has settled since 2009 were for less than $100,000, and just 5 percent topped $1 million. These small claims manage to keep the police out of public view, because if a lawsuit goes over $100,000, it has to be reviewed by the local alderman.
Most Chicago cops appear to be good at their jobs: 82 percent of them were not associated with any payouts over the last six years. But the problem officers can really pile them on: A couple have had seven lawsuits against them since 2009. The Tribune review found that a lot of these officers run in tight groups, and some continue to receive awards from the department for their service. Police officials usually blame tough beats for high numbers of lawsuit claims. 
"The department needs to do a better job identifying officers with problematic behavior to hold them accountable and restore trust in the police," said police spokesman Anthony Guigliemi. A newly formed Task Force on Police Accountability will be instituting an "early intervention system" to try to identify troublesome cops before a bad encounter happens.