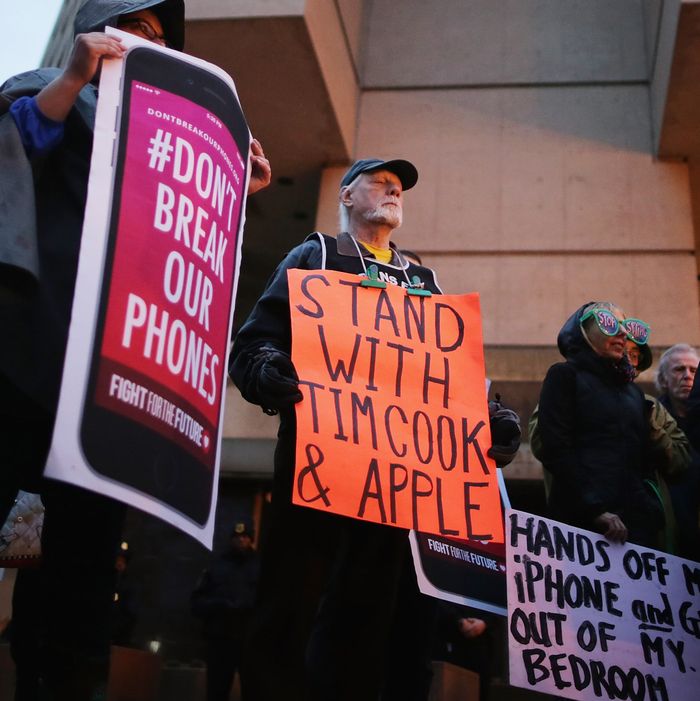 Pro-Apple protesters rally outside the FBI building in D.C.
Photo: Chip Somodevilla/2016 Getty Images
Good morning and welcome to Fresh Intelligence, our roundup of the stories, ideas, and memes you'll be talking about today. In this edition, the FBI proves Apple right, Trump's ascent continues, and Jean-Claude Van Damme gets work. Here's the rundown for Wednesday, February 24.
WEATHER
Three people have already died in the severe weather passing through the South. In New York, we will continue to avoid the snow afflicting states to the north, but the rain shows no sign of letting up until tomorrow. [Weather.com]

FRONT PAGE
Apple's Worst Fears Are Totally Founded
Just like Apple predicted it would, the government has requested the company's help in unlocking nine iPhones, along with the one used by the San Bernardino shooter. Investigators had insisted these requests to Apple would not become routine, but didn't qualify exactly what routine entails. We guess more than nine. [NYT]
EARLY AND OFTEN
Irregularities, Including a Trump Victory, Plague Nevada Caucus
Donald Trump won his third victory in a row at Tuesday's Republican Nevada caucus, with Rubio narrowly winning the battle for second place. The caucus was plagued by problems, including complaints about poll-volunteers wearing Trump gear. Among other charming things Trump said after winning: "I love the poorly educated."
Clinton, Sanders Court Minorities
Tuesday's Democratic town-hall event in South Carolina found the candidates going over plenty of old ground — Hillary's speeches to Wall Street banks, Sanders's lack of concrete plans — while strengthening their pitches to minorities, especially African-Americans. Sanders called out Republicans for promoting racist birther attacks on President Obama, while Clinton avoided an in-depth analysis of Beyoncé's "Formation."

Trump: Name-Calling and Face-Punching His Way to Victory
Politics has rarely been so hard to watch. First, Donald Trump said he wanted to "punch a protester in the face," and then, in an exchange that should have embarrassed everyone involved but clearly didn't, Donald Trump called Ted Cruz a baby. Not wanting to seem sympathetic for even a moment, Cruz responded by tweeting a stupid video from Austin Powers: The Spy Who Shagged Me. [CNN]

Senate Turns Back on Governance Entirely
Majority Leader Mitch McConnell has flat-out said that the Senate will not hold any hearings or votes on Obama's Supreme Court nominee, nor will they even meet him or her. Critics have been quick to point out that Antonin Scalia, who was well known for his literal reading of the Constitution, would have been against the move, but it is obstructionist and bad for the country so he might have actually loved it.

THE STREET, THE VALLEY
Gates Breaks Ranks, Sides with Government — Or Does He?
Bill Gates has been dragged into the ongoing debate between Apple and the federal government over encryption. It was first reported that Gates sided with the government, but Gates has since responded that he thinks neither side is entirely right. Come on, Gates, there's no room for nuance in this highly charged and complex issue. [The Verge]

Audi Tops List in Rare Good News for Volkswagen
Despite what has pretty much been a full year of unrelenting bad press, Audi — and its parent company, Volkswagen — has topped Consumer Reports' annual list of top vehicles. The other surprise on the list is Tesla. The electric car's standing has dropped precipitously following the new model's quality problems. [Reuters]

Home-Video Sales Save Film Company. What Year Is This?
Dreamworks is having a great year. Dreamworks Animation posted fourth-quarter earnings yesterday that surpassed analyst expectations across the board. The unexpected spike in earnings is being attributed to the company's focus on home-video releases and new Netflix shows. [Bloomberg]

Hoverboards Get Even Hotter
Amazon has officially stopped carrying hoverboards. The company changed course from its usual "carry anything even if it's crappy" business model. The company dropped the popular non-hovering hoverboards following a Consumer Product Safety Commission decision that all hoverboards are unsafe because they just burst into flames all the time. [CNet]
MEDIA BUBBLE
Tribune Publishing Situation Ugly, and Getting Worse
Jack Griffin is out and Justin Dearborn is in, as things keep getting crazier in the upper echelons of Tribune Publishing. New CEO Dearborn is from the health-care technology industry, which makes no sense — not that an intra-industry hire turned out to do any good. Griffin came in fresh off being fired from Time Inc. after only six months on the job. Let's just say things are uncertain. [CNN]

Why Do People Want to Buy Yahoo?
Speaking of Time Inc., the company is said to be mulling a purchase of Yahoo's core business. If the power players at Time decide to go for it, they might find themselves up against big names like AT&T and Verizon. What is Yahoo's core business exactly? Is it still a search engine? [Bloomberg]

The Best News of the Year, Perhaps Decade
Huge announcement: Jean-Claude Van Damme will star in an upcoming action-comedy show on Amazon. The actor will go full "method" and embody the character of someone named Jean-Claude Van Johnson. Johnson is an over-the-hill professional martial artist and actor. We're just excited to see how Van Damme handles his transformation.

PHOTO OP
Kesha thanked those supporting her legal battle with music producer Dr. Luke in a post on Instagram. "I am beyond words in gratitude," she said. "Thank you is not enough but it is all I have. A million times over and forever thank you. The support I have received has left my face swollen from tears. I love you all so much. A statement too large for this format is coming … "
MORNING MEME
This is the kind of political discourse we can get behind. Let's all just give up and talk about Beyoncé. Because why not?
OTHER LOCAL NEWS
You Make One Tiny Mistake …
In a charming story out of small-town America, a Limestone County, Virginia, man asked a friendly police officer for a ride to the local Walmart. One problem: He was carrying "0.5 grams of methamphetamine, 6.4 grams of marijuana, 0.7 grams of unidentified crystals, 5 baggies containing 5.2 grams of black tar heroin, a ball of black tar heroin weighing 13.2 grams, 18 needles, a cooking spoon, two marijuana smoking pipes, one meth smoking pipe, a grinder and a large quantity of plastic baggies." A lot of bad choices here. [AL.com]

Joanie Pepperoni: Crusader for Justice
Your everyday story of a murder-for-hire plot thwarted by an undercover cop is made truly special by the alter ego the police officer chose for herself: Joanie Pepperoni. Will somebody please give this pizza-loving crime fighter her own series? [WTAE]

HAPPENING TODAY
World Readies for Crash Landing
SpaceX will be trying its hand at launching a Falcon 9 rocket again today, this time sending a telecommunications satellite into orbit for the company SES. If you're excited for an upright landing after the last near-miss, don't hold your breath. The company isn't. [The Verge]

Bill on First Dude Duty
In Richmond today, Bill Clinton will headline a get-out-the-vote rally for Hillary ahead of the Virginia primary on March 1. Let's hope we get fun, presidential Bill, not Sanders-bashing "Big Dog" Bill. [Richmond Times-Dispatch]