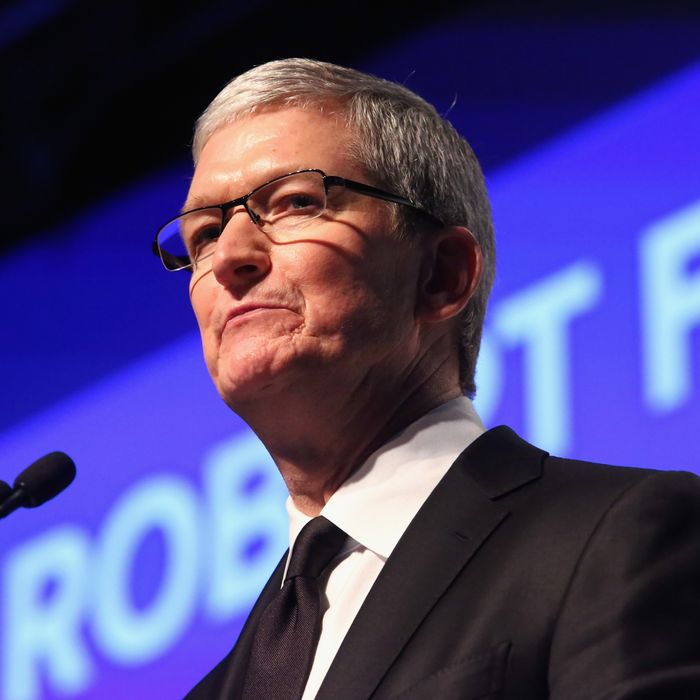 Apple CEO Tim Cook.
Photo: Astrid Stawiarz/2015 Getty Images
Good morning and welcome to Fresh Intelligence, our roundup of the stories, ideas, and memes you'll be talking about today. In this edition, Apple fights the Feds, Trump punks Carson, Kanye gets robbed, and Bush pulls a gun. Here's the rundown for Wednesday, February 17.
WEATHER
Following a positively polar weekend in these parts, generally bananas weather is set to continue with record warm temperatures stretching across the West, Midwest, and Great Lakes. The storms that battered the East Coast over the last few days are over, with mild weather expected in New York City through the weekend. [Weather.com]

FRONT PAGE
Apple Won't Hack iPhone for Feds
Apple announced early on Wednesday morning that it will not comply with a federal judge's order to help FBI agents decrypt an iPhone 5C used by San Bernardino shooter Syed Rizwan Farook. In a letter posted on Apple's website, CEO Tim Cook said the company has been helping the Feds up to this point, "But now the U.S. government has asked us for something we simply do not have, and something we consider too dangerous to create." Cook says the FBI wants Apple to build a new version of its operating system that would create a backdoor into any iPhone: "And while the government may argue that its use would be limited to this case, there is no way to guarantee such control." [Apple, WSJ]
EARLY AND OFTEN
This Is Not a Race Thing, This Has Nothing to Do With Race
While campaigning in South Carolina, Donald Trump repeatedly confused his opponent Ben Carson with the sitting president of the United States, Barack Obama. Trump only realized his mistake when he was corrected by his audience, who then laughed and applauded the Donald's colorblindness. This, ladies and gentlemen is what a post-racial society looks like. [Politico]

That Escalated Quickly
Remember when threatening to spank Hillary Clinton was the big thing among Republican candidates? Well an attendee at one of Marco Rubio's rallies yesterday went one further, demanding that the former secretary of State be tortured. The presidential hopeful did what any true leader should do when a man called out "waterboard Hillary!": He laughed, reminded the would-be torturer to be quiet in front of the press, and belatedly pretended he didn't hear what he said. A veritable master class in staying classy.
Brave President Announces Intention to Do Job
This is where we are now. Yesterday the president of the United States announced that he would nominate a qualified judge for the Supreme Court seat left empty by the late Antonin Scalia. His announcement — that he would do his job and try to do it well — is sure to be met with rage and indignation from Republicans. [CNN]

Obama As Terrified As Everyone Else
During the same press conference, President Obama made his feelings about the field of Republican candidates very clear. Referencing Trump, Obama said of the presidency: "It's not hosting a talk show or a reality show. It's not promotion. It's not marketing. It's hard. And a lot of people count on us getting it right. And it's not a matter of pandering and doing whatever will get you in the news on a given day." Trump, who was not really listening, said that he took the obvious criticism as a compliment. [NYT]

THE STREET, THE VALLEY
Saudi Arabia Might Stop Doing Its One Thing
In the face of flooded markets and diving oil prices, both Saudi Arabia and Russia have announced a freeze in oil production. The move represents something of an about-face for the kingdom — Saudi Arabia, not Putin's Kingdom of Russia — which has long claimed it would not halt production. Still, the agreement is predicated on Iran also agreeing to stop producing oil, which is far from a sure thing. [Reuters]

United Mulls Future As Mechanic-Free Airline
United Airlines' mechanics union is officially seeking permission to strike following its rejection of the airlines' new contract offer yesterday. More than 93 percent of mechanics voted against the contract. This news is actually reassuring for many who assumed United's team of mechanics consisted of two surly, overworked baggage handlers. [Reuters]

Megabug May or May Not Prove to Be Catastrophic
A flaw in some commonly used computer language has programmers and security experts scrambling. The language, used in many programs as well as the building blocks of the internet, can leave devices vulnerable to outside interference. Everyone interviewed so far seems confused about whether this is no big deal or the end of society as we know it, so stay tuned. [BBC]

MEDIA BUBBLE
Make That Half-a-Million-and-One
This is really not going to help Kanye's Shia LaBeouf moment. After announcing he was broke, publicly begging Mark Zuckerberg for money, and declaring accused serial rapist Bill Cosby innocent, some news out yesterday might further upset Mr. West. It seems his new album, Waves, or something, has been pirated a record half-a-million times. It's almost like people don't want to support Kanye for some reason. [BBC]

Force Behind 'Today in Black Twitter' Moves to Reddit
Reddit has hired Mark S. Luckie, the former news manager at Twitter, as its new head of journalism and media. Luckie is probably best known for Today in Black Twitter, his online digest of what's going on in the Black Twitter–sphere. [TechCrunch]

Musicians to Make 30 Million Cents
While most of the streaming news has focused on Apple's new service, it doesn't seem Spotify has much reason for concern. The Swedish company just announced they are nearing 30 million paying customers. That's about three times Apple Music's numbers. And all without Adele! Incredible. [The Wrap]
PHOTO OP
Sorry Canines, This Dog Is Officially the Best
Yesterday was the last day of the 140th Annual Westminster Kennel Club Dog Show and a very good day for CJ, a German Shorthaired Pointer, and Valerie Nunes-Atkinson, a human woman, who won best in show.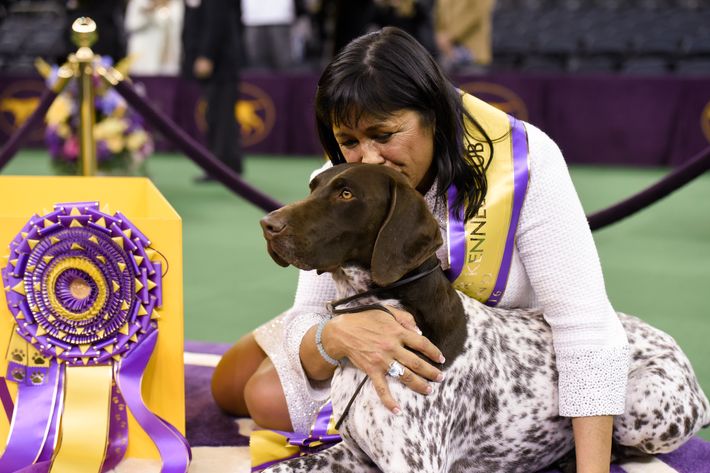 MORNING MEME
Jeb Bush Pulls a Gun, Nation Laughs
Jeb Bush may be polling fifth in South Carolina, but he's the clear winner of today's contest for most viral tweet. He managed to pull a gun on the whole country on Tuesday afternoon, inspiring many memes, and feigned concern for his mental health.
OTHER LOCAL NEWS
Landmark Christmas-Zombie Vindication
The war on Christmas is over. A court in Sycamore Township, Ohio, has dropped the case against Jasen Dixon's zombie nativity scene. We're not trying to be insensitive here, but Jesus does fit the definition. [AP]

Cops Ruin Great Sitcom
If you received bad medical advice from a teenager posing as a doctor, Palm Beach police are warning that you might have been the victim of a scam. Things were going just fine for 18-year-old non-doctor Malachi Love-Robinson. He even opened his own practice in West Palm Beach; then he performed an examination on an undercover cop. Love-Robinson is now in jail. [NBC]

HAPPENING TODAY
Insane Campaign Schedule Gets Even Crazier
The Trump camp has announced its leader will hold a one-man town hall on MSNBC Wednesday night; at the same time, three other GOP candidates will appear at a previously scheduled town-hall event on CNN. Time to dust off the old picture-in-picture for a more immersive train-crash experience. [Orlando Sentinel]

FREE CHEESECAKE: THIS IS NOT A DRILL
The Carnegie Deli is officially open. Stop by today for the traditional five pounds of brisket and slice of cheesecake. For today only, the cheesecake is free. We hope you like riots. [Zagat]