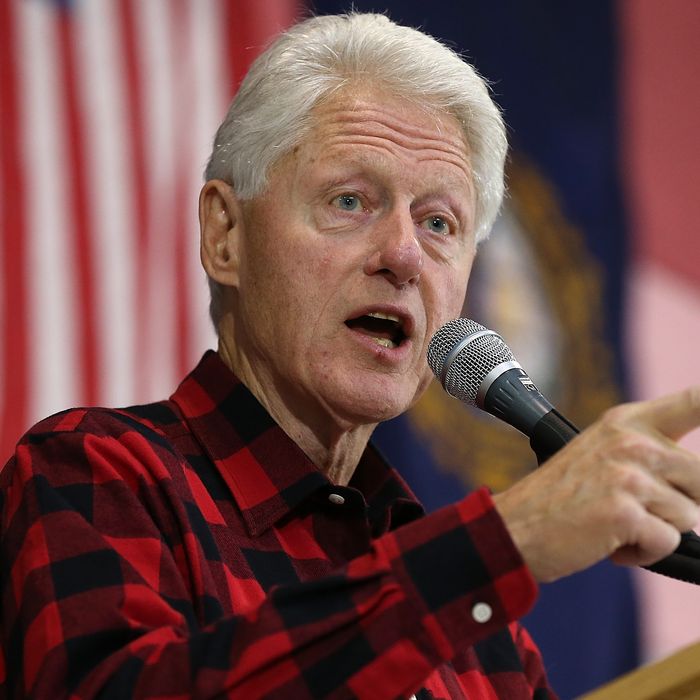 Bill Clinton goes after Sanders in Milford, New Hampshire.
Photo: Win McNamee/2016 Getty Images
Good morning and welcome to Fresh Intelligence, our roundup of the stories, ideas, and memes you'll be talking about today. In this edition, Cam Newton's incredible season comes to a sad end, Clinton's claws are out, and Doritos are icky. Here's the rundown for Monday, February 8.
WEATHER
Another week, another storm headed for the East Coast. Boston looks like it will be hit especially hard, with up to a foot of snow expected. The storm may also affect New York City, with snow and rain headed our way tomorrow. [Weather.com]
FRONT PAGE
Cam Crushed by Super Bowl Defeat
Carolina Panthers quarterback Cam Newton was clearly struggling during a post-game interview following his team's 24-10 Super Bowl defeat at the hands of the Denver Broncos. Newton barely managed to answer any questions before conceding that the opposing team "just played better than us," and leaving the stage mid-interview. While some (cough Rob Lowe) were quick to accuse Newton of unsportsman-like behavior, he did give Broncos quarterback Peyton Manning a big smile and hug immediately following the game. [USA Today]
EARLY AND OFTEN
Clinton Campaign Unleashes Bill
With Bernie Sanders poised to beat Hillary Clinton in Tuesday's New Hampshire primary, Bill Clinton let loose on the Vermont senator. In a 50-minute speech to voters there, he accused Sanders of hypocrisy and dishonesty, without actually mentioning him by name. The former president criticized Sanders's health care plan, complained about how he handled the December data breach, and noted that "Bernie Bros" have launched ugly, sexist attacks on Clinton supporters (Sanders has denounced them). "When you're making a revolution, you can't be too careful with the facts," he said. The Sanders campaign called Clinton's remarks "disappointing." [NYT, Politico]
Make America Torture Again
Donald Trump doubled down on recent comments about waterboarding on Sunday, coming out as the race's most outspoken pro-torture candidate. Trump said he would try to legalize waterboarding and said other torture techniques might be next.
Steinem Sorry for Weird, Sexist Remark
Feminist pioneer Gloria Steinem made what is possibly the least-feminist remark in the 2016 campaign so far on the latest Real Time With Bill Maher. She suggested that young women aren't supporting Hillary Clinton because, "When you're young, you're thinking, you know, where are the boys? The boys are with Bernie, or, you know … " She apologized on Sunday afternoon, calling it a moment of "talk-show Interruptus" in a post on her Facebook page.

THE STREET, THE VALLEY
Volkswagen Considers Money-Throwing Solution
Disgraced auto titan Volkswagen is still dealing with the fallout from last year's scandal in which the company was exposed as misrepresenting its cars' emissions. Volkswagen is deciding how to compensate the more than half a million American customers who were misled. Options include offering cash payouts and trade-ins on new cars. [Reuters]

Silicon Valley Super Bowl Not a Tech Success Story
Cord-cutting football fans are up in arms after CBS's app failed during the Super Bowl broadcast. The outages — which affected people watching on Apple TV, Xbox, and Android devices — are especially embarrassing considering the game, hosted in Silicon Valley, was touted as the most technologically advanced to date. It looks like TV is still good for something, at least one day a year. [The Verge]

Verizon in Trouble for Providing Service Customers Actually Like
Verizon has come under fire for violating the spirit of net neutrality by not applying data charges to its video-streaming service, go90. Under the new plan, video streamed on the service wouldn't count against Verizon customers' data plans. Verizon has denied any wrongdoing and it looks like the FCC may have to get involved. [Tech Crunch]

MEDIA BUBBLE
Gross Doritos Commercial Under Fire
Like most Americans, we think the best part of the Super Bowl is not the game, but NARAL Pro-Choice America live tweeting the commercials. Ads from Snickers and Hyundai drew the group's ire for playing on outdated relationship tropes. Nor were they fans of the Doritos ad that allegedly humanized fetuses. The commercial featured a baby bursting out of a terrified pregnant woman's body to eat a Dorito off the floor, so maybe the tropes weren't the biggest problem. [Politico]

China Soft Power Ploy a Total Success
Critically acclaimed film Hail, Caesar! became the worst performing premiere in the Coen brothers' careers yesterday. (Including Burn After Reading? Seriously?) The, by all accounts, star-filled, engaging, and artfully realized film, just couldn't compare with the third Kung Fu Panda installment.
PHOTO OP
World Still Scary
While most of us were putting the finishing touches on our game-day, seven-layer dip, this is what the North Koreans were up to: launching a long-range rocket. What Pyongyang says was a bid to put a satellite into orbit, the rest of the world sees as a belligerent test of a ballistic missile.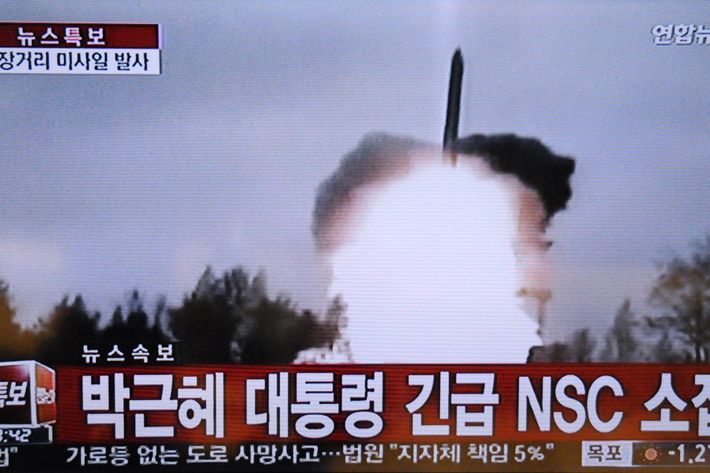 MORNING MEME
Super Bowl Winner Peyton Manning Reveals His Priorities
While Cam Newton was criticized for his sulking, we learned a lot about Peyton Manning from his behavior immediately after winning the Super Bowl. First the Papa John's spokesperson kissed company founder John Schnatter, then he said he planned to kiss his wife and kids, hug his family, and "drink a lot of Budweiser tonight." (God also got a shout out.) The company said the plug was unpaid and unexpected, but Gawker reports Manning owns a stake in two Anheuser-Busch distributors.
OTHER LOCAL NEWS
Monkey Escapes to Freedom, Stardom
Police in Minerva Park, Ohio, are still on the lookout for a howler monkey who's been on the loose since Thursday. It's unclear how the monkey wound up in the area, as there are only ten monkeys permitted in the state and none match the description. Unsurprisingly, the monkey already has a Twitter account. [WTOP]
Frozen Lake Makes Subpar Parking Lot
Attendees of this year's Winterfest at Wisconsin's Geneva Lake had a more immersive experience than they would have liked after the portion of the frozen lake being used for a parking lot — really guys? — collapsed. Global warming is real. [HuffPo]

HAPPENING TODAY
Happy Lunar New Year!
Today kicks off the Lunar New Year. For the more than a billion people who follow the lunar calendar, today marks the first day of the year of the monkey. [WSJ]

President Faces Biggest Test of His Career
Gayle King from CBS This Morning got the president to make a Super Bowl prediction during an interview conducted hours before the game started. It was put in a sealed envelope that will be opened on-air this morning, when no one cares anymore. [CBS]