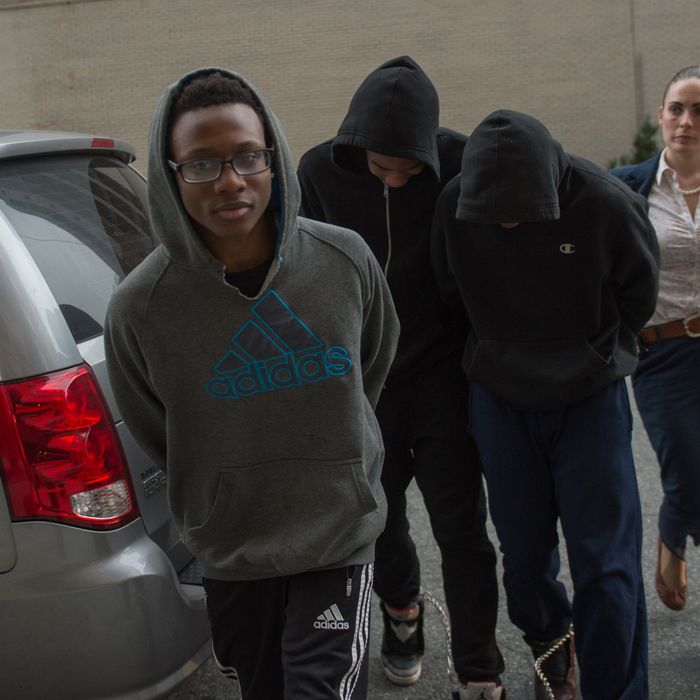 The alleged gang-rape suspects, who are not expected to face charges, are escorted into Brooklyn Criminal Court for arraignment on January 12, 2016.
Photo: Bryan Smith/ZUMA Press/Corbis
Good morning and welcome to Fresh Intelligence, our roundup of the stories, ideas, and memes you'll be talking about today. In this edition, the Brooklyn gang-rape case falls apart, Mitt gets ironic, Facebook expresses itself, and some guy's pants explode. Here's the rundown for Thursday, February 25.
WEATHER
The severe overnight storms in the tristate area — there have even been tornado warnings in New Jersey and Pennsylvania — should calm down considerably today, leaving scattered showers and balmy-ish temperatures. The worst should also be over for the South, where tornadoes have proven deadly over the last few days. [Weather.com]
FRONT PAGE
D.A. to Drop Brooklyn Gang-Rape Case
Brooklyn district attorney Kenneth Thompson said on Wednesday that he will drop the charges against five teen boys accused of raping an 18-year-old woman on a playground in Brownsville, Brooklyn, last month. The woman and her father changed their story several times and eventually admitted that they were having sex in the park. The boys have maintained their innocence, saying any sexual conduct was consensual. "That night, this young woman's father and the five young men engaged in conduct that was reprehensible and wrong," Thompson said, "but because of the lack of reliable evidence, criminal charges simply cannot be sustained." [CBS, NYT]
EARLY AND OFTEN
Democrats Fight for (a) Justice
The battle over the next Supreme Court nomination is heating up. In the face of totally in-character intransigence on the part of Republican representatives, the Democrats are using every tool in their kit, including telephone calls, meetings, and a spirited bout of presidential blogging. They even leaked a potential nominee's name to troll Republicans: Brian Sandoval, Nevada's Republican governor. [NYT]

Congressmen Read Wall-Writing
The angry white men who run this country are beginning to take cues from the angry white men who just live here. That's right, Donald Trump has secured his first congressional endorsements: Duncan Hunter of California and Chris Collins of New York.

Takes One to Know One
Mitt Romney lobbed a familiar attack at Donald Trump yesterday, saying the self-described very rich person is hiding a "bombshell" in the tax returns he so far refuses to release. Romney, who Trump described as "yesterday's news," resorted to the worst insult he knows, saying Trump is "not anywhere near as wealthy as he says he is." [CNN]

Chain Letter Promises Bad Luck for Rubio
Because the government works just like a middle-school classroom, Trent Franks, a Republican congressman from Arizona, has circulated a letter asking people to back him in pressuring Marco Rubio to bow out of the presidential race. Let's hope Rubio doesn't see the letter — that would really hurt his feelings. [Politico]

THE STREET, THE VALLEY
Scientists Do Something Confusing, Very Far Away
Scientists from "Australia's CSIRO and the National Astronomical Observatory of Japan's Subaru telescope in Hawaii" — see, already confusing — have discovered the source of mysterious radio waves is a universe six billion light-years away. While doing that they also discovered dark matter? You know what, just read the article. [CNet]

Apple Plays Long Game
In what must be a very satisfying plan to render the government's whole case against them moot, Apple is reportedly focusing on developing security measures for future iPhones that will be much more difficult to hack, even for the company. We're not sure how the Feds feel, but criminals we've spoken to are thrilled. [CNet]

Bad News for U.S. Economy, Still the Best Economy
New single-family home sales plunged yesterday after riding a ten-month high, the same day information was released showing the services sector shrunk for the first time since 2013. Still, don't freak out. The Dallas Federal Reserve president Robert Kaplan announced yesterday that the U.S. should be able to avoid a recession this year. Hooray. [Reuters]

Facebook's "Getting Too Cerebral" Problem Solved
Just when old people were getting the hang of Facebook, Mark Zuckerberg had to go and make it all about smiley faces and stuff. The new emoji buttons rolled out yesterday, a welcome addition for many who were tired of having to like posts about their friend's lost dog. [Facebook]

MEDIA BUBBLE
Finally, a Place to Analyze News Analysis
Leah Finnegan, the former Gawker editor, has been hired by Genius as the company's first managing news editor. The move reflects Genius's desire to move into the serious news market, but for us they will always be the site to learn what frat boys think rap songs mean. [Politico NY]

Woody Allen Dries Up Amazon
Amazon Studios just gave Woody Allen $15 million for his next film, more than three times what Sony usually pays. What is this? France? Amazon knows nothing about the new picture other than that it will star Steve Carell, Jesse Eisenberg, Kristen Stewart, and Blake Lively — as Allen's girlfriend? Just a guess. [Hollywood Reporter]

Obama Speech Writer Gets an Honest Job
David Litt, former senior presidential speechwriter and special assistant to President Obama, is stepping down in order to join the humor website Funny or Die. If you can think of anything more representative of modern American politics please let us know. [NYT]

PHOTO OP
This disturbing picture, which is just now making the rounds on Twitter, allegedly shows Donald Trump supporters at the Nevada caucus. Snopes says the photo appears to be real, but the men's identities and motivations are unclear.
MORNING MEME
This viral video of a brawl at a Chuck E. Cheese's shows humanity at its worst. Pretty brutal right? Now watch the clip below! All better.
OTHER LOCAL NEWS
Peace Out, Hippies
Steve Hoke has been forced to remove the many "gnome homes" he built in Little Buffalo State Park in Pennsylvania. The tiny houses were built in hollowed logs and stumps — you know, like gnomes build. Hoke originally had permission to build the homes, but the rules changed when officials decided they might affect the local wildlife's habitat. [AP]

Another Reason to Smoke Cigarettes
Rumors have been flying around about exploding e-cigarettes for a while, but now there's a video and it is way scarier than we expected. This was captured on a security camera at a gas station in Owensboro, Kentucky. [CNN]

HAPPENING TODAY
Texas Debate Snags Trump
Houston is the host for tonight's Republican debate, the last before Super Tuesday. Wolf Blitzer will moderate and Donald Trump will attend. The debate will be hosted in the set of a local production of Anna Karenina. We are not joking. [Politco]

Next Stop on Sanders's Discontent Tour '16: Flint
Bernie Sanders will be in Flint, Michigan, this afternoon, where he will be on the lookout for people dissatisfied with the current government and hoping for change. Good luck finding anyone like that there. [Fox]

Postponed Launch Event Back On
We know we promised there would be a big rocket launch yesterday. Well, it got canceled. Don't worry all you crash-landing junkies out there, SpaceX says they are ready to give it a go today. [Reuters]