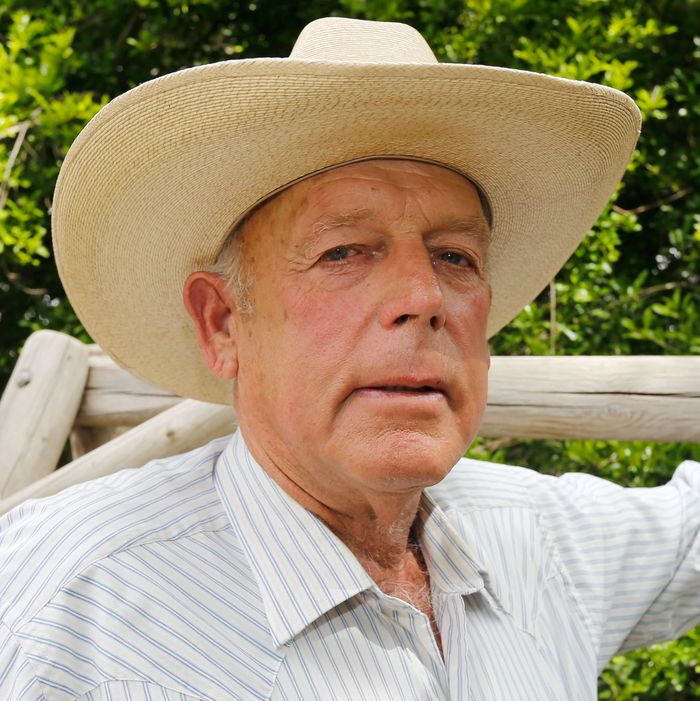 Cliven Bundy's revolt against the government hits a snag.
Photo: George Frey/Getty Images
Good morning and welcome to Fresh Intelligence, our roundup of the stories, ideas, and memes you'll be talking about today. In this edition, Cliven Bundy and company face felony charges, Rubio gets some good news, and an L.A. hospital supports cyberterrorists. Here's the rundown for Thursday, February 18.
WEATHER
While all the weather talk on the street is about another winter storm that may hit the East Coast next week, until then things are set to keep warming up, with the temperature this weekend in New York expected to hit the lower 50s. [Weather.com]

FRONT PAGE
Anti-Government Occupiers Indicted
It turns out that leading an armed insurrection and repeatedly threatening to kill federal agents is an indictable offense in this country. That's what Cliven Bundy, his sons, and two other occupiers discovered yesterday. Has their behavior in Oregon finally caught up with them? Nope. This is over an earlier armed uprising they took part in two years ago in Nevada. Boy, it is really hard to get in trouble for taking up arms against the government in this country! [NBC]

EARLY AND OFTEN
GOP Candidates Open Up to America, Things Get Weird
CNN hosted a town hall on Wednesday night, and the slower-paced quasi-debate gave the candidates an opportunity to show a different side of themselves. Ted Cruz unveiled his corny singing, Marco Rubio tried to prove he isn't a robot, and Ben Carson passed on facts he learned about early Americans from watching snippets of the History Channel.

Trump's Problem: He Just Doesn't Win Anymore
For the first time in a distressingly long time, Donald Trump is not in first place in a national poll. An NBC/Wall Street Journal poll found Trump trailing Ted Cruz by two points. The forecast for the country overall is still what the experts call "not so good."

Rubio Gets Someone From South Carolina to Agree to Vote for Him
Marco Rubio secured the sought-after endorsement of Nikki Haley, the governor of South Carolina. Haley — who is young, a woman, and a minority, if you can believe it — was considered a rising star in the Republican Party, but a Trump or Cruz victory may change that.
THE STREET, THE VALLEY
Sneaker Company Drops Homophobe, Not 50 Cent
Manny Pacquiao, the professional boxer and, in his home country of the Philippines, a popular evangelical Christian politician, has lost his lucrative endorsement with Nike after making statements that many felt were homophobic. Saying gay people are worse than animals is homophobic now? [CNN]

Fandango Extends Its Grip
Yesterday Fandango, the movie ticketing site owned by Comcast, purchased both Flixster, an app for discovering new movies, and Rotten Tomatoes, the popular movie-review aggregator. Industry watchers already fear Fandango will ruin the services just like it ruined puppets. [Bloomberg]

Hospital Sets Wonderful Precedent
A hospital in Los Angeles has agreed — or rather caved — to a group of hackers' demands, paying them $7,000 (40 Bitcoins) to regain control of the hospital's computer system. The hospital CEO said paying the ransom was "the quickest and most efficient way to restore our systems and administrative functions," which is obviously true, but sort of misses the point. Other hospitals with computers must be thrilled with his decision. [The Verge]
MEDIA BUBBLE
Bill Simmons to Launch the Ringer
After leaving ESPN and the beloved Grantland, Bill Simmons has been a very busy man, signing TV deals and launching a popular podcast network. Now he is returning his attention to the written word, launching a new site called the Ringer.

New York Times in (Another) Sex-Discrimination Lawsuit
Arielle Davies, a former advertising executive at the New York Times, is suing her former employer claiming her superiors fired her because she took the maternity leave she was entitled too. She also claims they were just jerks who said shady things, including that old chestnut of making fun of a pregnant person's weight.

ABC Promotes First Female African-American Network Head
Channing Dungey is now the first-ever female African-American head of a major television network. Dungey was made president of ABC Entertainment Group after her predecessor, Paul Lee, was forced out. Dungey was apparently known around ABC as the "Shonda Rhimes whisperer" for reasons this article does not make clear, but we're hoping are not just her race and gender. [Hollywood Reporter]

PHOTO OP
It's Fashion Week, a.k.a. that time of year when we're forced to admit everyone who says New York City is the worst may be right.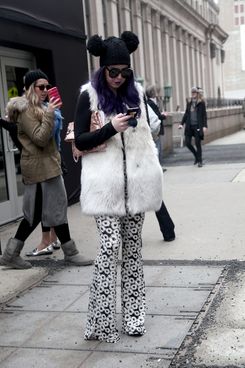 MORNING MEME
Secret Service Symphony
While this selfless should-be superstar would willingly take a bullet for a presidential candidate, this actual star thinks it's alright to behave like this.
OTHER LOCAL NEWS
The Call 911 Operators Dream Of
A mailman in Hillsdale, New Jersey, had to have his superior call 911 on Tuesday after his truck was surrounded by aggressive wild turkeys. It's enough to make a guy long for a pack of angry dogs. [ABC]

Philadelphia Robbery Almost Exactly Like That Movie Heat
Police in Philadelphia are saying robbers hit a Bloomingdale's department store and made off with more than $2,000 worth of jeans. The heist apparently required the combined effort of nine people wearing ski masks, who made off with more than 20 pairs of pants. Ocean's 14 is just going to write itself. [AP]

HAPPENING TODAY
Obama to Take Page From Miami Vice Movie
The White House is expected to announce today that President Obama will be traveling to Cuba, making him the first sitting president since Calvin Coolidge to do so. Thanks to previous policy changes under his administration, Obama will find the island nation totally trashed and mobbed by American tourists.

Wisconsin Latinos to Protest
Immigrant advocacy groups are planning a day of protest in Wisconsin tomorrow in response to what they see as new anti-immigrant legislation. Hundreds of Latino workers are expected to stay home in what is being billed as the Day Without Latinos. [WPR]

Porn Performers Protest Prophylactics
More than 100 porn performers are planning to descend on Sacramento, the California state capital, on Thursday, in protest of new regulations that could force actors to wear condoms and protective eyewear on set. Out-of-state residents can show solidarity with the performers by not wearing their glasses to work. [L.A. Daily News]