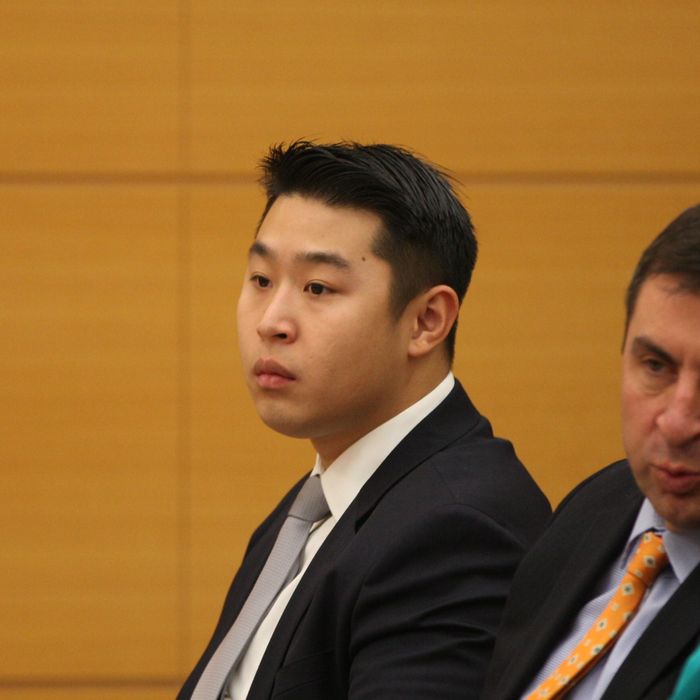 NYPD Officer Peter Liang in court on February 10, 2016.
Photo: Pool/2016 Getty Images
Good morning and welcome to Fresh Intelligence, our roundup of the stories, ideas, and memes you'll be talking about today. In this edition, the NYPD's Peter Liang is convicted of manslaughter, there's new hope for Syria, and the internet thanks us for being a friend. Here's the rundown for Friday, February 12.
WEATHER
A cold air mass from the Canadian arctic will begin its descent into the U.S. today, bringing sub-zero temperatures to parts of the Midwest. New York will see highs in the 20s today and lows in the teens, but the brunt of the cold won't hit the Northeast until Saturday night, when temperatures will drop to the low single digits in New York and below zero in New England. There's a slight chance of snow tonight and tomorrow morning. [Weather.com]
FRONT PAGE
Cop Who Shot Akai Gurley Convicted of Manslaughter
NYPD officer Peter Liang, who accidentally shot and killed Akai Gurley in a housing-project stairwell in 2014, was convicted of second-degree manslaughter on Thursday, along with official misconduct for failing to help Gurley as he lay dying. The Brooklyn jury issued the verdict after two days of deliberation; one juror said the decision had been "very, very, very difficult." The prosecution had argued that Liang had been reckless to draw and fire his gun in a well-trafficked public space, where it ricocheted and struck Gurley in the heart. His lawyers insisted that the gunshot was accidental and that Liang had not attempted to save Gurley's life because he was in shock and had not been properly trained to handle such a situation. He faces up to 15 years in prison for the manslaughter charge. [NYT]
EARLY AND OFTEN
Debatably a Democrat
Hillary Clinton went on the attack against Bernie Sanders in last night's Democratic debate, accusing the Vermont senator of sounding like a Republican in his criticism of President Obama and contesting his talking point that the U.S. should have a single-payer health-care system like Canada or European countries, saying, "We're not France." Sanders, for his part, resisted the urge to go for the jugular on race issues after garnering several endorsements from black opinion leaders.
"Clinton" and "Subpoena" Appear in the Same Sentence, Again
The State Department's inspector general has subpoenaed the Clinton Foundation for documents about projects for which it may have required federal-government approval during Hillary Clinton's tenure as secretary of State. The watchdog has also requested records regarding high-profile Clinton aide Huma Abedin. The extent of the inspector general's investigation is not clear; although Hillary herself does not appear to be its target, expect her political opponents to make hay while the sun shines. [WaPo]
THE STREET, THE VALLEY
This Buck's for You, Passenger
Uber has offered to pay $28.5 million to settle a pair of class-action lawsuits over its previous policy of charging a flat "safe ride fee" to customers, some of whom found that their rides were not, in fact, safe. Apportioned among the 25 million passengers covered in the class actions, which includes anyone who took an Uber ride in the U.S. within the past three years, that comes to about 82 cents. Uber will continue to charge the fee but will now call it a "booking fee." It turns out you can't guarantee a safe ride, and Uber will no longer be able to advertise itself as the "safest ride on the road." [The Verge]
Zuckerberg vs. the Terrorists
Facebook is ramping up its contributions to the war on terrorism. In addition to increasing its efforts to keep terrorist propaganda off the social-media airwaves, the company has also started promoting "counter speech" — content deliberately designed to counteract extremist messaging and lure users away from violent extremist groups by offering them an alternative set of ideas. The team leading this approach is led by former federal prosecutor Monika Bickert, now Facebook's head of global-policy management. There's not much evidence on whether "counter speech" is actually effective, and the Electronic Frontier Foundation is worried about Facebook and other social-media companies becoming "agents of the government." [WSJ]
Zenefits Is in Hot Water, If There's Any Left in California
California's insurance commissioner is investigating whether the HR startup Zenefits complied with laws and regulations when selling health insurance in the state. Regulators in Washington state are also looking into the company's practices. Zenefits co-founder Parker Conrad was forced out as CEO earlier this week over numerous compliance failures. A BuzzFeed investigation earlier revealed that the company had flouted licensing requirements for health-insurance brokers. [BuzzFeed]
MEDIA BUBBLE
Greg Grunberg Gets Geeky Gab Gig (Kevin Smith Will Be There, Too)
AMC is launching a pop-culture talk show starting Kevin Smith and Greg Grunberg. Tentatively called Geeking Out, the show will "take a timely look at pop culture through a fanboy lens." The show will premiere in July, to coincide with San Diego Comic-Con.
Shkreli's New Scheme Is Hoarding Rap Albums
Despised "pharma bro," alleged Ponzi schemer, and confirmed super-villain Martin Shkreli has made a last-minute offer to buy Kanye West's inanely titled new album The Life of Pablo for $10 million, preventing it from being released to the public. According to his offer letter, Shkreli, who is already the exclusive owner of Wu-Tang's Shaolin album, believes that Kanye and his partners "will find this financial arrangement more attractive than [their] current course of action" — and we know Shkreli is very good at financial arrangements, because he's on trial for securities fraud.
Time to Wring Last Remaining Value Out of MySpace
The desiccated carcass of MySpace has been sold to Time Inc. for an undisclosed amount of money for data-mining purposes. You may remember MySpace as the Facebook of the early internet, or as the worst investment Rupert Murdoch ever made: His News Corporation bought it for $580 million in 2005, just in time to see it rendered utterly irrelevant by Facebook, and sold it to Viant — the company Time is now acquiring — for a paltry $35 million in 2011.
PHOTO OP
Study War No More
The U.S., Russia, and other world powers have agreed to enforce a "cessation of hostilities" in Syria within one week and send humanitarian aid to besieged cities, in the hope of brokering a lasting ceasefire that paves the way for formal peace talks. Neither Secretary of State John Kerry nor his Russian counterpart Sergey Lavrov could guarantee, however, that rebel groups or the Syrian government would comply, and American officials are skeptical of Russia's commitment. The agreement does not include ISIS or Jabhat al-Nusra, both of which are considered terrorist organizations by the U.N., and Lavrov said Russia's ongoing bombing campaign against these groups would continue. Moscow's definition of "terrorist groups" differs from Washington's, however, and Russia has targeted some rebel groups that it considers Nusra affiliates but have received U.S. support. [Reuters]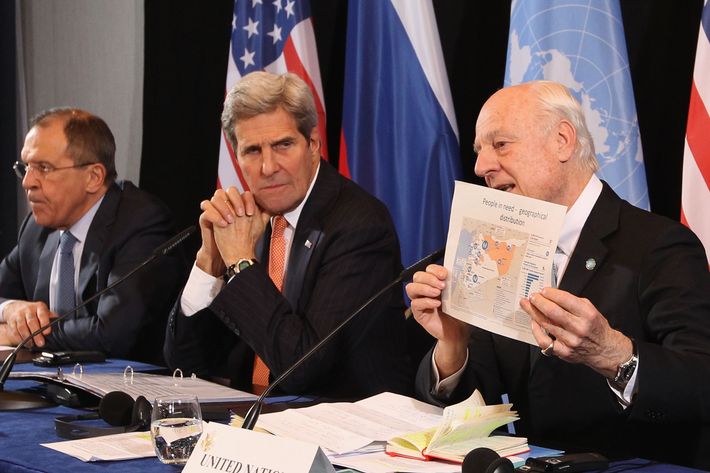 MORNING MEME
An Early Galentine's Day Gift
A few months ago, Instagram user finally_aaron posted a snippet of his gospel remix of the Golden Girls theme and the internet loved it. Now he's released the full version, just in time to treat yo' self and yo' BFFs.
OTHER LOCAL NEWS
Arrest Made in 54-Year-Old Cold Case
An 83-year-old former priest has been arrested in Arizona for the 1960 killing of Irene Garza. John Feit, for many years the sole suspect in the murder, was a visiting priest at Garza's hometown church in McAllen, Texas, where she was last seen before going missing and later turning up in an irrigation canal, having apparently been asphyxiated. Police suspected Feit, who left the priesthood in the 1970s, from the beginning, but were unable to secure an indictment until last week. [NYT]
No, They Won't Accept Those Chocolates He Gave You Last Year
A Florida Goodwill store is holding a special drive for the brokenhearted this Valentine's Day, urging scorned lovers to put their failed relationships behind them and donate any of their exes' belongings to which they may still be clinging with bitterness, regret, and false hope. Goodwill Manasota says it is not responsible for items donated by people other than their rightful owners. [UPI]
HAPPENING TODAY
No Fun for Wall Street
The stock market is expecting a rough day today, as investors brace for potentially bad news on January retail sales and consumer sentiment. Markets have been on the downswing this week amid concerns over European banks, falling oil prices, and the general state of the global economy. [CNBC]
Another Reason to Be Grateful It's the 21st Century
"Kissing Friday" was a weirdly rape-y Victorian/Edwardian tradition in Yorkshire, England, that discouraged girls from saying "no" to boys who wanted to kiss them on the Friday after Ash Wednesday. In the Leicestershire village of Sileby, the day was called Nippy Hug Day, and women were allowed to reject kisses — but if they did, the spurned man or boy was allowed to grab her ass without repercussions. Fortunately, this relic of England's barbarous past died out sometime in the early 20th century; anyone looking to revive it should probably consult the relevant laws on unwanted sexual contact and think again. [BBC]