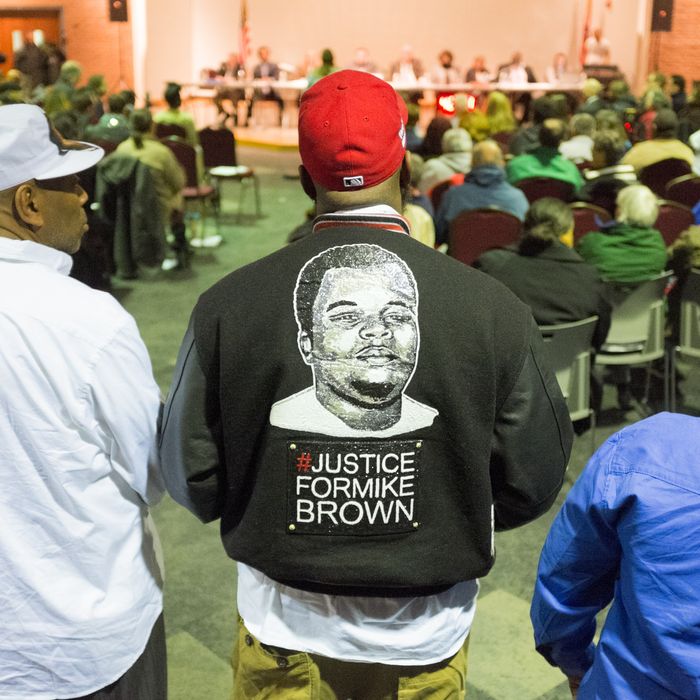 Mike Brown Sr. and his supporters attend a Ferguson city council meeting on February 9, 2014.
Photo: Bryan Sutter/Corbis
Good morning and welcome to Fresh Intelligence, our roundup of the stories, ideas, and memes you'll be talking about today. In this edition, Ferguson gets sued, everyone drops out of the 2016 race, and Kanye keeps tweeting nonsense. Here's the rundown for Thursday, February 11.
WEATHER
Freezing temperatures with lots of snow persist in the Great Lakes with no sign of letting up. Despite this being the warmest winter on record, temperatures are frigid clear across the country and New York is no exception: Tomorrow should be cold but dry. [Weather]

FRONT PAGE
Feds Go Through With Ferguson Threat
The Department of Justice filed a civil-rights suit against the city of Ferguson, Missouri, yesterday after the city rejected a planned agreement to make changes to its police force and criminal-justice system. The federal government was brought in to reform Ferguson following the police shooting of unarmed black teenager Michael Brown in 2014, which lead to widespread protests and rioting. Fighting the suit will cost the beleaguered municipality millions of dollars. [NYT]
EARLY AND OFTEN
Chris Pulls a Carly
All the rumors were true. The New Jersey governor, the man who would not be president, has dropped out of the race after coming in sixth in New Hampshire. Christie sure could use a hug about now — where's Obama?

Carly Pulls a Chris
The country's hopes for a woman president were dashed yesterday when Carly Fiorina officially ended her campaign. The one-time candidate must have been watching a lot of Kung Fu reruns; she said she plans to wander the country helping people in trouble. "I will not sit down and be quiet," she said — then she stopped talking and took a seat.

Ta-Nehisi Coates and Michelle Alexander Endorse Not Clinton
The fight over the black vote is getting serious. As the congressional black caucus prepares to endorse Hillary Clinton, the attention is mostly on influential black writers Ta-Nehisi Coates and Michelle Alexander, who tentatively came out in favor of Sanders.

Bush Compares Trump to Popular Two-Term President
Jeb Bush is done playing nice. In South Carolina yesterday, the presidential heir-not-apparent compared Trump to America's number one enemy, current President Barack Obama. Bush said under Trump, we would be worse off than we are now. Maybe he'd only add 10 million new jobs. [Politico]

THE STREET, THE VALLEY
Toy Car Company Impresses Doubters
Despite the rapidly declining price of oil, it seems there are still plenty of people who are willing to make the switch to electric — very rich people mostly. Elon Musk, the mellowest mad scientist, just announced Tesla's deliveries should go up by 78 percent worldwide this year. [Bloomberg]

Gold Worth Its Weight in Itself
Gold is totally killing it. Everyone's favorite tooth filler is now worth more than $1,200 an ounce, making it one of the best performing commodities this year. The growth spurt followed news that Federal Reserve chair Janet Yellen hinted that the U.S. central bank may delay further interest-rate hikes. Get those Krugerrands! [Bloomberg]

Twitter's Wings Clipped
The best way to check in on Tyga has fallen on hard times. The last bit of bad news in what's been a rough year for the company: For the first time in its history, no new users joined the service this quarter. [Reuters]

Encryption Battle Heats Up
The battle between the government, tech companies, and privacy activists over encryption technology took a turn yesterday when two congressmen, Ted Lieu, a Democrat from California, and Blake Farenthold, a Republican from Texas, introduced a bill that would make it impossible for states to restrict the sale of encrypted devices. [CNet]

MEDIA BUBBLE
Kanye Chooses More Annoying Album Title
World-famous rapper, reality-television personality, and sweatpants collector Kanye West has changed the name of his upcoming album once again. What was first called Waves before the name was changed to BILL COSBY INNOCENT !!!!!!!!!!, is now called The Life of Pablo. He's so mysterious and/or dumb.

We Only Have Great Things to Say About James Woods
James Woods's case against an anonymous Twitter troll can go forward. A Los Angeles Superior Court judge decided to let the actor's case against a Twitter user who called him a cocaine addict proceed, despite some pretty hefty First Amendment concerns. [Hollywood Reporter]

YouTube Debuts Shows Starring Cat, Fetty Wap, or Something
YouTube has joined the ranks of everyone else in offering original programming. The video-sharing site's first original shows — offered only on its paid service — aired yesterday. Judging from these titles, House of Cards doesn't have a lot to be worried about: Scare PewDiePie, A Trip to Unicorn Island, and Lazer Team. We're so old. [AdWeek]

PHOTO OP
This Is What a Power Breakfast Looks Like
Bernie Sanders sat down with Al Sharpton at Sylvia's in Harlem for breakfast yesterday — a meal with fresh importance as Bernie and Hillary continue to compete for black voters. Also, have you noticed that after that Beyoncé song hot sauce is everywhere? That is some hip product placement, Bernie.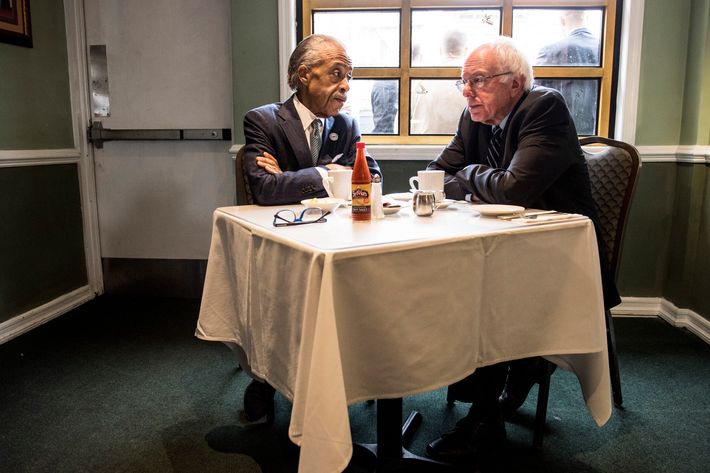 MORNING MEME
For such a funny man, how many times have you seen Larry David laugh? Really laugh? Well, here's your chance. David in hysterics trying to say "Can a bitch get a donut?" will warm your heart.
OTHER LOCAL NEWS
Tongue Will Wag
One mother's nightmare is a pretty good superhero-origin story. After giving birth to a healthy baby boy, hospital staff in Lebanon, Tennessee, accidentally performed unnecessary surgery on the wrong tyke, cutting the connective tissue under his tongue. Nate should be just fine. [CNN]

Springsteen Derails Children's Education
You gotta love this father who put a sweaty evening with the Boss above his daughters' future. One thing he's not is a liar, sending his daughters into school late with a note explaining that they had to stay up for the three-and-a-half-hour Bruce Springsteen concert because that's what you'd do "[I]f God were to suddenly appear." Oh? Could God have written "Atlantic City"? [UPI]

HAPPENING TODAY
Black Caucus Not Feeling the Bern
The Congressional Black Caucus will formally endorse Hillary Clinton for president today, entering the fray in the struggle between her and Bernie Sanders for black votes. [WaPo]

Heavy Stuff
A massive scientific breakthrough will be announced today. Details are fuzzy, but it looks like scientists have found gravitational waves in something called the cosmic-microwave background. Basically it is a huge piece of evidence backing up the theory of the "Big Bang." [Popular Mechanics]

In Case You Missed the Last Five
The sixth Democratic debate will go down Thursday night in Milwaukee. Hosted by PBS in partnership with CNN, we may finally learn who the most progressive candidate is. [PBS]