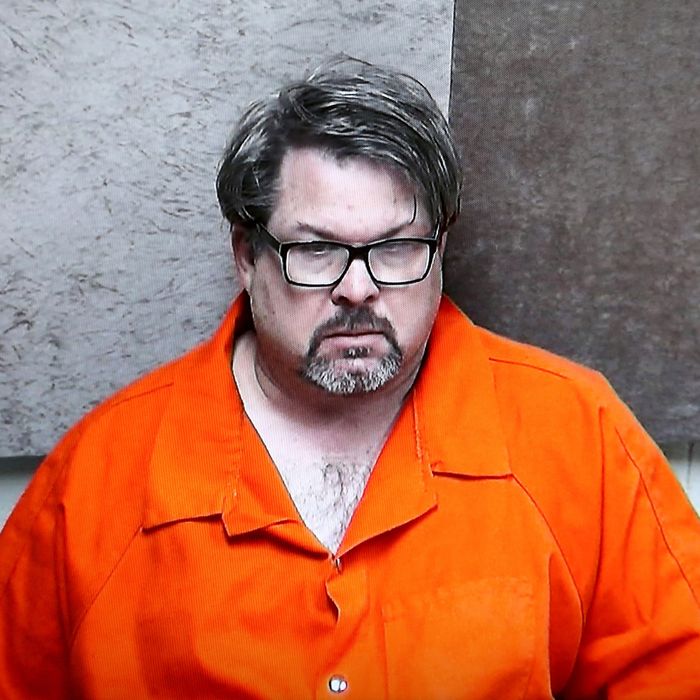 Jason Brian Dalton in a video arraignment on Monday.
Photo: Jessica J. Trevino/2016 MCT
Good morning and welcome to Fresh Intelligence, our roundup of the stories, ideas, and memes you'll be talking about today. In this edition, we learn more about Uber driver and alleged killer Jason Dalton, John Kasich is sorry, and your floor is killing you. Here's the rundown for Tuesday, February 23.
WEATHER
Severe storms are set to batter the South, with a tornado outbreak possible. New York should be calmer but colder, with rain and dropping temperatures throughout the week. [Weather.com]

FRONT PAGE
Kalamazoo Shooting Suspect Admits to Killings
Police in Kalamazoo are saying Jason Dalton has admitted to killing six people and wounding two others in a shooting rampage over the weekend. Dalton, who allegedly shot people at random in between picking up fares in his capacity as an Uber driver, has been described by police as "stoic, cooperative and conversational." He was charged with six counts of murder on Monday and faces life in prison. His motives remain a mystery. [USA Today]

EARLY AND OFTEN
Claire McCaskill Shares Cancer Diagnosis
Missouri senator Claire McCaskill revealed her recent breast-cancer diagnosis on her Tumblr yesterday. McCaskill reported "my prognosis is good and I expect a full recovery." She also said she would continue to enter votes into the congressional record during her treatment and submit questions for the Senate hearings she will miss.

Judicial Inactivity Celebrated
Yesterday marked the ten-year anniversary of Justice Clarence Thomas's silence. The Supreme Court judge has not asked a single question from the bench in a decade but that hasn't stopped him from rendering judgments that affect millions of Americans. Congratulations? [CNN]

Surprise! Politician Makes Sexist, Tone-deaf Remark
John Kasich has officially apologized for saying women "left their kitchens" to support him in a statehouse race in the '70s. He also defunded Planned Parenthood in Ohio over the weekend, but so far only that kitchen comment has warranted an apology to American women.

Cruz Campaign Loses Scapegoat
Ted Cruz has fired one of his top staffers for spreading a lie about Macro Rubio. Communications director Rick Tyler apparently shared a story on Facebook alleging that Rubio made fun of a man reading a Bible. Ted Cruz has a well-known zero tolerance policy toward dirty politics, and spreading falsehoods. [Politico]

THE STREET, THE VALLEY
Top Tech Official Pushed Out
Donna Seymour, the chief information officer for the U.S. Office of Personnel Management, has resigned under sustained pressure from Republican lawmakers who blame her for last year's data breach that exposed the personal information of more than 22 million federal employees. [Reuters]

United in the News … Twice!
United is much in the news today: Dennis Muilenburg has been tapped to replace outgoing chairman Jim McNerney, and the company has announced a big new order of planes to the tune of $2 billion. Still, don't expect anything about flying with them to be pleasant; it's called the news not the miracles. [USA Today]

Add Your Floor to the List of Things That Cause Cancer
Maybe make it the two-second rule. The CDC has announced people exposed to a certain type of flooring from Lumber Liquidators are three times more likely to get cancer than previously thought. This probably isn't good for the company's stock pricing, which has been in sharp decline since concerns over its cancer-causing laminate emerged in March. [NBC]

Even Facebook's Good Ideas Are Obnoxious
Facebook is adding a birthday cam, which is just what it sounds like: Now your friends can record short video messages for your birthday. We're not sure why this development makes us so uncomfortable; it just sounds like a lot. [CNet]

MEDIA BUBBLE
Ex–New York Times Public Editor Joins Washington Post
The Washington Post announced that Margaret Sullivan, the public editor of the New York Times, will be joining the Post as its new media columnist later in the year. [WaPo]

Holtzclaw Reporter Apologizes, Spreads Around Blame
Freelance journalist Jeff Arnold, whose overly sympathetic profile of convicted rapist Daniel Holtzclaw received widespread condemnation, released a statement yesterday in which he acknowledged making a "grave mistake" by not reaching out to Holtzclaw's victims and said his story had "massive shortcomings" even though it was "signed off on by at least four editors prior to its publication." [Jezebel]

Mystery Surrounds Cheezburger Sale, Ongoing Popularity
Cheezburger, the groundbreaking comedy site that helped define the Zeitgeist of the internet generation more than anything since Veronica Mars, has been purchased by an undisclosed media company or secret cabal. [Geek Wire]

PHOTO OP
This photo, snapped at a Trump rally in Las Vegas the day before Nevada's GOP caucus, is so American it actually hurts to look at.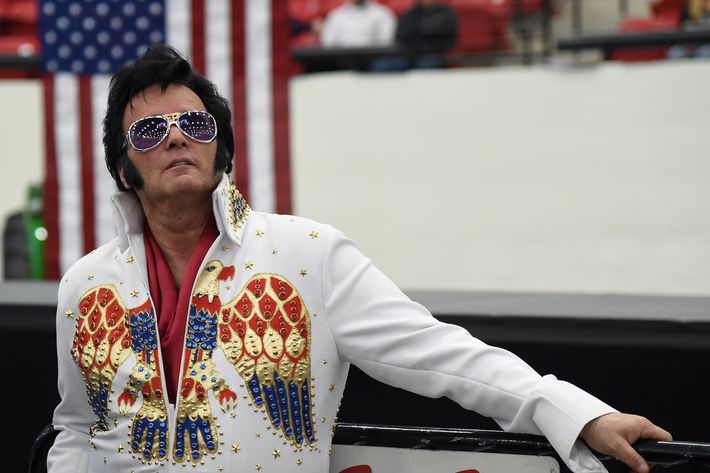 MORNING MEME
If you overhear a teen saying "Damn, Daniel" they're talking about this Alex-From-Target-esque video clip, which went viral in the past few days. If you have any further questions, sorry, we don't know what's going on either. [BuzzFeed]
OTHER LOCAL NEWS
Operation Renders Awesome Piercing Impossible
A Houston woman is filing suit after waking up from a routine tummy tuck in December only to discover her belly button was missing. Facing litigation, the surgeon responsible has said — we're paraphrasing — he can make her a new belly button, so just chill, okay? [Newser]

Everybody Wins
A Portland Girl Scout had a very good idea: setting up shop outside a marijuana dispensary. Is there anyone legalization doesn't help? Come on New York, think of the children. [UPI]

HAPPENING TODAY
Apple Store Crowds Politicized
Demonstrations in favor of Apple's stance on privacy, and against the company helping the U.S. government unlock the San Bernardino shooter's iPhone, are expected at Apple Stores all over the world today. Probably not the best day to hit up the Genius Bar or pick up a new pair of Beats. [ArsTechnica]

America Reminded Gitmo Still Exists
The Pentagon's plan for closing Guantanamo Bay will be revealed today, though Republican lawmakers already say they're against it. Under the plan prisoners would be transferred to open host countries or to military prisons in the States. And just when Cuba was getting cool again.

Crazy Train Nevada-Bound
The Nevada GOP caucus is today and it looks like Trump is going to win. Whatever the news is it should be depressing. That's the only kind of news there is this primary season. [USA Today]