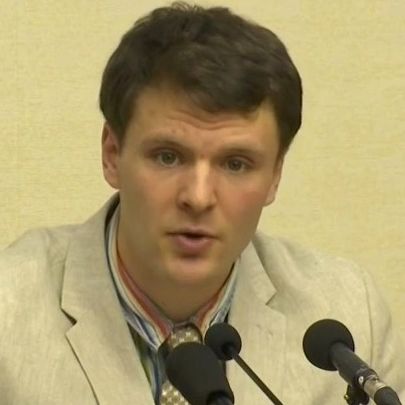 Otto Warmbier at Monday's press conference.
Good morning and welcome to Fresh Intelligence, our roundup of the stories, ideas, and memes you'll be talking about today. In this edition, we get an update from the American student detained in North Korea, Trump doesn't understand white supremacy, and Chris Rock runs the Oscars. Here's the rundown for Monday, February 29.

WEATHER
Snow and ice are headed for the Midwest and Great Lakes region for the beginning of what promises to be a frigid week. More severe storms are expected in the already weather-weary South, while New York should see a rainy but warm Monday. [Weather.com]
FRONT PAGE
North Korea Claims American Student Confessed
Otto Warmbier, the American student detained in North Korea in January, made a statement today at a government-arranged press conference. The 21-year-old said he stole a propaganda sign from an "employees only" area of his Pyongyang hotel. The North Koreans describe his crime as "severe" and Warmbier's statement notes that he's grateful for North Korea's "humanitarian treatment of severe criminals like myself." Needless to say, it seems highly likely that his statement was coerced. [Reuters]
EARLY AND OFTEN
Trump to Google Klu Klux Klan, Will Get Back to You
Donald Trump had an especially racist and fascistic weekend. He kicked things off by unwittingly retweeting a quote from Benito Mussolini, and responded to the backlash by saying he knew it was a quote from the Italian fascist, and that it was a "very good quote." Then he refused to distance himself from recent statements of support from David Duke, the former head of the Klu Klux Klan. Trump said he didn't know about the KKK or white supremacy and needed to do some research before responding.

Former DNC Official Puts All Eggs in Bernie Basket
Representative Tulsi Gabbard, until yesterday the vice-chairwoman of the Democratic National Committee, resigned her position on Sunday in order to officially endorse Bernie Sanders. Tulsi explained her decision in a video she posted to YouTube, saying that as a veteran she wanted to avoid future "interventionist wars of regime change." [NYT]
Even Ted Cruz Employees Don't Want a Cruz Presidency
GOP operative Dennis Lennox helped Ted Cruz campaign in the American Territories — Guam, American Samoa, and the Northern Mariana Islands in case you're playing Trivial Pursuit — but yesterday he came out as a Trump supporter, saying the Donald is more electable. Wow, a cynical political operative, what a world. [Politico]

Hard-line Anti-Immigration Senator Endorses … Just Guess
Trump is really cornering the market on wacky endorsements. This weekend he got the backing of Senator Jefferson Sessions, who has built his reputation on his extreme anti-immigration views. Sessions said on Sunday that a vote for Trump is a "fleeting chance to bust up the oligarchy." Trump is a well-connected white billionaire. [NBC]
THE STREET, THE VALLEY
Killer Robots a Bad Idea, Says Almost Certainly Unheeded Report
Paul Scharre, the former Pentagon official who developed policy on autonomous weapons, will publish a new report tomorrow that finds machines endowed with the ability to find and kill humans without human intervention might not be such a good idea. Finally, somebody said it. [NYT]

World Terrible, Getting Worse
Clear Channel Outdoor Americas, the company responsible for tens of thousands of billboards, is partnering with companies including AT&T to track your movements and what you buy through your mobile phone. Then they will use this information to develop more effective billboards. Why does this seem even scarier than the killer robots? [NYT]

Disney Follows Dining Trend, Goes Seasonal
For the first time in their history, Disneyland and Disney World are rolling out a seasonal pricing model, offering tickets for three different prices depending on the time of the year. [CNN]
MEDIA BUBBLE
MSNBC Fires Melissa Harris-Perry
After Melissa Harris-Perry publicly aired her grievances against her bosses at MSNBC on Friday, the news channel confirmed they're "parting ways." Harris-Perry complained that her show was being preempted by election coverage, that executives wouldn't return her calls or emails, and that the racial makeup of the network was increasingly troubling. [CNN]

Viceland Goes Live
Viceland, the new cable network from Vice Media in partnership with A+E, goes live today. That makes Vice the first digital-media company to start a television network. They've come so far from their humble beginnings as a publication for dirtbags. [WSJ]
White People, Thank-you Tickers, and Three and a Half Hours of Discomfort
Last night's Academy Awards fulfilled everyone's expectations: Chris Rock's opening monologue killed it, there was an unusually large number of presenters of color to make up for the total lack of nominees of color, and Leonardo DiCaprio scored his first Oscar. We also learned Chris Rock is still uncomfortable talking about anything gay. Oh, and the best picture was Spotlight, which hopefully means we're entering a new era where journalists are considered awesome. Fingers crossed.

PHOTO OP
Most Spike Lee Thing Ever
Spike Lee kept his promise to boycott this year's whitewashed Oscars and instead wore his tuxedo and gold Jordans to a Knicks game. Very nice.
MORNING MEME
Donald Trump's refusal to distance himself from the Klu Klux Klan — we can't believe this is really a sentence we need to write — had Hillary Clinton retweeting this Bernie Sanders tweet in a rare display of unity from the two Democratic presidential candidates.
OTHER LOCAL NEWS
Handcuffs Baby Angry Face
A middle-school student in Northern Virginia has been charged after threatening violence using emoji on Instagram in December. Her symbols of choice: the bomb, the gun, the knife, and the hatching chickie. [AP]
Fun Police Go After Baseball, Pie
Citing safety concerns, the Orioles will start banning their charming post-game tradition in which center fielder Adam Jones shoves a pie in a teammate's face. This in a game where people throw rock-hard balls at each other's faces at over 100 miles per hour. [SF Gate]
HAPPENING TODAY
Sanders and Clinton Head to the Hub
Both Bernie Sanders and Hillary Clinton are in Massachusetts today rallying support before Super Tuesday. Clinton will visit Springfield and Boston, and Sanders will spend the whole trip in Beantown. [Boston Globe]
Today Is a Leap Day: No Laws, No Consequences, Go Nuts
Today is February 29, which is bonkers because many Februarys don't have a 29th. Enjoy all the news stories about 9-year-olds having 15-year-old kids.