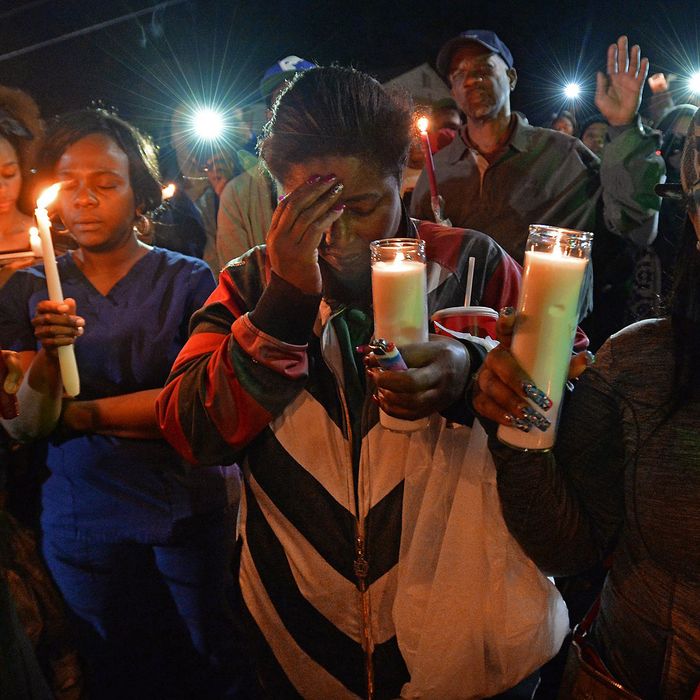 Mourners pray during a candlelight vigil on Bragg Street in Raleigh, NC, on Monday, February 29, 2016.
Photo: Raleigh News & Observer / Contributor
Good morning and welcome to Fresh Intelligence, our roundup of the stories, ideas, and memes you'll be talking about today. In this edition, the shooting of a black man by police sparks protests, Apple takes a step forward in its privacy battle, and Clarence Thomas speaks. Here's the rundown for Tuesday, March 1.
WEATHER
A winter storm crossing the Midwest and Great Lakes today will affect up to five million people, with air and road travel impacted in Chicago, Detroit, Cleveland, and Milwaukee. Temperatures will start to fall today in New York as well, with rain expected tonight. [Weather.com]
FRONT PAGE
North Carolina Officer Shoots Black Man, Sparking Protests
A police officer shot and killed Akiel Denkins, a 24-year-old black man, during a foot chase in Raleigh, North Carolina, on Monday. Authorities say a firearm was found near Denkins's body and he was wanted on a felony drug charge. Onlookers said Denkins should not have been shot in the back, and by nightfall, 200 people had gathered in the neighborhood to hold a vigil, with many in the crowd chanting "Black Lives Matter." A meeting between the police chief and mayor to discuss body cameras had to be postponed because of the shooting. [NYT, News & Observer]
EARLY AND OFTEN
Trump Bungles Racist Backpedal
It looks like Donald Trump finally made a gaffe that won't just go away. All it took was refusing to distance himself from the Klu Klux Klan. Now Mr. Trump is saying a faulty earpiece was to blame for his dalliance with white supremacy. With that settled, Trump was quickly back to his old tricks: tweeting an inspirational quote and wrongly attributing it to Gandhi. 
Cruz Calls for Secret-Tape Release, Implies Trump Has Filter
On Monday, the New York Times claimed to have a tape of Donald Trump speaking off the record about immigration. Now his opponent, Ted Cruz, is calling for Trump to give the paper permission to release the tape, saying it will reveal the billionaire candidate's duplicity. You know, like all the other tapes of Trump. [CNN]
Justice No Longer Mute, Still Blind
Supreme Court Justice Clarence Thomas asked a question in court yesterday just like a Supreme Court judge is supposed to. This is considered news because Thomas hasn't asked a single question in a full decade. And the justice system continues to function perfectly.

Clinton Email Controversy Still Happening
Ten months after the State Department began releasing Hillary Clinton's emails from her time in government, it's finally put out the final batch. Of the 52,455 emails Clinton turned over, more than a thousand were redacted for containing classified information and 22 were upgraded to "top secret." At one point it was thought that controversies generated by the email dump would dominate the early primary race. How quaint.  [ABC]
THE STREET, THE VALLEY
Victory for Apple in New York
A ruling in a Brooklyn drug case yesterday may have important ramifications for Apple in its battle with the U.S. government over encryption. U.S. Magistrate Judge James Orenstein ruled that authorities could not legally compel Apple to access a locked device that was seized in a drug investigation. [Reuters]
Valeant Public Implosion Continues
Valeant Pharmaceuticals is having a tough couple of days. Its CEO returned from sick leave just yesterday and officials at the company have already delayed an earnings report, canceled a phone call with investors, and admitted to an ongoing regulatory investigation. Not the kind of things the money guys call confidence-inspiring. [Forbes]
Robot Cars: They're Just Like Us
Google has admitted for the first time that one of its self-driving cars had an accident. It seems on Valentine's Day, a self-driving vehicle on the road in Mountain View, California, swerved to avoid some sandbags and clipped a public bus. Nobody was hurt, but experts are saying this might have been the first act of aggression in what could be a generation-long war between robots and humans.

Trouble at the Elon Musk Utopian Hyperdream Factory
More than 100 workers have walked out of an Elon Musk–owned battery factory in Nevada. They were protesting the factory's employment of out-of-state workers. A union representative even said the many out-of-state license plates in the factory parking lot were "a slap in the face." [Bloomberg]
MEDIA BUBBLE
Actor George Kennedy Dies in Idaho
Oscar-winning actor George Kennedy died in hospice in Idaho yesterday. He was 91. Kennedy is perhaps best known for his role in Cool Hand Luke, playing the prisoner that befriends Paul Newman. But, we will always remember him as Ed Hocken in the Naked Gun trilogy.

Gawker Writers Rub Freelancers Faces in It
Gawker Media editorial workers now enjoy the first union contract at any digital-media company, though many others have unionized and just haven't negotiated contracts. The contract ensures a minimum salary of $50,000 for any full-time employees and a rigid separation between editorial and advertising. Nice work, Gawker! [The Guardian]
Tribune Media Ready to Sell
All it took was $380 million in losses and Tribune Media is already getting put up for sale. Chicago-based Tribune Media runs more than 40 television stations and came into existence when Tribune spun off its publishing business into Tribune Publishing in 2014. They're also going to sell the iconic Tribune Tower in Chicago; maybe Willis is interested? [USA Today]
PHOTO OP
Photographer Choke-Slammed at Trump Rally
A Secret Service agent choke-slammed a Time contributing photographer after a heated exchange at a Trump rally in Virginia. Is there anything more Trump-ian than getting choke-slammed at a rally?

MORNING MEME
John Oliver Drumpfs Trump
This is undoubtedly the viral video of the moment. If you missed it and were wondering what Drumpf means, here you go.
OTHER LOCAL NEWS
Tacos Volverse Loco
A taco truck driven erratically by two fugitives on the run from the police sideswiped a school bus full of children, took out lights at an intersection, and smashed into a propane tank in San Bernardino, California, on Monday. In the course of the chase, an officer fired two shots at the escaping truck, too, but somehow no one was injured. [AP]
Money ≠ Class
A woman in Willimantic, Connecticut, who was celebrating her 50th birthday by having herself chauffeured around town in a limousine — like a baller — ended what was certainly the classiest day of her life by robbing her limo driver at gunpoint and stealing his keys and GPS device. Better luck next year. [AP]
HAPPENING TODAY
Super Tuesday
Today is Super Tuesday and more than a dozen states are holding caucuses and primaries. There are more delegates at stake today than any other day all year. People that predict things are predicting a big day for Donald Trump and Hillary Clinton. [Politico]
Canadian Impostor to Be Exposed
The first birther lawsuit against Ted Cruz will be heard today in front of New York State Supreme Court justice David Weinstein. Ted Cruz was born in Kenya to a Canadian mother or something.

Apple Goes to Washington
Apple's general counsel Bruce Sewell will read his opening statement to a congressional judiciary committee today in a hearing about, you guessed it, encryption. Later today, FBI director James Comey will also testify. Awkward. [Tech Crunch]
Board Will Release Damning NYPD Report Today
The Civilian Complaint Review Board is set to release its report on the many instances of illegal searches and home entries by the NYPD today. [NYT]