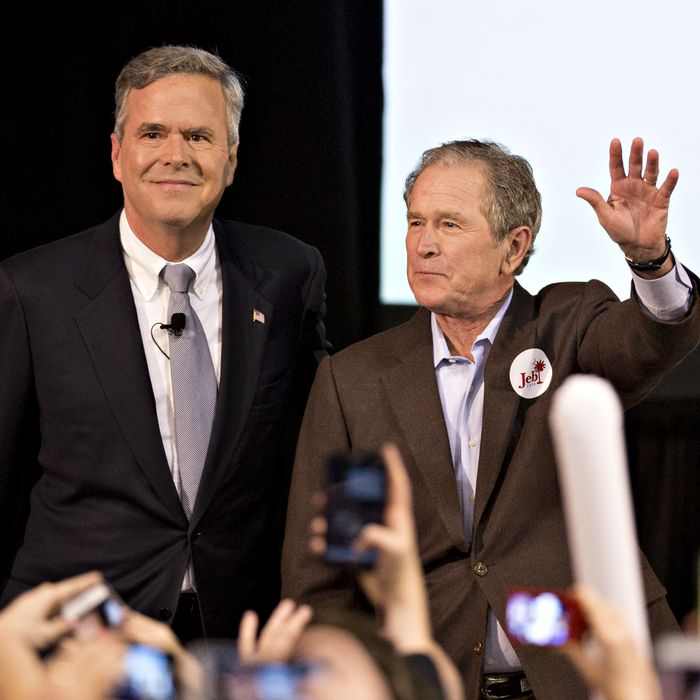 Photo: Daniel Acker/Bloomberg/Getty Images
Good morning and welcome to Fresh Intelligence, our roundup of the stories, ideas, and memes you'll be talking about today. In this edition, Trump picks on a Bush his own size, Eliot Spitzer offers unsatisfying answers, and Bieber finds a new way to shock us. Here's the rundown for Tuesday, February 16.
WEATHER
Much of the U.S. is experiencing weird and sometimes scary weather. While Arizona and California saw record-high temperatures in the high 80s and 90s on Monday, the eastern U.S. was hit with a winter storm that dropped snow and sleet across much of the region, as well as tornadoes in Florida and Mississippi. Today in New York, the weather will be cloudy, windy, and rainy with a high of 54. At least it's not more snow. [AP]
FRONT PAGE
Justice Scalia's Exact Cause of Death Remains Unknown, Probably Forever
Since news of the Supreme Court justice's passing was reported on Saturday afternoon, we've cycled through various causes of death, from natural causes, to "Myocardial Infarction" (heart attack), and back to natural causes, with some conspiracy theories thrown in for good measure. On Monday, the Texas justice of the peace who declared the 79-year-old dead via telephone revealed that Scalia had been suffering from heart problems, high blood pressure, a shoulder injury, and a "head cold." That doesn't really explain anything, but there was no autopsy performed and Olivia Pope isn't real, so that's that.
EARLY AND OFTEN
Trump Finds New Bush Brother to Pick On
Donald Trump's seemingly unhinged decision to embrace Republican heresy by blaming George W. Bush for 9/11 began to make more sense on Monday. As the front-runner doubled down on his attacks, the former president spent his first day back on the campaign trail defending his administration's response to terrorism, rather than merely cheerleading for his brother Jeb. W. even tried to take on his little brother's bully. "Americans are angry and frustrated, but we do not need someone in the Oval Office who mirrors and inflames our frustration," W. said. "Strength is not empty rhetoric. It is not bluster. It is not theatrics. Real strength, strength of purpose, comes from integrity and character." [WaPo]
On the Other Hand, Bluster and Theatrics Appear to Be Working
Undeterred by W.'s admonishment, the Nelson Muntz of U.S. politics also went after Ted Cruz on Monday. After suggesting at a press conference that he may break his pledge not to run as an independent, Trump called Ted Cruz an "unstable individual" and "the single biggest liar I've ever come across," then threatened to sue him for being a secret Canadian ineligible to run for president.
Love Gov Mini-series Gets Reboot
New York politics has been tragically bereft of sex scandals for several years now, but one of our old favorites has stepped up to the plate. A day after it was reported that former Governor Eliot Spitzer choked a woman in a hotel room at the Plaza Hotel on Saturday night, his team released a series of statements that have added to the confusion. His attorney said the 25-year-old woman, whom Spitzer has known "for a period of time" concocted the assault story because she has "emotional difficulties." Supposedly they met at the Plaza "and they had a brief and amicable conversation, and then Mr. Spitzer left," but law-enforcement sources say he was paying for her hotel room. Spitzer added, "The woman who initially made the allegation was not my girlfriend," though he didn't describe the nature of their relationship. [CBS]
THE STREET, THE VALLEY
China Keeps the Mystery Alive
The yuan made its largest gain since 2005 on Monday as the People's Bank of China set the yuan-dollar midpoint at the highest level since January 4. The central bank keeps shifting its approach to managing its currency, which has led to confusion among investors. [WSJ]
Crude Chatter Between Saudis and Russians
Oil prices rose to over $30 a barrel in response to news that officials from Saudi Arabia and Russia, the top two oil exporters, are set to meet on Tuesday in Qatar. The report sparked speculation that the nations will strike a deal to cut supply. [CNN]
Fantasy-Sports Industry Bets on State Legislators
Here's some exciting news for people who actually make money playing fantasy sports (i.e. fantasy-sports company employees): The industry is spending between $5 million and $10 million this year to lobby state legislators across the country in an effort to pass bills exempting the sites from gambling laws. Such legislation has already been introduced in 16 states this year. [WSJ]
MEDIA BUBBLE
U.S. Journalists Detained in Bahrain
Four Americans, U.S. journalist Anna Therese Day and three members of her camera crew, have been arrested in Bahrain. The country's interior ministry says they're "suspected of offenses including entering Bahrain illegally having submitted false information to border staff, and participating in an unlawful gathering," but Day's family denies they were involved in any non-journalistic activities. [Reuters]
Late Night's James Beats Jimmys at Their Own Game
For years Jimmy Kimmel and Jimmy Fallon have been battling for viral supremacy, but now they've both been trounced by British newcomer James Cordon — on YouTube, at least. In the past ten months, The Late Late Show host's Carpool Karaoke series — in which he drives around with artists such as Adele, Justin Bieber, and One Direction — has produced some of the most-watched, late-night videos of all time. Now CBS just needs to figure out how to translate that into Nielsen ratings. [AdWeek]
PHOTO OP
Bieber Caught Not Being Obnoxious
The 21-year-old singer's Grammys date was his 6-year-old brother, Jaxon. They were both thoroughly adorable on the red carpet, with the Bieb planting a kiss on the little guy's cheek. We're confused, too. [ET]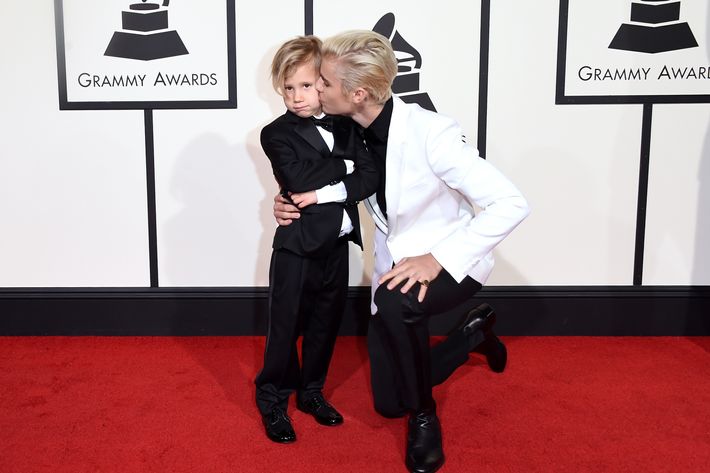 MORNING MEME
This video of Juno, the Toronto Zoo's 3-month-old polar bear cub experiencing snow for the first time is sure to make you appreciate the bitter cold and the fresh layer of snow and ice that's been blanketing the East Coast every few days. Okay, that's pushing it — but it may momentarily take your mind off the fact that your socks are still wet from stepping in a slush puddle.
OTHER LOCAL NEWS
Obama's Good, But Not This Good
The current national average for a gallon of regular gas is $1.70, and while the president has suggested we can thank him for this development, he can't take credit for the outrageously low prices at two gas stations in Ohio on Sunday. Gas dropped to 49 cents per gallon at one Toledo gas station due to a computer glitch, prompting the station across the street to drop its prices to stay competitive. The price war only lasted about three hours, but some customers managed to fill up their tanks for about a quarter. [WTOL]
Aussies Enjoy Huge Bust
Law-enforcement officials in Australia discovered $900 million worth of methylamphetamine hidden in imported boxes of silicon-bra inserts and art supplies in the nation's largest ever seizure of the drug in its liquid form. Authorities announced on Monday that four Hong Kong passport holders were arrested in Sydney last month for importing the substance, which could have made 1,100 pounds of high-grade crystal meth. [AP]
HAPPENING TODAY
Texas, Arkansas Can't Wait for Super Tuesday
So, early voting begins across the states today, two weeks before the March 1 primary. Presidential candidates encourage voters to cast their ballots early, just in case some horrible scandal comes to light in the next few days. [Houston Chronicle, Arkansas Online]
Christie One Step Closer to Becoming Character in Springsteen Song
After risking it all to make his dreams come true on the national stage, on Tuesday, Chris Christie returns to the tedium of New Jersey politics. The governor is set to outline his proposed 2017 state budget before the state Assembly, which is slightly more glamorous than coming home to look for work at the refinery, but not by much. [APP]