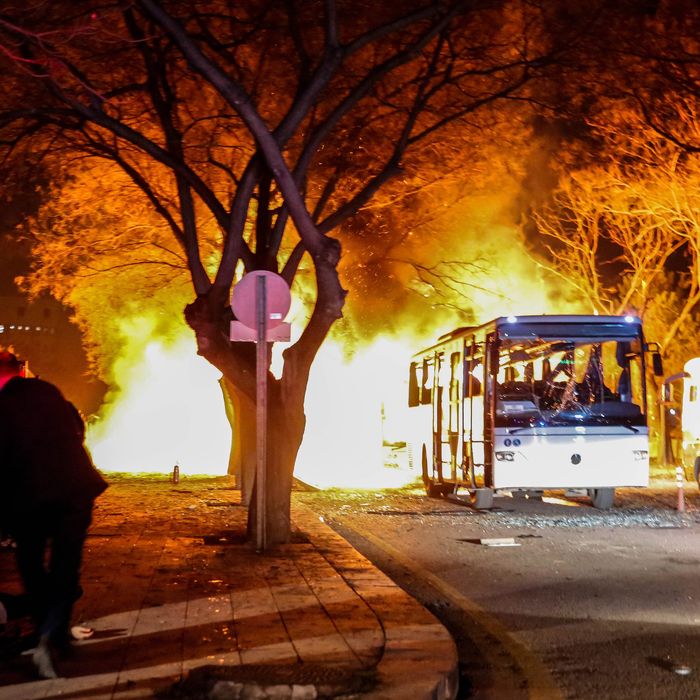 Turkish army service buses burn after an explosion on February 17, 2016.
Photo: Defne Karadeniz/Getty Images
Good morning and welcome to Fresh Intelligence, our roundup of the stories, ideas, and memes you'll be talking about today. In this edition, the situation in Turkey gets scary and confusing, Obama needs to consult Miss Manners, and Ted Cruz gets his day in court. Here's the rundown for Friday, February 19.
WEATHER
Enjoy the unseasonably warm weekend in New York because next week might get ugly with storms bringing ice, snow, and thunder to the East Coast, as well as storms in the South and Gulf Coast. [Weather.com]
FRONT PAGE
Ankara Bombing Puts U.S. in Diplomatic Conundrum
The Turkish government has officially blamed Kurdish militants for Wednesday's bombing in Ankara that killed 28 people and Thursday's smaller bomb that killed six soldiers. This complicates things mightily for the United States, which has been publicly supporting those same militant groups in their fight against the Islamic State in Syria. In a statement yesterday, the U.S. refused to turn its back on the Kurds and questioned if they were actually responsible. The Kurdish militias deny all involvement in the bombings. This is all getting very tricky. [NYT]
EARLY AND OFTEN
Donald Trump Versus the Pope: Celebrity Deathmatch Comes to Life
In an ego battle for the ages, Donald Trump is in a public dispute with the Lord's infallible representative on Earth, Pope Francis. It all started when the pope said Trump "is not a Christian." Trump, with his typical diplomatic finesse, responded by calling the pope — the pope — a puppet of Mexico and basically threatening that the Vatican will be destroyed by terrorists if he isn't elected president. This is all happening in real life.
President's Funeral Faux Pas
After seven years of searching, Republicans have finally found something to criticize President Obama about: The president will not attend Justice Antonin Scalia's funeral this weekend. Instead, he'll pay his respects on Friday during a visit to the Supreme Court. [NYT]
South Carolina Running Out of Town Halls
With two town-hall events on Thursday night, following close on the heels of the two last night, this year's race continues to be simultaneously the most boring and insane in history. Candidates took turns saying everything they were expected to: Trump attacked the pope and ranted about 9/11, and Jeb Bush called his brother's painting hobby "weird." What a country. [CNN]
Sanders Losing by Slightly Less
The latest NBC News/Wall Street Journal poll released yesterday found the gap between the leading socialist candidate and the leading female candidate narrowing. The poll has Bernie Sanders trailing Hillary Clinton by only 11 percentage points. Meanwhile, a Fox News poll gives Sanders a slight lead nationally for the first time. Whatever, "Feel the Bern" is still a gross campaign slogan.
THE STREET, THE VALLEY
Apple–Government Feud Heats Up
The debate between Apple and the federal government continued yesterday with Apple co-founder and loveable hippy Steve Wozniak coming out in support of current CEO Tim Cook. And now it looks like the company may have even more time to prepare an argument against the recent court order that they help the Feds decrypt the phone used by one of the San Bernardino shooters. [Bloomberg]
Sunrise, Sunset, Oil Up, Oil Down
Despite announcements from both Saudi Arabia and Russia that they would halt oil production, oil futures still fell in Asian markets thanks to an unprecedented growth in crude inventories over the last week in the U.S. Also Iran is probably going to ruin everything. Maybe countries should try talking to each other, just saying. [Reuters]
World's Most Unpleasant Store in Decline
Walmart shares fell a full 3 percent after the huge retail chain announced a weak sales outlook and disappointing quarterly profits yesterday. It seems people would rather shop on their computer from the comfort of their own home rather than in the absolute hell that is a busy Walmart. [Reuters]
People No Longer Care About Personal Appearance at All
For the first time smart watches are outselling luxury watches. Rolex is scrambling to develop pizza-ordering technology, but it might be too late. Why anyone is still buying watches at all is still a mystery to us. [CNet]
MEDIA BUBBLE
Shake-up at Sony
Nicole Seligman, the president of both Sony Entertainment and Sony Corp. of America, is stepping down. Seligman spent a busy 15 years at the company and helped Sony weather the controversy of their email hack last year. She has said she is leaving to pursue other opportunities. Burn. [Variety]
Awful Article Spawns Unpleasant Scandal
SB Nation, a sports-journalism site owned by Vox Media, has removed a controversial story that many said seemed sympathetic to convicted rapist Daniel Holtzclaw. In a statement posted on the site, editorial director Spencer Hall described the story as a "complete failure." [Deadspin]
ESPN Tries "Less Sports" Approach
A struggling ESPN is in talks with Dish Network and other companies to develop smaller packages with fewer channels to appeal to a new generation of cord-cutters and TV fans who don't need to watch every game in every sport every day. [AdAge]
PHOTO OP
Anti-Christ for President
The Daily News is still fighting the good fight one viral cover at a time.
MORNING MEME
We usually give Ellen's pranks a wide berth, but this jaunt to Jamba Juice with Adele is worth 10,000 startlings of Taylor Swift.
OTHER LOCAL NEWS
Pants Claim Another Victim
How can such a funny story be so sad? Logan, an otter at the Calgary Zoo, drowned after getting tangled up in a pair of of "unauthorized trousers." This sounds like the the most tragic Wallace and Gromit ever. [BBC]
For Drunk Driver, Variety Is Everything
Misguided Minnesotan Nicholas Karnes, pulled over for driving under the influence, was found with eight open containers in his car. That explains the Facebook photo at the bottom of the page. [The Smoking Gun]
HAPPENING TODAY
Clinton Goes for African-American Endorsement Hat Trick
Hillary Clinton is expected to secure the endorsement of Representative James Clyburn, the highest-ranking African-American in Congress, on Friday. Clyburn is extremely influential in South Carolina, his home state and current political battleground. [ABC]
Rich to Experience Something Else
Virgin Galactic, NASA's little brother that actually works, is planning on unveiling its new spaceship today. SpaceShipTwo will take anyone with a quarter million to blow outside the Earth's atmosphere where they can experience weightlessness. [Mashable]
Did Birthers Finally Find a Foreigner?
A lawsuit against Ted Cruz — not brought by Trump, though it might as well have been — will come before an Illinois court today. The voter bringing the suit argues Cruz is not eligible to appear on the ballot because he was born in Canada, which may be a problem, despite Cruz's claims to the contrary.