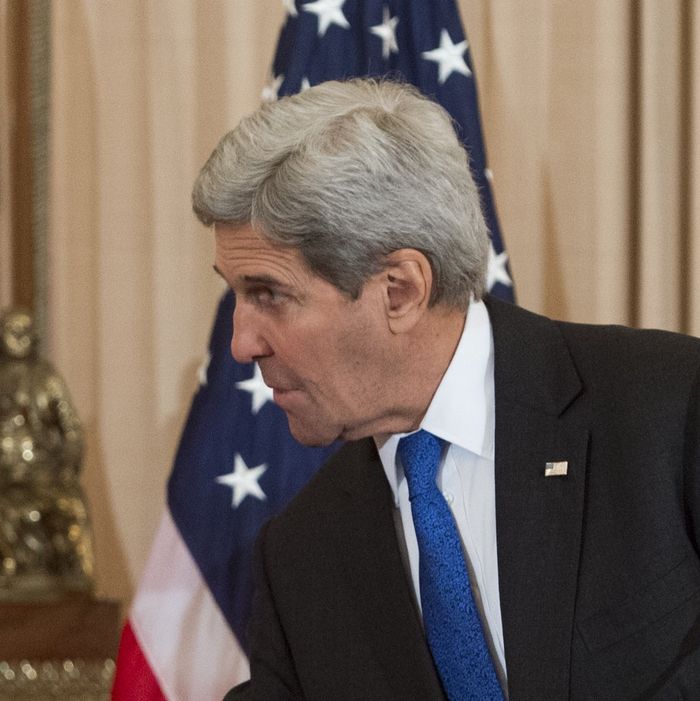 U.S. secretary of State John Kerry and Chinese foreign minister Wang Yi at the State Department on February 23, 2016.
Photo: SAUL LOEB
Good morning and welcome to Fresh Intelligence, our roundup of the stories, ideas, and memes you'll be talking about today. In this edition, the U.N. pushes for North Korea sanctions, everybody piles on Trump, and techies take on terrorists. Here's the rundown for Friday, February 26.
WEATHER
The South is mourning and rebuilding after tornado outbreaks — nearly 50 over the last two days — caused massive damage and several deaths. Today in New York we should have a break from the rain: a chilly, sunny day with temperatures under 40 degrees. [Weather.com]
FRONT PAGE
China, U.N. Move Against North Korea
Not a good day to be in the North Korean government. The U.N. made moves yesterday toward imposing a new raft of sanctions on North Korea, including inspecting their cargo and cutting off supplies of jet fuel. Even China, their most steadfast ally, seems to be losing patience with the reclusive Stalinist state following its recent nuclear and missile tests. Before the sanctions could move forward, China had to reach a landmark agreement with the U.S., which to the shock of observers, they did. [WSJ]

EARLY AND OFTEN
Donald Trump Pile-on Less Hot Than It Sounds
Last night's Republican debate took an interesting turn when Ted Cruz and Marco Rubio restrained themselves almost entirely from attacking each other, and instead focused their energy on Donald Trump. They threw everything they had at him, saying he was not a conservative, questioning his use of foreign labor at his hotels, and even shrieking that his ties were made in China. Did they actually find a chink in Trump's shellacked pompadour? Only time will tell.

Poor, Sweet, Delusional Rick Perry
The Texas politician, who just dodged a felony charge, has taken this "anything can happen" presidential race to its unnatural conclusion: He thinks he might actually snag the Republican nomination. More accurately, he is not ruling the possibility out. Go ahead and rule it out, Rick. [CNN]

Trump Hypocrisy Surprises No One
It seems proudly anti-immigrant Donald Trump employs foreign workers at his Mar-a-Lago Club in Palm Beach by the hundreds, while only 17 of the 300 American citizens who applied got jobs. Donald's campaign opponents seized on the story in the debate, but the American people are way past being shocked by anything he does. [NYT]

Supreme Court Fight Gets Ugly
Democrats have stepped up their rhetoric against the Republicans for refusing to consider President Obama's Supreme Court nomination. Meanwhile, Republicans took their plan to derail the president to bananas new heights when the one potential candidate leaked by the administration, Nevada's Republican governor, Brian Sandoval, withdrew his name from consideration, saying he did not want the job "at this time." He turned down a potential Supreme Court nomination. Waiting for something better to come along? Because something better literally does not exist. [Politico]

THE STREET, THE VALLEY
Apple Fights Back
The fight between Apple and the federal government has entered the next phase. Apple submitted its response brief to the court yesterday, arguing basically that software is a form of protected speech. Multiple tech companies, including Google, Facebook, and Twitter, have submitted briefs in support of the company. [Reuters]

Letting Oprah Eat Bread Is Bad for Business
A viral marketing campaign featuring Oprah yelling about how much she loves bread — how could that lose right? — doesn't seem to have done much good for Weight Watchers. Shares dropped a full 20 percent yesterday following reports of surprise losses this quarter. Analysts are blaming the drop partially on the availability of calorie-tracking apps for your phone. Oprah personally lost $24 million in the dive. Thank God bread is cheap.  [CNBC]

New York Now Poor Town U.S.A.
The number one reason so many people move to New York — its massive population of billionaires — might be a thing of the past. New York has lost its "billionaire capital" title to Beijing, which boasted 32 new billionaires last year. This according to the Chinese firm Hurun, so you know, grain of salt. [BBC]

We're Screwed
The White House is getting serious in the fight against ISIS. The government reportedly brought together an all-star team of hardcore terrorist fighters for a meeting at the Department of Justice yesterday: executives from Apple, Twitter, Snapchat, Facebook, and MTV. We always knew when the clash of civilizations came, VJs would be on the frontline. [CNN]
MEDIA BUBBLE
Muscle Sic'er Now Job Seeker
Melissa Click, the University of Missouri's assistant professor of mass-media communications, has been fired after she became the poster woman for violent opposition to free speech. This after Click appeared in a video calling for "muscle" to deal with a reporter covering a campus protest she was attending.

Wikimedia Director Edited Out
Wikimedia Foundation executive director Lila Tretikov has resigned following a firestorm of controversy around the new search engine she was planning to launch. Members of the Wiki community accused her of not being transparent enough in developing the "Wikimedia Knowledge Engine," described as "the internet's first transparent search engine." Is that irony? It's something. [Vice]

Advertising and Editorial Inch Closer at Buzzfeed
BuzzFeed has just hired Summer Anne Burton as its first executive creative producer. She is moving over from BuzzFeed BFF and basically her job will be to help the company make money through advertising without it looking like BuzzFeed advertises at all. [Ad Week]

PHOTO OP
GOP Stops Being Polite, Starts Getting Real
He wasn't on the stage, but Senator Lindsey Graham still found a way to take part in the GOP debate smack-talking.
MORNING MEME
With often unbelievably cheap airfare, tourists are flocking to Iceland. Unfortunately they have really been dropping the ball when it comes to hot-tub etiquette. This PSA from the Icelandic tourism authority, complete with nudity and singing, is here to help.
OTHER LOCAL NEWS
Cops Do Not Take High Road
A 24-year-old man in Orem, Utah, posted a picture on social media posing in front of a cop car in a 7-Eleven parking lot and using "a derogatory term for police." Police then arrested him on an assault charge and posted their own photo mocking him and even making fun of 7-Eleven for some reason. The man has been impossible to contact. Dark. [Yakima Herald]

Never Been Kissed: Fever-Dream Edition
Just like high school, this story is equal parts creepy and sad. A 23-year-old Ukrainian man was arrested earlier this week for impersonating a high-school student in Harrisburg, Pennsylvania. He was reportedly an honor student, but he was also 23, so is that really so impressive? [AP]

HAPPENING TODAY
Look! More Apple News!
Apple's annual shareholder meeting is happening today at their headquarters in Cupertino, California. Attendees will include CEO Time Cook and Al Gore, who presumably will be there because the company is voting to limit greenhouse gasses and Al Gore hates greenhouse gasses. The board is set to oppose a request from shareholders that they focus on hiring more diverse executives, saying their plan would be "unduly burdensome and not necessary." [LAT]

Free Kesha Protest in New York
The Free Kesha camp is upping the pressure on Sony Records with a protest in front of their offices in New York today. Sony has officially said they are legally unable to break Kesha's contract. She has accused her producer, Dr. Luke, of widespread abuse and sexual misconduct, but a court has refused to let her out of her contract with him. [Inquisitr]