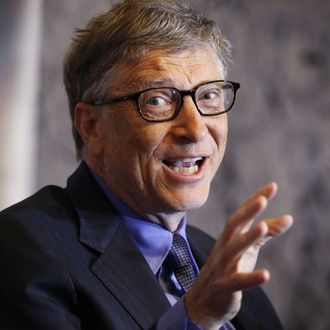 Let 'em have a look, you guys.
Photo: Alex Wong/Getty Images
Does Bill Gates want to look at your phone or not? Late on Monday, the Financial Times reported that Microsoft's co-founder apparently backed the FBI's call for Apple to unlock the encrypted iPhone of one of the San Bernardino shooters. Just hours later, in an interview with Bloomberg TV on Tuesday, Gates said he was "disappointed" that most reports had read his position as siding with the FBI — although he then proceeded to say that he basically was. "I do believe that with the right safeguards, there are cases that the government on our behalf, like stopping terrorism that could get worse in the future, that that is valuable," Gates said.
"This is a specific case where the government is asking for access to information," he said, adding that a threat like nuclear terrorism would provide that kind of justification. "They are not asking for some general thing — they are asking for a particular case." Google's Sundar Pichai, Facebook's Mark Zuckerberg, and Twitter founder Jack Dorsey have all supported Apple, which has refused to cooperate with the Feds' attempt to crack Syed Rizwan Farook's iPhone 5c encryption.
In his letter to the company, Apple's Tim Cook wrote that unlocking the phone and changing privacy settings for a federal investigation would set a dangerous precedent. "At stake is the data security of hundreds of millions of law-abiding people," he said, adding that the FBI's intrusion "threatens everyone's civil liberties." Victims of the San Bernardino attack have generally been taking the FBI's (and Gates's) side of the argument. "They were targeted by terrorists, and they need to know why, how this could happen," said Stephen Larson, a lawyer representing the victims.