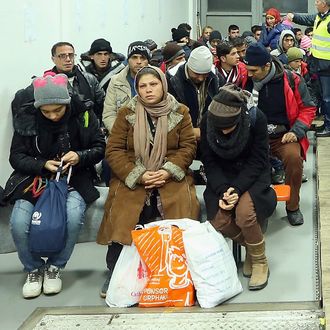 Migrants and refugees arriving from Austria wait to be registered at a processing center in Passau, Germany.
Photo: Johannes Simon/Getty Images
Germany accepted more than 1 million migrants and refugees in 2015, and more keep coming as thousands of people risk the journey to Europe by the week. But now Chancellor Angela Merkel, who has opened the country to asylum-seekers, is backtracking a bit on the warm welcome. In remarks over the weekend, she said that she doesn't expect refugees from Syria or Iraq to be long-term residents, and that they should return to their homelands once the regional conflict ends.
"This is a temporary residential status," Merkel said over the weekend during a meeting of her political party, the Christian Democratic Union. "We expect that, once there is peace in Syria again, once IS has been defeated in Iraq, that you go back to your home country with the knowledge that you have gained."
Merkel and, by extension, the Christian Democratic Union have come under scrutiny for what many see as a too-lax policy toward refugees. The chancellor's position became increasingly controversial after many sexual assaults occurred in Cologne over New Year's, some of them allegedly committed by asylum-seekers from the Middle East and North Africa. Protests against Merkel's stance have popped up across the country, and support is swelling for one far-right party whose leader called on German police to shoot migrants trying to cross the border illegally. A new German poll, according to The Telegraph, shows support for Merkel and her party at a three-year low, and found that nearly 40 percent of her constituents say they think Merkel should resign over her handling of the refugee crisis. 
Still, Merkel has refused to completely close off Germany to desperate refugees — though the country has tightened borders and, post-Cologne, tried to pass laws that would make it easier to deport asylum-seekers accused of violent crimes. Germany has also been strict about turning away economic immigrants from parts of Africa and Balkan states that are relatively peaceful. Even so, more than 62,000 people fled to Europe in just the first month of this year, as Germany and the rest of the European Union scramble to deal with the million-plus who've already arrived.