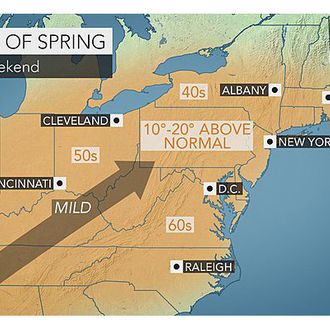 The smartest among us shuttered themselves indoors last weekend as New York City suffered through record-breaking cold temperatures and windchills that made it feel close to 20 below. And this Saturday and Sunday? You might be able to get away with wearing shorts for a run in Central Park.
New York City will see highs in the low and mid-50s, which is around 40 degrees higher than Valentine's Day temperatures. The western and central parts of the United States are just emerging from a mid-February heat wave, where mercury hovered in the 70s and even 80s. Dozens of places tied or shattered records. Now some of that hot air is pushing its way to the East Coast to deliver a welcome burst of spring. 
Yet last weekend really was an outlier for this winter, and even the month of February could end up being slightly warmer than normal once Leap Day arrives. Temperatures in New York City have trended above average, per the National Weather Service.
But the pleasant weather will be short-lived. Next week New York may see rain, snow, sleet, or some combination of all three. But if that's tough to hear, a little something to keep in mind: