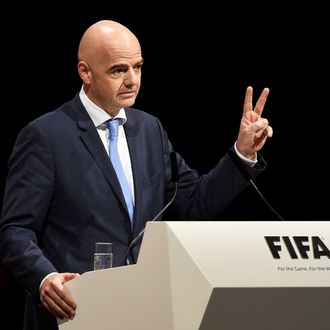 New FIFA president Gianni Infantino.
Photo: Matthias Hangst/Getty Images
At the Extraordinary FIFA Congress in Zurich Friday, Gianni Infantino was elected president of FIFA, nine months after Sepp Blatter announced he'd be stepping down as the head of the scandal-plagued organization. The Swiss-born Infantino, 45, had previously served as the general secretary of the Union of European Football Associations, which oversees European soccer. He was elected on the second ballot, on which he got 115 of 207 votes. Sheikh Salman bin Ebrahim al-Khalifa, the president of the Asian Football Confederation, finished second, with 88 votes. "Football has gone through difficult times, and now we must move forward," said Infantino in French after the results were announced.
Infantino was not even in the running until a few months ago. But after Michel Platini, then the UEFA president and a candidate for the FIFA presidency, was banned by FIFA over allegations that he accepted an improper $2 million payment from Blatter in 2011, the European soccer organization backed Infantino as its second choice. Infantino will now serve out the rest of the term Blatter was elected to last spring. That term will end in May of 2019.
The soccer world was rocked in May when several top FIFA officials were arrested on corruption charges, but Blatter was elected to a fifth term as FIFA president just days later. Shortly after that election, however, he announced that he'd step down after an emergency election could be held to name his replacement. (Said Blatter at the time: "My mandate does not appear to be supported by everybody.") In September, the Swiss investigators opened criminal proceedings against him, and the following month he was suspended by FIFA. Blatter appealed the eight-year ban; he lost the appeal, but his suspension was reduced to six years.
FIFA also overwhelmingly passed a reform package that includes a 36-person FIFA Council (that will include at least six women) to replace the 24-person executive council. Via USA Today, the reforms also include term limits, a separation of business and soccer affairs, and oversight from an independent audit and compliance company.