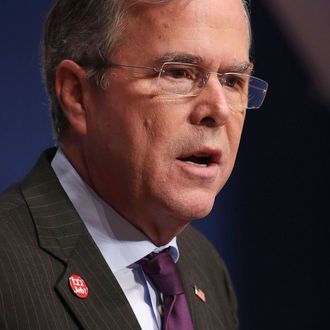 Rage, rage against the dying of the light.
Photo: Alex Wong/Getty Images
All of the color has bled from the face of Jeb! 2016. The campaign is bedridden, confused, moaning in agony. At this point, the best thing for Jeb Bush and everyone around him would be to let his candidacy die with dignity.
In Nevada, Jeb Bush has become the candidate of the one percent — literally, he has one percent of the vote there. In Quinnipiac's most recent national poll he's at 4 percent, which puts him in a tie for last place with Ben Carson, who barely has a campaign and spent much of a nationally televised town hall Wednesday night talking about bear attacks. Several polls of this Saturday's South Carolina primary have the former Florida governor in the single digits.
"I can't do anything about it. I've got to keep on talking," Bush told a town hall in the Palmetto State Wednesday afternoon. He was referring to his malfunctioning microphone, but the phrase offered a decent summary of his attitude about the day's broader events. Just before Bush addressed the crowd, he'd found out that South Carolina governor Nikki Haley had endorsed his former protégé Marco Rubio. When Bush opened the event up for questions, he "received unsolicited advice from three audience members in succession," the last asking why he wasn't trying to be tough like his brother was, Politico reports.
"I'm the only one standing up to the bully," Bush shot back. Earlier in the day, Trump had basically called Jeb "four-eyes" while mocking his standing in the Nevada polls.
Conventional wisdom suggests that if Bush finishes behind Rubio on Saturday, he'll put an end to this cruel charade. But on Wednesday, the onetime presumptive front-runner seemed committed to go on raging against the dying of the light.
"This is the third state. We've got 53 I think — or 52 — other jurisdictions, not just states. We've got territories and other places, Guam, these other places. So, we've got a long way to go," Bush said.
Guam.
If Bush persists in this denial, it won't just mean more vicarious embarrassment for spectators or terrifically bad tweets — it could also secure the nomination for Donald Trump.
On March 1, 25 percent of all the delegates in the GOP race will be awarded. As the Upshot's Nate Cohn notes, several of the most delegate-rich states that vote on "Super Tuesday" have 20 percent thresholds — if a candidate does not earn more than 20 percent of the vote in Texas, Tennessee, Georgia, Alabama, and Vermont, they do not receive any delegates (unless they finish in the top two in a congressional district, in which case they're awarded a single delegate). What's more, statewide delegates are divided proportionally between the candidates that exceed that threshold.
In New Hampshire, only Donald Trump and Ted Cruz earned more than 20 percent of the vote. Many polls of Saturday's primary predict the same result in South Carolina. If Bush continues his living nightmare into March, he could steal enough support from Rubio to doom the Florida senator's chances of ever catching up to the Donald.
The time has come to let Jeb! 2016 go to a better place.