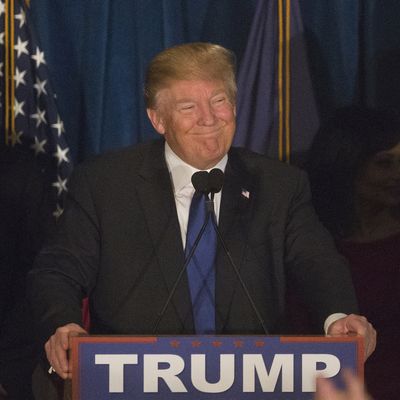 Donald Trump, proving that Republicans can win without Fox.
Photo: Victor J. Blue/Bloomberg via Getty Images
With his decisive win in New Hampshire, Donald Trump dashed the GOP Establishment's hope that skipping last month's Fox News debate would sink his campaign. By claiming more than a third of the New Hampshire vote, Trump not only exceeded expectations and more than doubled the vote tally of any of his rivals — but also demonstrated that disregarding Fox News doesn't spell political ruin for a Republican. The grip that Rupert Murdoch, Roger Ailes, and Co. have held on the GOP for nearly a generation got a little looser Tuesday night.
Inside Fox there is confusion about what role the network should play in this altered media ecosystem going forward. According to three insiders I spoke to, the channel's hosts and producers are split over how to cover Trump. Historically, in moments like this, the strategy would be clear: Punish the person who publicly crosses Fox. But network boss Ailes has tried that, and Trump not only survived the PR assaults, including one last month, but he seems to have emerged stronger than ever. The situation is even more dire because Marco Rubio, a favorite of many high-profile voices at the network, fared badly in the New Hampshire primary, only a few days after political analysts were floating the possibility that he might even beat Trump. Tuesday night, Fox's pundit class had to accept that his robotic performance during ABC's debate may have destroyed his candidacy. Charles Krauthammer even compared it to Ed Muskie's 1972 implosion.
Measured in ratings, Fox continues to be a powerhouse, and Ailes's failure so far to develop a Trump strategy isn't hurting business (though the Trump-less debate had the second-lowest viewership this primary season). For Ailes, however, huge audiences and the profits that flow from them are only a means to an end. He's said he wants to be a GOP kingmaker. He's told colleagues that Rupert Murdoch "needs me to elect the next president." But if Trump gets elected, Fox will have had little to do with it. In fact, it may be a sign of Ailes's waning power and the waxing of Trump's that Murdoch seems to be warming to the idea of a Trump candidacy.
Ailes spokesperson Irena Briganti did not respond to a request for comment.
In fact, Ailes's bigger problem this week is not Trump. It's figuring out how to broker peace between Fox's biggest stars, Bill O'Reilly and Megyn Kelly. According to sources, the prime-time hosts are at war, in part over Kelly's Trump-fueled stardom. O'Reilly is said to be outraged that Kelly went on Stephen Colbert's post–Super Bowl show and seemed to criticize his program because it's taped at 5 p.m. and airs at 8 p.m. "If you're not live at night — because the show before me and the show after me are taped — you lose a lot," she told Colbert, the comedian famous for playing a buffoonish version of O'Reilly for years. O'Reilly has also told people he's furious that Kelly hasn't shown him respect for helping make her Fox's brightest light. Things got so bad that back in September Kelly switched talent agents — she'd been represented by longtime O'Reilly agent Carole Cooper but left for CAA. "They're at each other's throats big time," one Fox insider said. "I mean, like big time. Roger doesn't know what the hell to do." It's possibly a sign that Murdoch wants to keep Kelly in the fold that last week his book publisher HarperCollins signed her to a reported $10 million book deal.