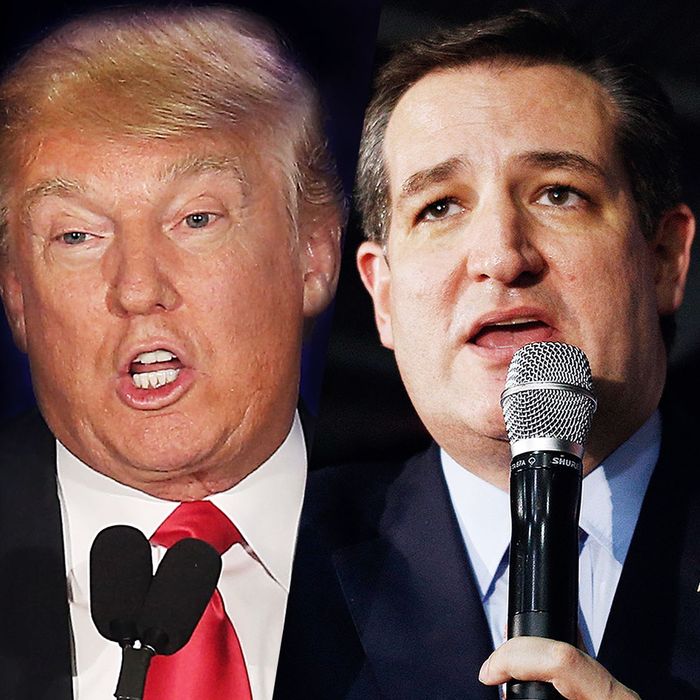 The most likely outcome on the vast battleground of March 1 contests is a spin war over who "really" won.
Photo: Getty Images
A major moment of truth has arrived for the GOP, with 11 states holding primaries or caucuses on March 1 associated with the Republican presidential-nominating contests. Together, they constitute a wide battleground ranging from Vermont to Alaska and the biggest day yet in the selection process. 
Donald Trump has led in the most recent polling in eight of these states (Alabama, Arkansas, Georgia, Massachusetts, Oklahoma, Tennessee, Vermont, and Virginia) and by double digits in six of them (all but Oklahoma and Arkansas). Small leads by Ted Cruz in Arkansas and Marco Rubio in Minnesota are based on relatively old surveys. Only in Texas, a state Cruz must carry to survive, has the most recent polling shown Trump trailing. (Colorado and Wyoming are also technically Super Tuesday states, but because of arcane processes for awarding delegates neither will report a meaningful public result on Tuesday.)
How many delegates will Trump win?
While there's little doubt Trump will win the most states, it's not clear how big his margin will be when it comes to delegates. Certainly he will get the most, but proportional allocation of delegates — the rule for Republicans until March 15 — and the likelihood of a Cruz win in Texas, the day's biggest prize, mean that Trump may fall short of a majority of delegates awarded. His best bet for getting more than 50 percent of them is if either Cruz or Rubio misses minimum thresholds (most often 20 percent of the vote), resulting in a top-heavy delegate distribution. That scenario, though, could also pose a greater long-term risk for Trump, potentially vaulting the second-strongest overall finisher into the long-awaited and much-coveted one-on-one contest with Trump going forward. 
Who's looking stronger, Rubio or Cruz?
There's a lot of buzz ab0ut a Rubio Surge in some of the Southern states where Trump and Cruz were thought to be in a tight competition. Politico's Kyle Cheney thinks Rubio could finish second in Alabama (where Cruz recently suffered the setback of Senator Jeff Sessions — sort of the Steve King of the Senate, a leading opponent of any sort of immigration reform — endorsing Trump). The Floridian has received last-minute endorsements in Tennessee from Governor Bill Haslam, Senator Lamar Alexander, and former Senator Bill Frist. He could benefit from a closed-primary system in Oklahoma that denies Trump independent voters. And he's spending heavily in metro areas like Atlanta and Washington, D.C., adjacent to multiple high-population suburban and exurban congressional districts. 
Unless there's a dramatic shift in one direction or the other, you can expect Wednesday to be characterized by a high-volume spin war, particularly between the Cruz and Rubio camps. One plausible scenario is that Cruz edges Rubio overall based on a strong performance in delegate-rich Texas, but Rubio finishes second in more states. And Trump will very likely do better in percentage of states won than percentage of delegates won. You can certainly see the results setting things up for the Rubio-mad mainstream media to claim Trump underperformed and is fading, and that Cruz finished third (by some if not all metrics) and needs to get out of the race before breakfast.
Is it worth keeping an eye on Kasich?
John Kasich goes into March 1 with very limited expectations. He likely won't be shut out in delegates, since two of the states he is targeting have very low (Massachusetts) or no (Virginia) minimum thresholds for winning a proportional share of statewide delegates. It should be just enough to keep Kasich going until March 8, where he almost has to win or place second in Michigan, and then March 15, with its winner-take-all primary in his home state of Ohio. Ben Carson could also pick up a few delegates in low- or no-threshold states, but there is no safe haven for him on the horizon. 
What's worth watching for when the returns start coming in Tuesday evening?
Polls will close in Georgia, Vermont, and Virginia at 7 p.m. EST. Trump should be leading in and/or is projected to win all three. If he's not, there could be trouble ahead for the Donald. Rubio should finish second in Vermont and Virginia, and if he's also beating Cruz in Georgia, expect the mainstream media to start calling him the "real winner" of Super Tuesday. The fact remains that Rubio's ultimate test comes in two weeks, when he absolutely must defeat Trump in his home state's winner-take-all primary. And by then, the spin wars will begin to subside and the actual delegate-counting will take over. But it's also important to remember that there will be two more candidate debates before March 15: one on Thursday in Detroit and one a week later in Miami. Given the insane toxicity of the last debate in Houston, it's possible someone will be driven weeping to his knees before it's all over.