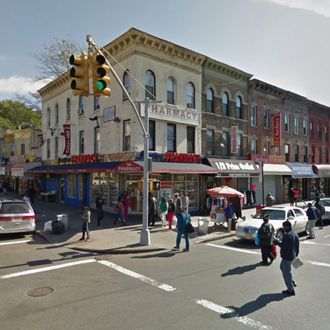 The cracka attacka is still at large.
Photo: Google
A black man reportedly attacked a 51-year-old white guy Monday evening in East Flatbush, knocking him down and calling him "cracka." According to the Daily News, the victim was on Nostrand Avenue at around 5:40 p.m. when a black man ran up, pushed him to the ground, said "this is for Malcolm X, cracka," and ran off. Aside from some "soft-tissue damage," the victim suffered no serious injuries. Police are investigating the incident as a hate crime.
They're also investigating whether Monday's attacker is the same person who assaulted 44-year-old Randy Aveille last Saturday night. Aveille was exiting the Q train at Church Avenue when a black man sucker-punched him in the head, knocked him down, and started kicking him. The attacker also reportedly told Aveille, "Cracka, you don't belong here," and after the beating said, "Someone get his white cracka ass off the floor. It's a black neighborhood," before Aveille's fiancée chased him out of the station. Aveille was attacked less than two miles from the site of Monday's assault. Police have released surveillance footage of the Saturday suspect, but nobody's been apprehended.