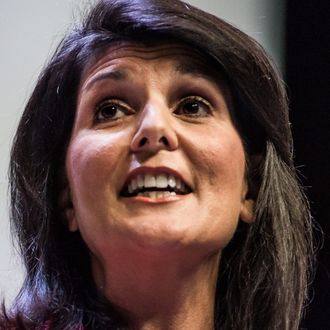 A possible diversity ticket comes into view as the South Carolina governor endorses an Establishment-lane survivor.
Photo: Getty Images
Just three days before South Carolina's Republican primary, the once-and-maybe-future Establishment favorite for the nomination, Marco Rubio, is about to get a well-timed boost from Palmetto State governor Nikki Haley, who is expected to endorse him this evening. She will join the man she appointed to the U.S. Senate, Tim Scott, and high-profile representative Trey Gowdy in the Rubio camp just as the South Carolina race seems to be turning into a fight between Rubio and Cruz for second place behind Donald Trump. If that's how it plays out, we'll probably have the three-candidate race to the finish we expected after Iowa, but with Trump being in a much stronger position than before.  
Haley joining the Rubio team is not terribly surprising, unless you figure endorsing anyone could compromise her odds of becoming the running mate for somebody else. It is, however, another and perhaps crowning blow to Jeb Bush, a more likely Haley endorsee given her habit of touting fellow governors. And so even if Haley doesn't command a whole lot of primary votes (and there's no reason to assume she does, since she endorsed Mitt Romney in 2008 and 2012 and he lost South Carolina both times), her move will feed the media narrative that, after stumbling in New Hampshire, Rubio is regaining his mojo as the survivor in the "Establishment lane" and the last best hope for Republicans horrified by Trump and Cruz. 
If that's what happens in South Carolina — and in Nevada, where Trump, Rubio, and Cruz are completely dominating the field — then the pressure will shift from Rubio the Robot to the one-hit wonders of New Hampshire, Jeb Bush and John Kasich, who have no real prospects of victory until their home-state primaries on March 15 (in Bush's case, that will be a winner-take-all grudge match with Rubio as well as Trump and Cruz). The bigger question will be whether Rubio's detour into loserville in the Granite State and Cruz's inherent limitations have given Trump the high and easy road to the nomination. It's hard to imagine either of the Cuban-American candidates getting out of the race now unless something strange happens very soon. And in less than a month, the race will be on the downslope to Cleveland with a majority of the delegates having already been chosen.
As for Nikki Haley, she can always hope Rubio eventually wins and decides to do what Bill Clinton did in 1992: doubling down with a young running mate with a similar ideology. It's very, very clear Republicans this year do not want to build a majority by going after moderate swing voters or — perish the thought — acting friendly toward immigrants. So maybe a Hispanic-Asian ticket with one candidate who's rediscovering his tea-party roots and another who's made herself into the top union-hater in the country is the best they can do.