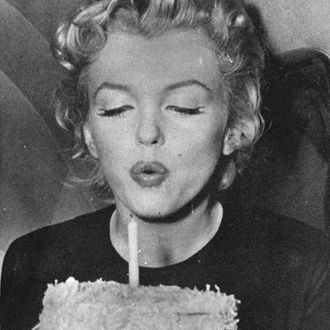 "— —— — —," she sang.
Photo: Votava/Imagno/Getty Images
The rights to the song "Happy Birthday to You" have been the subject of 80 years of legal battles, but they're coming to an end on March 14. On that day, the seven-note tune will finally go into the public domain, as the music publisher Warner/Chappell — which has been charging moviemakers and TV networks many thousands of dollars whenever they film people singing around a cake — has agreed to pay a $14 million settlement in a class-action lawsuit brought by people who've paid to use the song. The lead plaintiff in the case was Jennifer Nelson, a filmmaker who brought suit in 2013 after she'd been charged $1,500 while making a documentary about the song itself.
In September, a federal judge ruled that the copyright Warner/Chappell held pertained only to "specific piano arrangements of the music," and not the melody or lyrics. But Warner held on to its claim until agreeing to settle this week, citing a 1935 copyright that would have been enforceable. Much of the litigation hinges on the fact that the original tune is actually "Good Morning to You," an earlier song written in the late 19th century by two sisters named Mildred and Patty Smith Hill. Their copyright expired in 1949; Warner/Chappell nonetheless bought and asserted that faulty copyright for $22 million in 1988, and has been collecting about $2 million a year ever since. Barring legal fees, most of the money from the settlement will go toward compensating anyone who has ever had to pay to license "Happy Birthday." People who file claims to retrieve licensing fees paid after 2009 will be paid back first, according to the plaintiffs' attorney, Mark Rifkin. But not everyone can get money back: The licensors are thought to have taken in $50 million over the years.
"Because Defendants have charged for use of the Song, untold thousands of people chose not to use the Song in their own performances and artistic works or to perform the Song in public," says a memorandum supporting the settlement. "After the settlement is approved, that restraint will be removed and the song will be performed and used far more often than it has been in the past." Certainly we've seen the last of those half-baked workarounds that filmmakers have used for years to avoid paying the bill:
In related March 14 birthday news, Billy Crystal will turn 68; Ansel Elgort will turn 22; and Michael Caine and Quincy Jones will both be 83. Happy royalty-free birthday to you all!