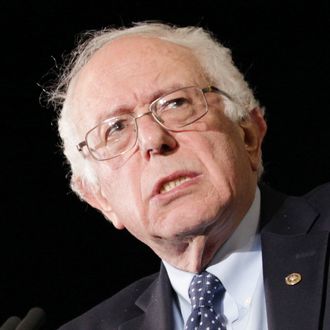 Maybe it's okay to ask him about his underwear now.
Photo: Matthew Cavanaugh/Getty Images
Before Bernie Sanders was known as the Democrats' favorite grumpy grandpa — before Larry David lovingly mocked him in Saturday Night Live sketches, and before he became the hero of a thousand viral internet memes — he was known for being just, well, a grump. "Bernie was an asshole," a nameless Democrat who worked with Sanders on one of his campaigns told a Vermont alt-weekly last year, backing up the comments of other (mostly nameless) former employees who found him impossible. "Just unnecessarily an asshole." It wasn't just staffers either. Sanders's curmudgeonly ways extended to constituents — "Excuse me, shut up! You don't have the microphone," he shouted at activists protesting against Israel during a town hall in 2014 — and maybe most notoriously the press, which he's been lecturing and cajoling throughout his political career.
Weirdly, the cranky-old-man persona has become one of his great assets in the 2016 race. It's almost never talked about, thanks in part to his repeated insistence that the press focus on issues and not fluffy personality politics, but in the course of his run for president, Sanders has emerged as far more gifted at the politics of personal charm than the popular image of him as a cantankerous crank suggests. He's shown a real pleasure for campaigning that's obvious to anyone, managed to turn a career of stubborn commitment to his chosen policy issues into a convincing argument for the sincerity of his convictions, and learned to benefit from the caustic-septuagenarian caricature of himself. His charmless charm has become an unseen benefit over Clinton, who has worked (against immense sexism, among other things) for more than two decades to establish herself as the leader of the Democratic Party. Bernie, who's never worried too much about getting people to like him, now has slightly higher favorability ratings and much lower unfavorability ratings than she does.
"It's the rooms that move me, that energize me," Sanders told The Guardian earlier this month, explaining how he'd come to enjoy the campaign grind and believe that he was onto something with voters. "I am really moved by it." But it wasn't really until the Democratic forum hosted by MSNBC's Rachel Maddow last November that Sanders started to show that he could turn his reputation for self-seriousness into an endearing in-joke. Maddow, with apologies, told Sanders to pick from a stack of cards containing less-than-serious questions for the candidates. Sanders has a well-earned reputation of cutting off or interrupting reporters he finds unserious — he told a New York Times interviewer who asked him last year about the gendered coverage of Hillary Clinton, "I don't mean to be rude here. I am running for president of the United States on serious issues, okay? Do you have serious questions?"
But instead of hectoring Maddow for the frivolity of the exercise, Bernie turned up the charm, mock-anticipating the questions he was going to be asked: "How many pairs of underwear do I own?" he guessed, referencing David's SNL impersonation of him. "Am I really Larry David?" As the crowd responded to nearly everything with huge laughs, Sanders visibly softened a little. "Do you curse?" Maddow asked him, to which Sanders gestured at her like he was about to give her the best profanity-laced Brooklyn-tough-guy routine he had. "Not on this show!" he said. When asked what the biggest misconception was about him, he said, "People think I am grumpy. People think I am too serious." He was deadpanning, and the audience was laughing along with him, but then he turned it into a moment that, with another politician, might have sounded canned: "I think what people don't see is that I have seven beautiful grandchildren which are the joy of my life." It was just about the least Bernie Sanders-ish thing he could have possibly said.
The Maddow event was not a one-off moment of crowd magic but a piece of broader campaign strategy, led by Sanders chief strategist Tad Devine, to revamp Sanders's image. It appears to have worked, too, perhaps helping to broaden his base of support. Back in October, when Clinton still enjoyed comfortable leads with women and nonwhite voters, the campaign outlined a new strategy to Politico aimed at softening his image. It would entail forgoing some of the large rallies he held in progressive enclaves in favor of smaller venues where he could interact with voters. It included a plan to do more TV interviews to pitch himself on shows like Ellen and The View. It required hiring a pollster to look at his support in different slices of the electorate and cutting a series of ads aimed at introducing him to voters in early primary states.
Ultimately, Larry David may have done more to cement Bernie's image as an endearing grump than anyone else. And it's difficult to imagine how a female candidate could ever turn a similar quality into a great strength. But the Sanders running for president now is not the same one I saw on the Capitol's lawn last April, when he launched his presidential bid in the least sentimental way imaginable. "Let me just make a brief comment," he said. "We don't have an endless amount of time. I've got to get back to work." He went into a speech that lasted less than ten minutes and included an admonishment to the media. Then he turned around and did, in fact, go back to work. Back then, when he was waging a campaign primarily through free press coverage, he told reporters, "Don't underestimate me — we're going to do better than people think." He was right.