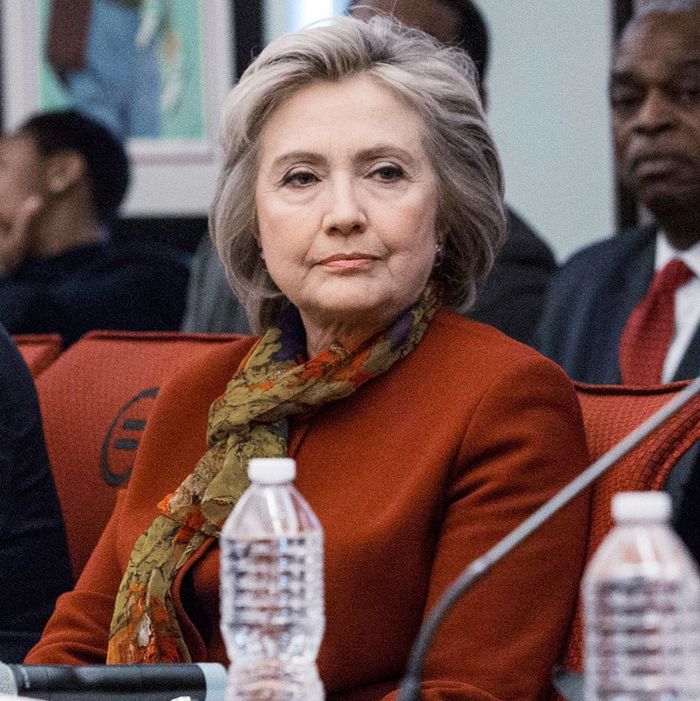 Hillary Clinton met with civil-rights leaders at the National Urban League yesterday.
Photo: Andrew Burton/Getty Images
"I thought we'd get that talk from Bernie, but it was Hillary," the woman said as she took her seat in the restaurant. The man with her nodded his head in agreement, and then they sat in silence, attending to the world in their cell phones.
"Hey, soror," a woman half-shouted a few minutes later, as she scooped food into her Styrofoam takeout box. The seated woman looked up, smiled, and responded, "Oh, hey, soror, you see Hillary?"
"She was real good, right," the woman making her plate said, now at a different food station. All three nodded their heads, almost causing me to join in even though I was not a part of the conversation. All of this took place at Manna's, the self-anointed "Best Soul Food Restaurant in the Village of Harlem." I religiously get a four-vegetable plate there whenever I go to an event at the Schomburg Center, the New York Public Library's hub for black culture, which sits on the corner of 135th and Malcolm X.
The venue is having a big week. On Monday it was revealed as the inspiration of this week's New Yorker cover art by painter Kadir Nelson (work titled Schomburg Center, Harlem, New York). On Tuesday it was the site of a Hillary Clinton speech, advertised a day earlier as an "Address on Breaking Down Barriers for African-Americans."
On paper, this all felt very political. Hillary … in Harlem … talking to black people … about black people … and the timing only added to that sentiment, a week after getting beat by 20 points in New Hampshire, a week before heading into the much blacker state of South Carolina. Arriving at the Schomburg, the lobby was stuffed with people waiting to get in — most drenched from the monsoon taking place outside — many confused by the delay that comes with any Hillary event, by way of the near-hour Secret Service sweep that is required before she takes any stage. At one point during the wait, the crowd's attention focuses toward one corner. "Oh, apparently, that's Bill," one man says. A few seconds later, he says, "Wrong Bill — it's de Blasio."
After another 20 minutes of sitting, the Director of the Schomburg Center, Khalil Gibran Muhammad, takes the podium and begins talking about the cultural significance of the Center and Harlem. He mentions the moment Obama came through the neighborhood to speak at the Apollo Theater, the night he broke out into some Al Green. Following this, Muhammad pondered whether Secretary Clinton would give us some Maya Angelou poetry, a comment met with some laughs, since we all knew that was just never going to happen.
Finally, he introduced one of the neighborhood's most famous (and in recent years, infamous) sons, Representative Charlie Rangel. The 85-year-old Rangel walked out on the stage, but not without a crew. Following him, Mayor de Blasio and First Lady Chirlane McCray, Governor Cuomo and his partner, Sandra Lee, former Attorney General Eric Holder, and Hillary Clinton.
Prior to the posse entrance, I'd just finished a conversation about what I saw as the myth of successfully convincing black people to think one way — and vote one way — purely based off the endorsement of prominent black people. That myth of "the black vote" being a monolith that thinks the same way and wants the same thing. And how getting the endorsement of a collection of black preachers, or even the Congressional Black Caucus, doesn't mean as much as it did in election cycles past.
There was one moment in Rangel's introduction, however, when his presence — and his actions — were undeniably infectious to everyone in the room, especially the Black Harlemites: "It's been brought to my attention that some people have been following the secretary of State around to disrupt rather than to instruct. Please be informed, you are in the village of Harlem."
This was met with wild applause from the room, a big smile from Hillary, and a Holder whisper to Cuomo, followed by laughs from both men. It was one of the more street-cred-pumping moments this campaign has seen. You fuck with Hill, you fuck with Harlem. And it capped off a perfect warm-up act for Hillary — New York State, New York City, and Harlem supporting not only Hillary being the next president, but her as someone who could do a lot of good for black people.
Soon after, he finished up and passed it off to Hillary.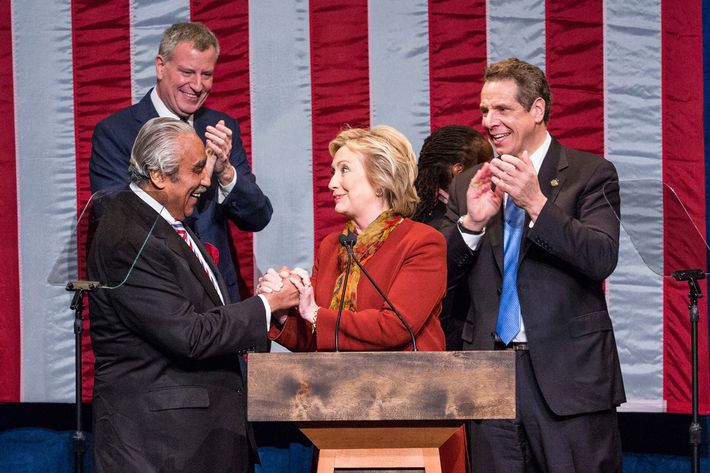 Then it hit you that Hillary was going to talk — at length — about black people, almost exclusively. She began with the normal rhetoric of just listing black people she knew, whom she spoke with, whom she associated herself with — but then it took a turn. When she began discussing Flint, the white woman Establishment presidential candidate said, "It's a horrifying story, but what makes it even worse is that it's not a coincidence that this was allowed to happen in a largely black, largely poor community. Just ask yourself: Would this have ever occurred in a wealthy white suburb of Detroit? Absolutely not."
It was that moment of, Oh shit, did Hillary come to play today? I looked down my row, and multiple people had that same goddamn face etched on their faces. She was making points about privilege that minorities always make, but it packed such a different punch — even if President Obama had said it — because she was chastising her own privilege, putting the privilege of whiteness front and center.
The moment was a brief callback to the controversial opinion of scholar Michael Eric Dyson in his November 2015 New Republic piece, which said that Hillary Clinton will do more for black people than Barack Obama. And like Dyson further argues in his book, The Black Presidency: Barack Obama and the Politics of Race in America, Obama uniquely had to comply with the expectations of whites. That's not something Clinton will ever have to deal with to the same degree.
Hillary then followed up the Flint statement with the following series of points, all delivered in about two minutes:
"We still need to face the painful reality that African-Americans are nearly three times as likely as whites to be denied a

 

mortgage."
"Something's wrong when the median wealth for black families is just a tiny fraction of the median wealth of white

 

families."
"Something is wrong when African-American men are far more likely to be stopped and searched by police, charged with crimes, and sentenced to longer prison terms than white men convicted of the same

 

offenses."
"Black kids get arrested for petty crimes, but white CEOs get away with fleecing our entire country — there is something

 

wrong."
"Just imagine with me for a minute if white kids were 500 percent more likely to die from asthma than black kids — 500

 

percent."
Imagine if a white baby in South Carolina were twice as likely to die before her first birthday than an African-American

 

baby.
"Imagine the outcry. Imagine the resources that would flood

 

in."
"Now, these inequities are wrong, but they're also immoral. And it'll be the mission of my presidency to bring them to an end. We have to begin by facing up to the reality of systemic

 

racism."
I genuinely couldn't believe what I was hearing. The tiptoeing had vanished. She wasn't trying to win everyone's vote by flying as close to the middle as possible. And even though the room was markedly black, these thoughts were now on her permanent electoral record for all to see. The use of "imagine" was powerful, because it comes with an almost implied, You can't imagine it, because that shit wouldn't fly. She was finally just saying it, bluntly. Hearing this, in February, was so much more powerful than any policy plan. Because before many people want to know your plan — or before people will ever truly consider believing in your plan — they want to know that you understand their world.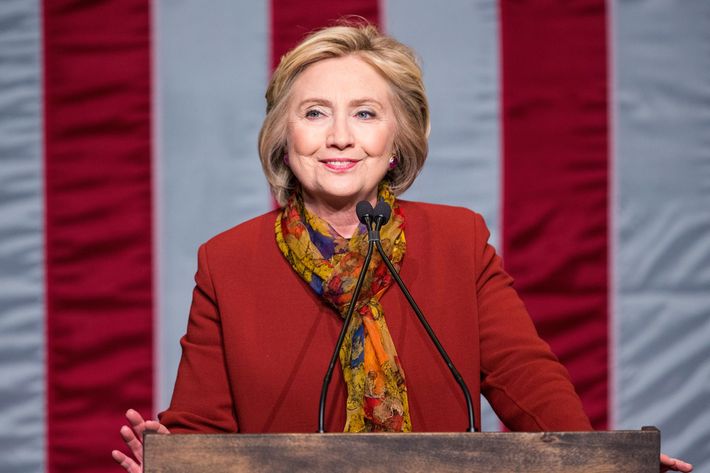 And then, out of nowhere, as she was really peaking, and the increasingly loud cheers in the room suggested that these points were not only felt but appreciated, she had one of those Hillary coughing fits.
It's like watching someone with the hiccups; you don't really know when they're going to end. But herein lies the beauty of the goodwill Hillary had built up in the room — the beauty of black people being an expressive bunch: The room started clapping loudly, almost to mask her coughs until she was done, to get her through this stretch. People were acting like it was church, when some member of the congregation gets up to speak but suddenly gets emotional or nervous. Shouts of "Take your time, Hill" and "You're okay" rang from all corners of the room. After a few coughs, Hillary squeaked out, "I've got too much to say," which was met with laughter. When some of the coughing halted, Hillary softly said a few sentences with her voice at about 10 percent strength, and after every few sentences, people cheered her on. There were even some "HILLARY, HILLARY" chants. I couldn't believe it.
This was followed by a second wave of coughs, more cheers and supportive messages from the crowd, which ended with Hillary saying, "Thank you, you're a great amen chorus." And a few minutes later, her voice was at full strength again. She was back.
This was Hillary's Flu Game. She'd just won Harlem.
Watching a white woman who could be the president of the United States say things like, "For many white Americans, it's tempting to believe that bigotry is largely behind us. That would leave us with a lot less work, wouldn't it?" and "Race still plays a significant role in determining who gets ahead in America and who gets left behind. Now, anyone — anyone asking for your vote has a responsibility to grapple with this reality" is uncharted waters.
It's a speech that, if President Obama had given it, would have gotten him reamed out for showing favoritism — for not being the American president but just "the black president." If a different version of Hillary Clinton had shown up, it would have come off as pandering to black people. But that afternoon in the Schomburg, things clicked in a way they really hadn't before. She wasn't any less of an Establishment white politician than she was before, but you could tell that she's coming to terms with the reality that if she wants to actually connect in a way that many people believe she can't, she's got to understand and own up to everything and, through both humility and intelligence, prove that she's ready to push forward.