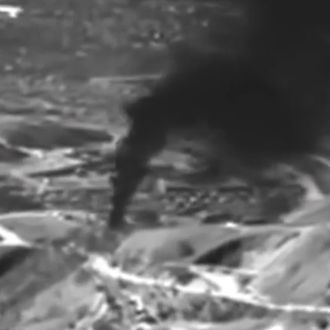 That was one mighty spew.
Photo: Environmental Defence Fund
After 110 days, Porter Ranch can finally breathe a little easier. Since October 23, an underground leak at a gas-storage facility in the wealthy Los Angeles neighborhood has spewed 96,000 metric tons of methane gas, causing thousands of families to leave their homes, walloping property values, and potentially costing the Southern California Gas Company billions in claims. (It stank like crazy.) Officials announced on Thursday that the leak, in the Aliso Canyon storage facility, has been permanently sealed with cement.
Now begins an investigation into how the leak started and why it was allowed to continue seeping gas for so long. The big stink caused nosebleeds, vomiting, headaches, and dizziness (although, experts say, exposure to methane has no long-term health consequences). In the long run, the leak may have been a few drops in the ocean, but it sure wasn't good: At 125,000 pounds of methane an hour, it amounted to 25 percent of California's daily greenhouse-gas emissions, equal in impact to 8 million tons of carbon dioxide.
Families staying in short-term housing to escape the leak have eight days to return home before the gas company stops reimbursing them for their emergency sublets. Those who rented an apartment or house will have their leasing costs covered until April 30. Sempra Energy, the parent of SoCal Gas, expects that the bill will be $300 million to fix the leak, relocate 6,400 people, and account for all the gas it lost. Governor Jerry Brown is waiting for the air to clear before he lifts the emergency declaration he announced last month.