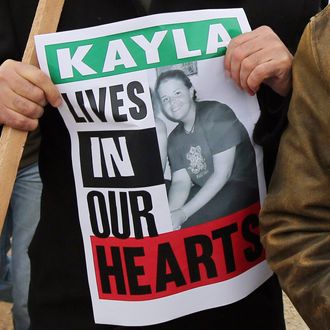 Palestinians use Mueller's images to protest terrorism.
Photo: Abbas Momani/AFP/Getty Images
In February of 2015, Kayla Mueller, an American aid worker who was kidnapped by the Islamic State, was confirmed dead in Syria. Mueller had been working at a Doctors Without Borders hospital in Aleppo, but she left the hospital and was captured by the terrorist group in August 2013. For more than two years she was held in captivity and raped by ISIS leader Bakr al-Baghdadi during his visits to the home of Abu Sayyaf, where she was imprisoned. Sayyaf, a senior ISIS leader, was killed by U.S. forces last may, but his widow, Nisreen Assad Ibrahim Bahar (also known as Umm Sayyaf), has been arrested and charged with having a "role in a conspiracy that resulted in the death of American citizen Kayla Mueller," according to Justice Department documents filed in Virginia.
Umm Sayyaf was held by U.S. forces for three months, but she was transferred to Iraqi-Kurdish custody on Thursday. Prosecutors say Sayyaf knew about the imprisonment of Mueller and two other hostages — a Yazidi teenager and another humanitarian worker — but did nothing to prevent their ongoing imprisonment and abuse. Sayyaf even threatened the hostages, "telling them she would kill them if they did not listen to her." FBI agents in Iraq reportedly interviewed Sayyaf while she was in U.S. custody, during which she confessed to holding the women captive, admitting that al-Baghdadi "owned" the women and that "owning" is "equivalent to slavery." 
"Sayyaf is currently in Iraqi custody for her terrorism-related activities," said U.S. assistant attorney general John Carlin. "We fully support the Iraqi prosecution of Sayyaf and will continue to work with the authorities there to pursue our shared goal of holding Sayyaf accountable for her crimes." If convicted, Sayyaf, 25, could face life in prison, but it's not clear whether she'll be transferred to the U.S. to face charges or be tried in Iraq.