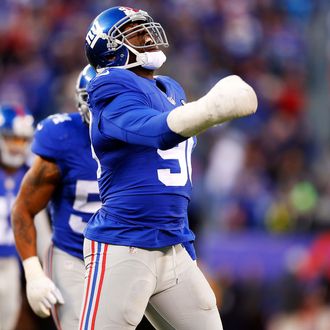 Jason Pierre-Paul, after returning from the hand injury suffered in a July 4 fireworks accident.
Photo: Jim McIsaac/Getty Images
As news spread last summer that Giants defensive end Jason Pierre-Paul had wrecked his hand in a July 4 fireworks accident, ESPN reporter Adam Schefter obtained and tweeted out images of Pierre-Paul's medical records. They showed that Pierre-Paul, a two-time Pro Bowler, had had a finger amputated after the accident. Schefter's decision to post those photos caused a stir at the time, and now Pierre-Paul is suing both Schefter and ESPN, alleging that his privacy was violated.
Schefter was criticized for doing so, and as his tweet got around, "HIPAA" — referring to the Health Insurance Portability and Accountability Act, which protects medical records — began trending on Twitter. In response, ESPN released a statement saying, "HIPAA does not apply to news organizations." (That is correct; it covers only certain medical professionals.)
Pierre-Paul's suit, filed in a Florida court Wednesday, alleges that Schefter "improperly obtained" his records. More from the suit, via the New York Post:
"This action arises out of ESPN reporter Schefter's blatant disregard for the private and confidential nature of plaintiff's medical records, all so Schefter could show the world that he had 'supporting proof' of a surgical procedure," the suit says.
The suit, which doesn't ask for specific damages, says that while Pierre-Paul's injury may have been "a matter of legitimate public concern," his charts were not. A spokesperson for ESPN and Schefter declined comment to the Post.
Last year, Schefter explained to Sports Illustrated why he decided to post images of the records:
This was a public figure and franchise player involved in a widely speculated accident with potential criminal behavior in which there was a cone of secrecy that surrounded him for five days that not even his own team could crack. This wasn't as if some player were admitted to the hospital with a secret illness or disease—we've seen those cases over the years, as recently as this past year even. This one was different and unique for a variety of reasons. The extent of his injuries were going to come to light, maybe that day or later that week, but soon. They're horrific injuries, incredibly unfortunate for the player. But in a day and age in which pictures and videos tell stories and confirm facts, in which sources and their motives are routinely questioned, and in which reporters strive to be as accurate as possible, this was the ultimate supporting proof.
Schefter has, however, said that he and his editors should have discussed the decision to publish more intently: "I know news organizations are not governed by HIPAA laws, but in hindsight I could and should have done even more here due to the sensitivity of the situation." He was also asked specifically about concerns that records like the ones he published could have contained personal information that's not immediately apparent but, rather, is coded in some way, to which he responded:
All I saw in that record was the name, the age, the gender, and the patient's finger amputated. It didn't look to me as if there was anything else in there that could be considered sensitive. NFL reporters report on all kinds of medical information on a daily basis. That's part of the job. The only difference here was that there was a photo. It came to me unexpectedly, and it was used as part of the reporting, same as OTL, 20/20, Dateline NBC or 48 Hours would do.
Earlier this month, two people were fired by Florida's Jackson Memorial Hospital for inappropriately accessing Pierre-Paul's records. The hospital's statement at the time didn't specify whether the two people were involved with leaking the records to Schefter, but their termination came as a result of an investigation into the leak.